Relive Your Youth With The Verrado Electric Drift Trike!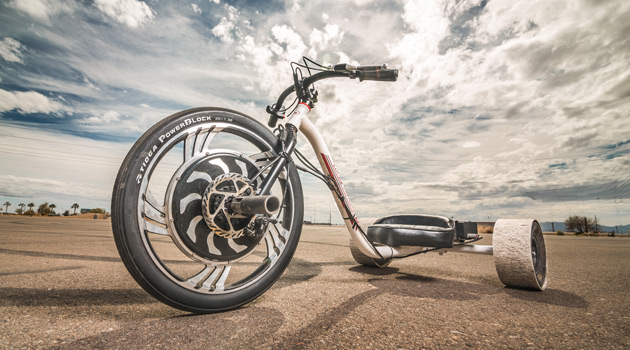 Local Motors might be best known for their insane Rally Fighter vehicle, but they've got a number of other products in the works, and one that really caught my eye was the Verrado Electric Drift Trike.
As the name suggests, this is an electric-powered adult tricycle specifically made for drifting. Why? Why not? Drift Triking is one of the most rapidly growing sports around the world, and the Verrado's electric motor lets you to drift on flat surfaces like asphalt, allowing you to ride almost anywhere with complete control.
Local Motors' engineers experimented with a hub motor and battery pack from one of their electric bicycle prototypes and produced the first iteration of an electric-powered drift trike. It combines a BMX fork with a 20″ heavy duty front wheel featuring an aluminum casting around the brushless hub motors, two rear karting wheels lined with PVC pipe, a strong disc brake and a powerful programmable electric motor.
This video shows you what kind of fun you can expect to have with the Verrado:

The Electric Verrado uses a Lithium Cobalt Manganese battery that's easy to charge in about 3 hours. With a full charge, it will run for 45 minutes, or around 12 miles. Of course, mileage and duration may vary based on the amount of drifting you do.
A cushioned seat keeps you comfortable, even when you ride your Verrado for an extended period of time. The steel chassis is made in the Local Motors Phoenix Microfactory and is powder coated in four different colors giving the Electric Verrado a professional finish.
Sounds like fun, right? If you want to pre-order one (orders are expected to start shipping August 1, 2014), it will set you back $1560, considerably more than that Big Wheel you had as a kid.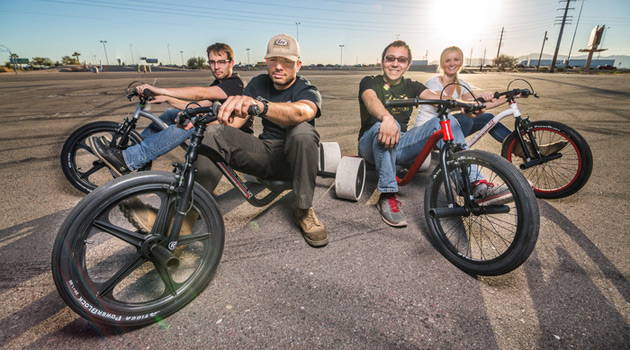 Visit http://www.localmotors.com/verrado-drift-trike for more information.