What's The Best Addition For A Gaming PC?
Owning a gaming PC can be a wonderful experience, but when it comes time to upgrade things can get muddy. What should you buy? Do you need more RAM, or should you change your CPU?
While many of those choices are dependable on the machine being upgraded, there is one upgrade that is guaranteed to enhance your gaming experience, a new video card. But not just any video card, an AMD card with Eyefinity support.
Eyefinity is one of those great inventions that you will kick yourself for not inventing. What Eyefinity does is allow you to run multiple screen from a single video card. So that impressive three screen racing setup you have seen pictures of is possible without spending thousands on multiple video cards.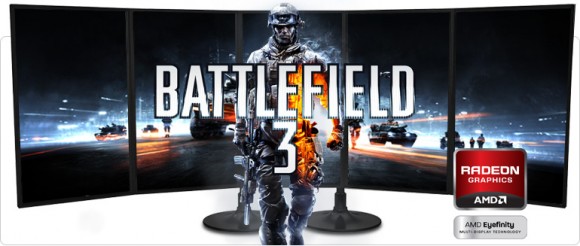 While new monitors will be an added cost, the ability to buy a single video card wit the support to run multiple monitors can shave costs while providing a huge boost to gaming satisfaction. And what is more important, a full wallet or a bad-ass multi-screen gaming setup?
Choosing which card can be a bit daunting, but we have chosen a few models for you already. We decided to stick with Sapphire for the brand of these cards. They are one of the largest makers of AMD GPUs and we have personally owned many of their video cards without issue.
Cheapskate card: Sapphire FleX HD 6450
With sub-$75 dollar price, this card is a great upgrade for anyone on a serious budget. This is an especially good upgrade for anyone who has built-in graphics.
Mid-Range: Sapphire HD 7870 GHz Edition OC 
For $250 this card is an absolute monster! It has 2GB of on board GDDR-5 memory and a 1GHz clock speed. This will allow you to run some really high-res graphics across all those screens.
I have all the money!: Sapphire Vapor-X HD 7970 Ghz Edition
At $600 this card costs more than our first car, but it is a damn site more powerful than our first car too. This is the top-of-the-line card from Sapphire and a must have for anyone who needs the bleeding edge of tech. It has a crazy 6GB of GDDR-5 memory to make sure that any game will kneel before its power.
Have any old games or other tech products lying around? If so, recycle them at www.musicmagpie.com, and get some cash at the same time.