QuietOn Noise Cancelling Earplugs Make Noisy Flights A Thing Of The Past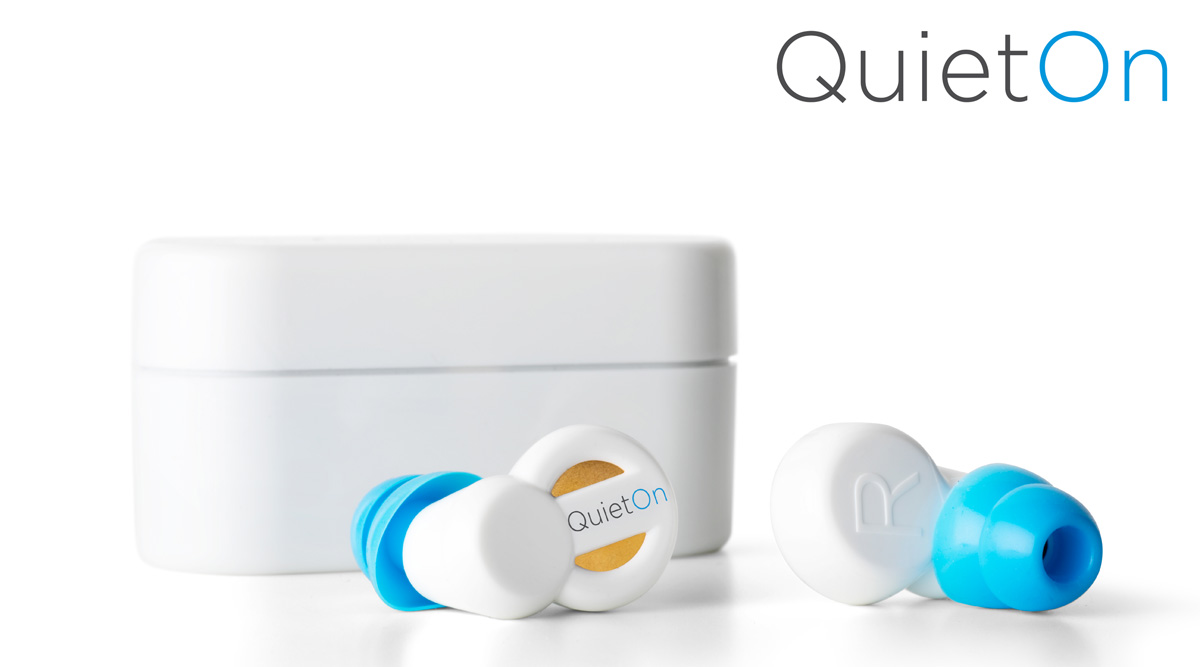 I'm constantly traveling for work.. Many people think that flying is glamorous, but it's quite the opposite. Long security lines, cramped quarters, constant flight delays, overpriced food, not to mention having to wake up at 5am (or even earlier) to catch my flight.
On those early morning flights, I'd love nothing more than to drop my seat back and get some much-needed sleep. But sadly that never happens, as airplanes are rather noisy, between the whirring engines, whizzing wind, crying babies, and snoring neighbors. I've even tried noise-cancelling headphones, but they were not all that comfortable to sleep with due to their over-ear design.
Then I discovered QuietOn earplugs, which utilize active noise cancellation technology and passive acoustic attenuation to create silence. And it's been a total game changer, giving me some much needed peace and quiet on recent flights and allowing me to get some sleep!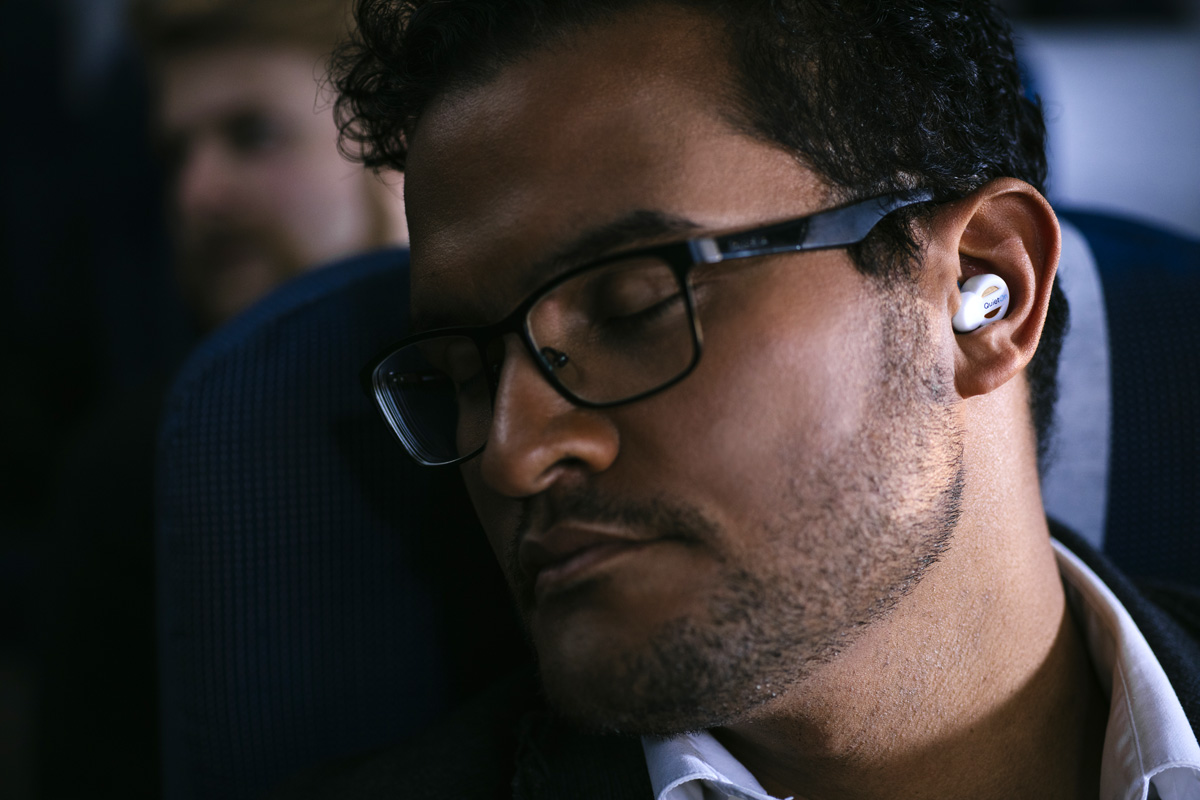 The earplugs' microphones capture external sound and use speakers to produce phase-shifted sound that cancels out the original sound. The greatest benefit of active noise canceling technology is that it reduces the low frequency sounds that ordinary passive earplugs are not able to address, such as the hum of airplane engines, snoring, and normal background noise. With noise cancelling ability up to 40 dB, QuietOn is on the same level as the best on-ear noise cancelling headphones.
They also proved to be a lifesaver on a recent trip to New York City, as our hotel room was really noisy, and you could hear all of the traffic and construction going on outside. My QuietOn earplugs kept those sounds at bay and let me enjoy a good night's sleep. Without them, I would have been miserable the next day.
In addition, I use them when I'm working in a noisy environment (like a Starbucks), because I'm one of those people who needs total silence in order to concentrate on the task at hand.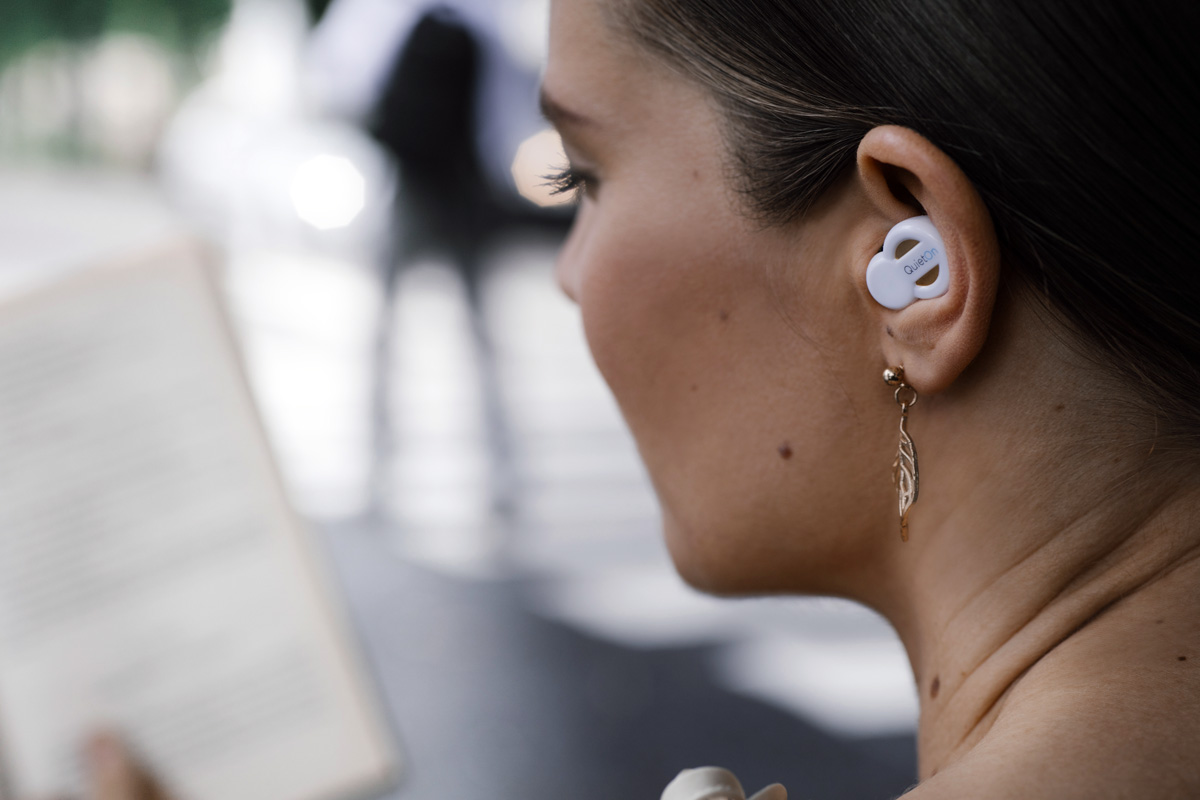 QuietOn earplugs are incredibly easy to use, with no wires to detangle, settings to adjust, or buttons to press. Once you remove them from their carrying case, they're on and active, ready to go. Just follow the step-by-step guide to ensure a proper fit to get the most out of them.
Battery life is beyond impressive, with 50 hours of use on a single charge. The included carrying case is nice and compact, and it also functions as a convenient charger (powered by a regular micro-USB cable), with indicator lights on the front to let you know when it's done charging.
Overall, I couldn't be happier with my QuietOn earplugs. They are incredibly comfortable, work as promised, and make the world a quieter place. I think they're well worth the $199 price tag, and I highly recommend them to anyone looking for a little peace and quiet.