'You Don't Know Jack' Now Available For iOS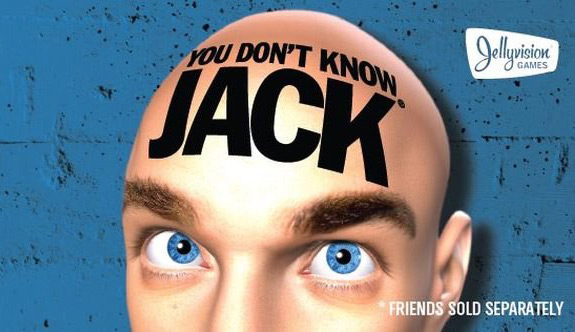 You Don't Know Jack, the multi-million selling interactive trivia franchise from the mid-90s, made it's debut on iOS devices last week as a free app on the iPad, iPhone or iPod Touch.
"In May, we launched the Facebook version of You Don't Know Jack looking to combine the party-atmosphere of console and PC gaming to the asynchronous social gaming space where people could play wherever they want," said Harry Gottlieb, founder of Jellyvision Games and inventor of You Don't Know Jack. "After six months of tweaking the Facebook game, we're ready for the small screen, starting with iPhone, iPad and iPod Touch."
You Don't Know Jack on Facebook, six months past launch, has been received with great critical acclaim and won the "Best Social Game" category for the 2012 SPIKE TV Video Game Awards last week. The iOS version will have persistent play with users of the Facebook version and all key functionality remains the same between apps.
Players of the mobile version can choose to play in guest mode or by syncing with Facebook, the latter of which brings party-style play to mobile in three important ways. First, players are automatically matched against their Facebook friends who have already played that specific episode, either on iOS or Facebook. Second, a player is provided a direct option to challenge other Facebook friends at the end of every episode. And third, all players may share results, brag and taunt friends through Facebook, bringing the same fun experienced during a game of YDKJ on the couch into the gameplay experience.
You Don't Know Jack will constantly produce new content that engages players with questions on current pop culture and news players are discussing on Facebook, tying gameplay into the social experience more than any previous game.
Players on iOS will access the same content as those using the Facebook version. Cookie Masterson, the game's popular and sassy host is back, as is the game's core structure, with outrageous questions that range from Mozart to Psy. The game will be free-to-play with free games provided frequently. Users can also win free games through achievements, and multi-token packs are available for purchase.
I downloaded You Don't Know Jack onto my iPad last week, and I played it quite a bit over the weekend. It's a TON of fun, but I wish you could play against others in real-time. It's not a huge deal, but it'd be cool if they could add that kind of functionality in a future update.
To download the game, visit: https://itunes.apple.com/us/app/you-dont-know-jack/id552164252