2014 Toyota Prius Is Fuel Efficient And.. Contractor Grade?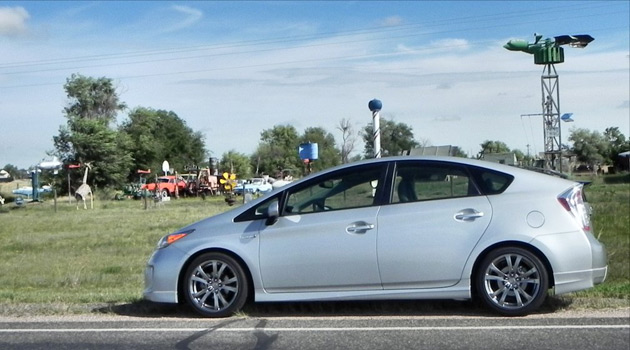 The 2014 Toyota Prius Five is the top trim level of the world's most popular hybrid car, the Toyota Prius hatchback (aka "Liftback"). It has remarkable mileage ratings from the EPA, standing at 50 mpg combined, and more room for stuff than expected. For the economy-conscious, it's a tough car to beat.
I spent a week in the car hauling family and their stuff around and found the promise of efficiency to be slightly less than advertised, but this can probably be chalked up to the altitude (we are over 5,400 feet). Our average was about 46 mpg overall with a driving mix consisting largely of highway and freeway time. It should be noted that the Prius Five is rated at 51 mpg in town and 48 mpg on the highway. For number crunchers, this would explain my experience with lower MPG than the EPA suggests.
Now, back to driving the car. Towards the end of my test week with the 2014 Prius, a friend and I had to visit the Denver area to attend an automotive event. He was in the process of doing busy work on his former home in order to appease a buyer ready to close, so we loaded a few things into the back of the car that were over and above our expected overnight luggage. These things included a small ladder, some tools, a chunk of drywall, and a few other home handyman items.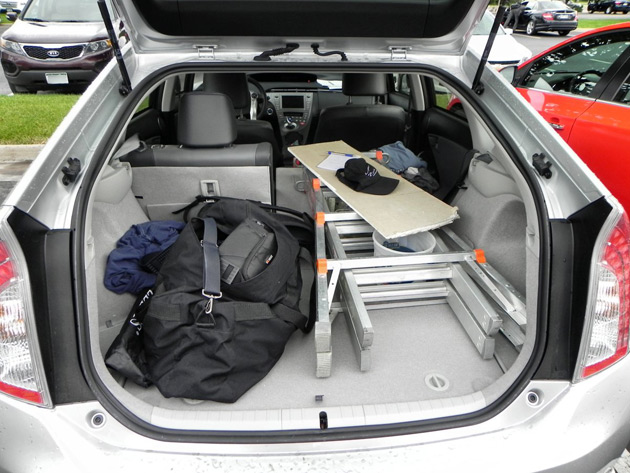 Suddenly, the 2014 Toyota Prius Five wasn't just a family car with great hybrid mileage. Now, it became contractor grade.
There was no complaint from the car for our stuffing of extra, likely unauthorized, content into it. Few would think of the Prius as a construction hauler. After all, it has no tow rating, isn't all that large, and most construction workers probably spend their weekends prowling for Prius cars so they can roll coal on them. At least, that's the stereotype. Right?
Well, convention be damned, our little Toyota Prius hauled a ladder and tools with highly-efficient style.
Not that it was in any hurry to do so. One thing about the Prius holds true no matter what you're doing with it: it's no Speed Racer. Much of the car's efficiency comes from the fact that it forces efficient driving on you with a limp throttle and handling that makes many "old lady cars" seem sprightly. Personally, I can live with that. Not every car needs to be a Porsche.. or even a 1980s Buick. They do, however, need to offer a few things to make them worth owning.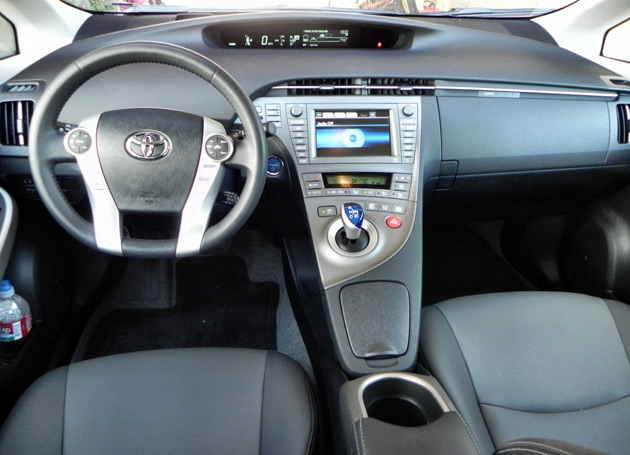 The price tag on our 2014 Prius Five was just over $38,000 delivered. For that tag, there are a lot of vehicles in the offing. Most will, frankly, be better accoutered and more fun to drive than the Prius. None, however, will have anywhere near the fuel efficiency and cargo space that the Prius combines. The uniqueness of the Prius is still, after fifteen years on the market, its primary selling point. Literally no one is really competing with the Prius at this price and capability.
What this means is that for all its faults, the 2014 Toyoat Prius is the latest in the lineup of best-selling hybrids because it hits all of the points those who buy in this market want: efficiency, versatility, and more efficiency.
So the next time you need to do some work around the house and are considering a car to haul your Home Depot purchases in.. don't overlook the Prius. It's contractor grade.