5 Reasons Why You Should Get Excited For The 2020 GMC Sierra HD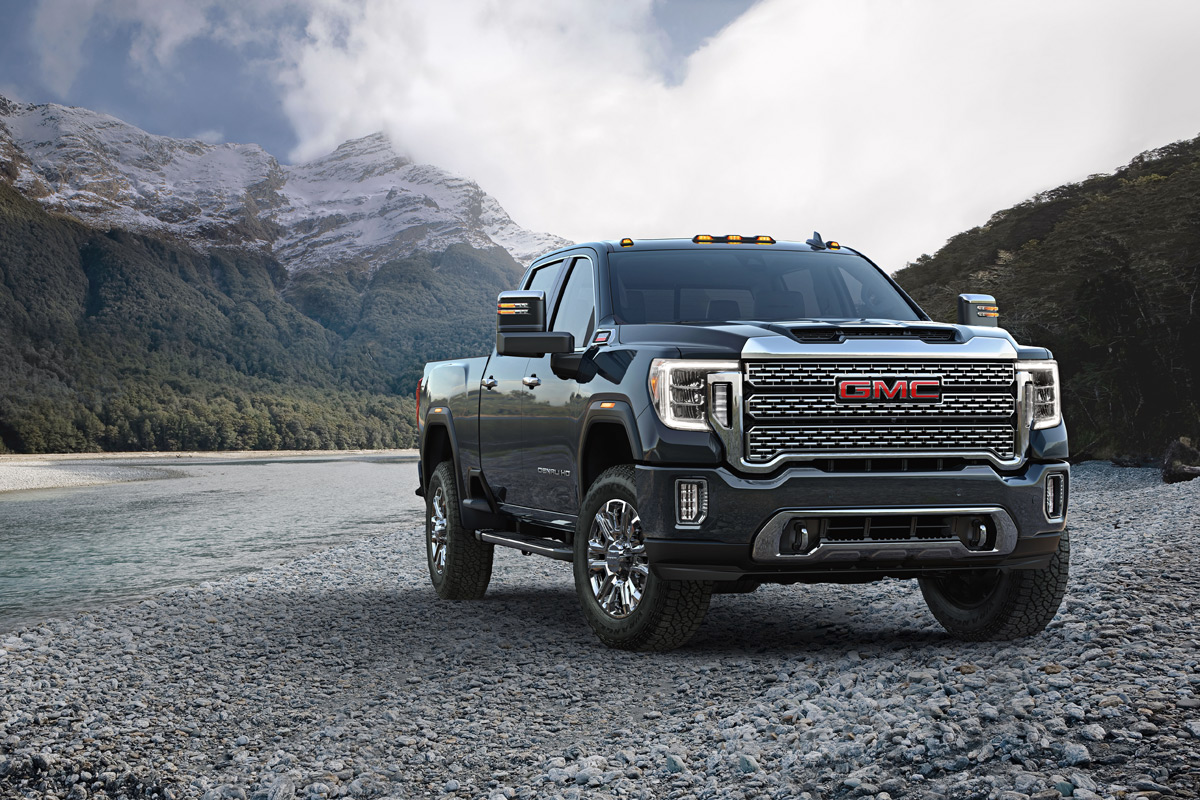 We recently traveled to Jackson Hole, Wyoming to drive the next-generation 2020 GMC Sierra Heavy Duty, which GMC claims is bigger, stronger and smarter than ever before, and setting a new standard of what a heavy duty pickup can be. Needless to say, I was excited to get behind the wheel and see if this professional-grade heavy duty pickup would live up to the hype.
And after spending two days driving a variety of Sierra 2500 and 3500 models (in both Denali and AT4 trim), putting them to the test with highway towing (pulling a 14,000 pound Keystone Fuzion fifth-wheel RV), off-roading (getting down and dirty on a punishing off-road course), and payload cruising (hauling around 2,000 pounds of logs), I was beyond impressed.
Duncan Aldred, vice president of Global GMC, puts it best: "The all-new 2020 Sierra HD is the most capable heavy-duty truck that we've ever offered. For customers who demand a premium, innovative heavy-duty truck that supports their passions, the Sierra HD can pull like a pro."
Here are five reasons why you should get excited for the 2020 GMC Sierra HD: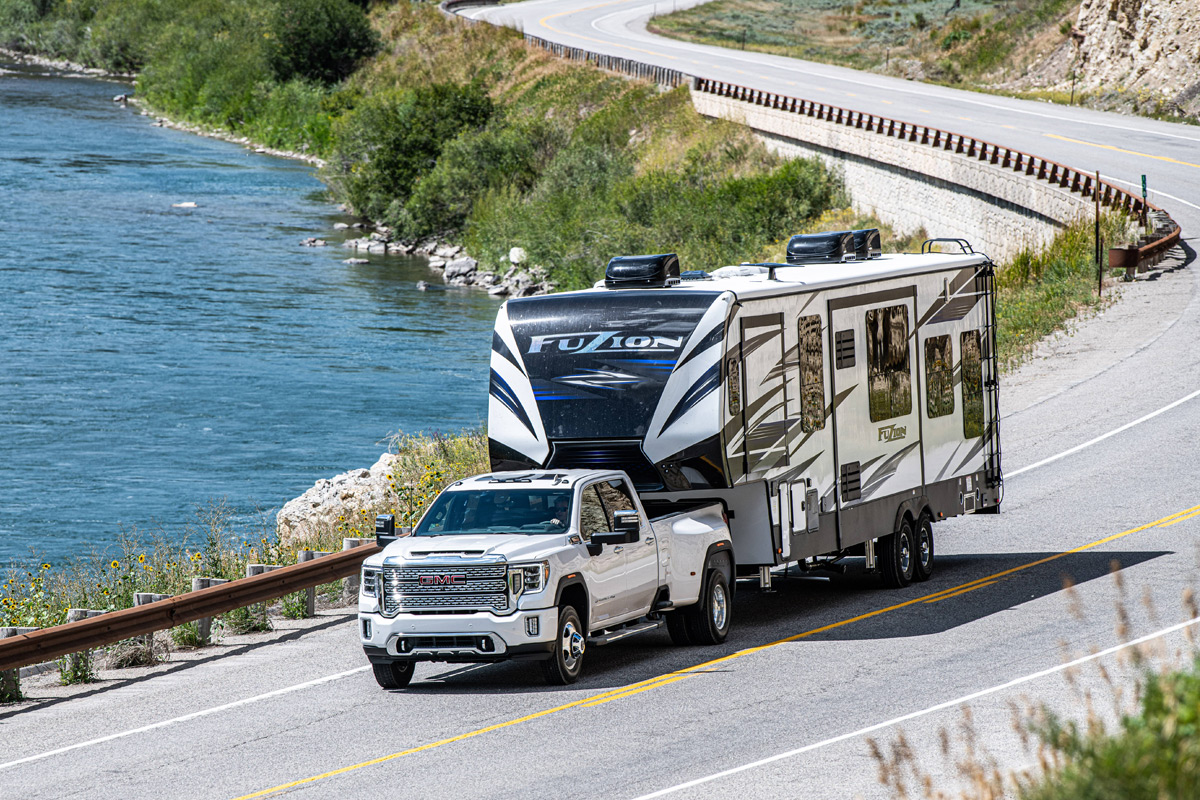 1. Best-In-Class Max Towing
The 2020 Sierra HD features a bigger frame, stronger powertrains, and smarter tech to enable a maximum trailering rating of 35,500 pounds and a gross combined weight rating (GCWR) of 43,500 pounds. That's a 52% increase in towing capability over the outgoing model, and given that 93% of GMC heavy-duty customers will be towing, this is of the utmost importance. Should you require extra assistance with heavy loads and pulling the HD, then you can utilize affordable Ratchet Straps, which you can keep in the vehicle in case of unexpected lifting.
While most of our heavy towing was limited the aforementioned 14,000 RV, I did get a chance to tow a 30,000 load with a gooseneck flat-bed with a one-ton dually, and the 6.6L Duramax Turbo Diesel handled that massive load with ease. My nerves towing something this heavy, now that was a different story..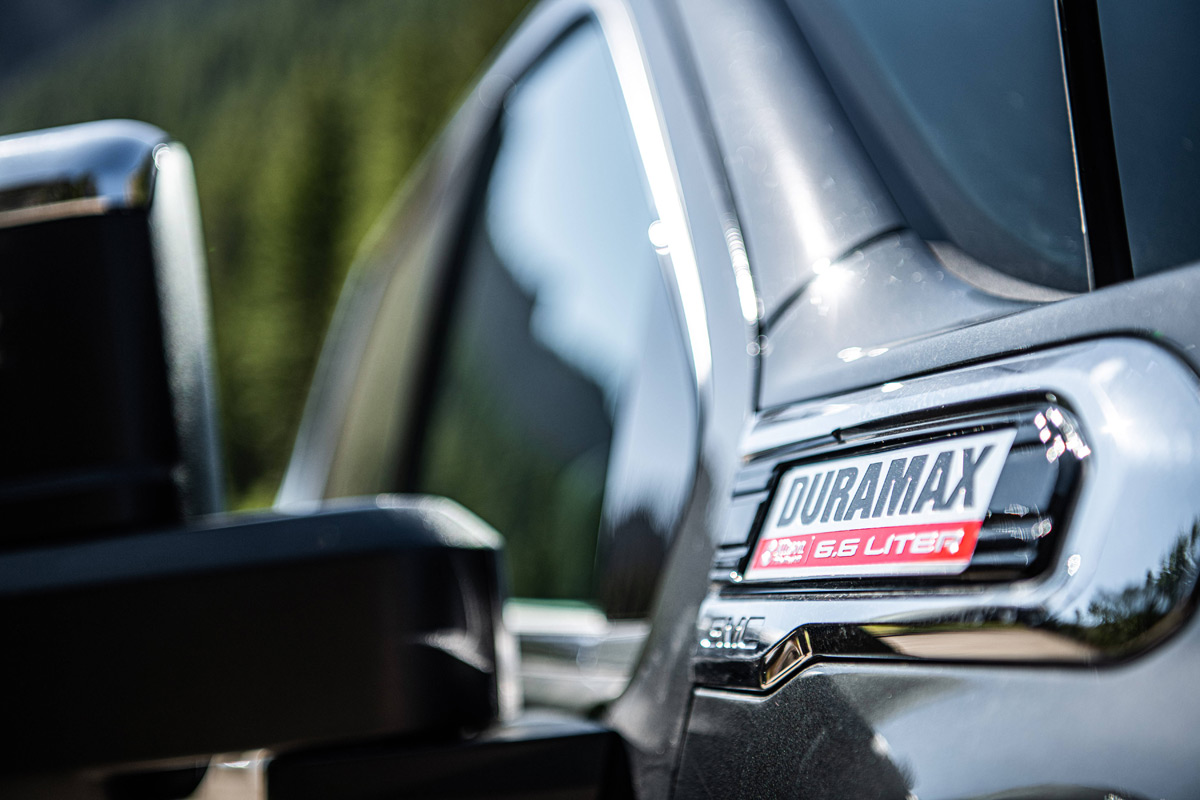 2. Allison 10-Speed Transmission & 6.6L Duramax Turbo Diesel
The Duramax / Allison pairing offers drivers the ultimate in towing confidence. The Duramax 6.6L turbo-diesel engine puts out an insane 445 horsepower and 910 lb-ft of torque (with full torque available in 1st gear), and the new Allison 10-speed transmission (the first-ever offered in the heavy-duty pickup segment) features closer gear spacing to allow the engine to operate in an optimal range at all times, with varying load and terrain conditions.
Diesel not your thing? There's also an all-new 6.6-liter direct-injection V-8 gas engine, which makes 401 horsepower and 464 lb-ft of torque. It's paired with a six-speed automatic, and it should compare well with Ford and Ram's V8 offerings.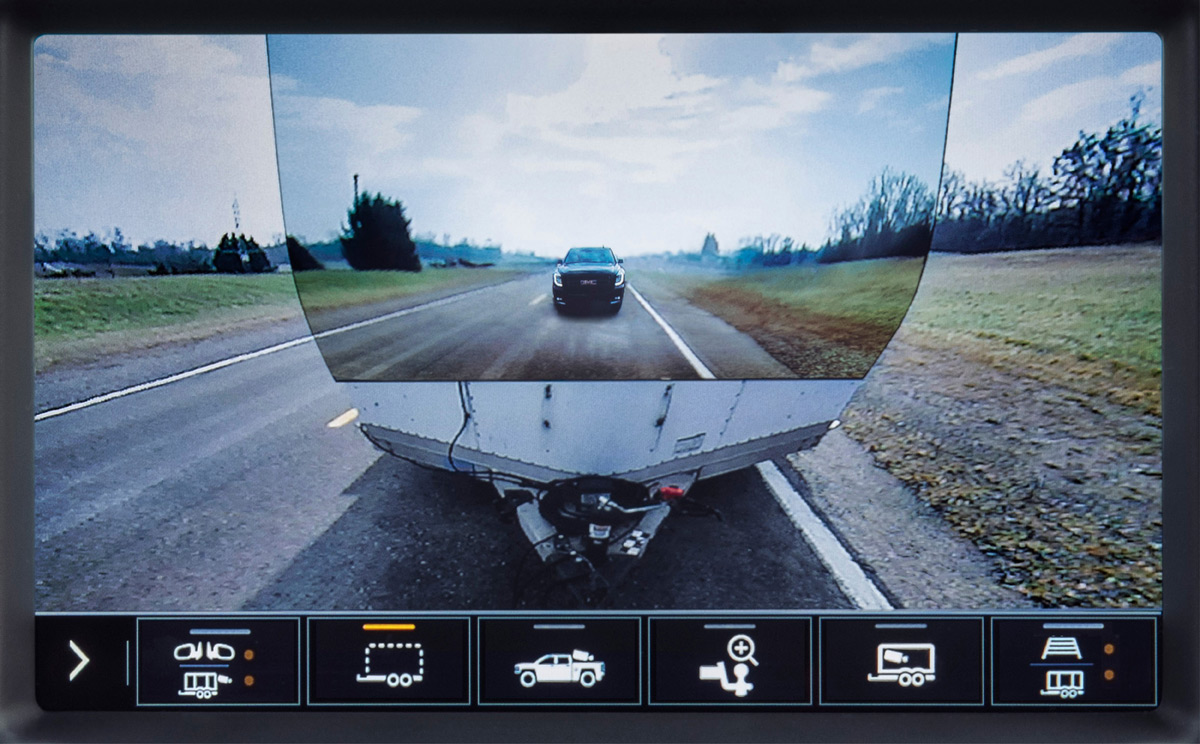 3. Class-Leading 15 Camera Views
Towing can be a daunting experience, especially when you're trying to make your way through a tight or congested area with a large load (think RV or trailer) in tow. While most heavy duty pickups have cameras to help you when hitching up, GMC takes things to a whole other level with their available 15 unique camera views.
That's right, 15 views, including an industry-first transparent trailer view, which help optimize the driver's view around the truck and compatible trailers to provide added confidence when towing. The revolutionary transparent trailer feature uses the tailgate-mounted camera and an accessory camera mounted on the rear of the trailer. The resulting display (shown above) helps the driver to virtually see through the trailer, a benefit when navigating parking lots, merging into traffic or making tight turns. Can you say game changer?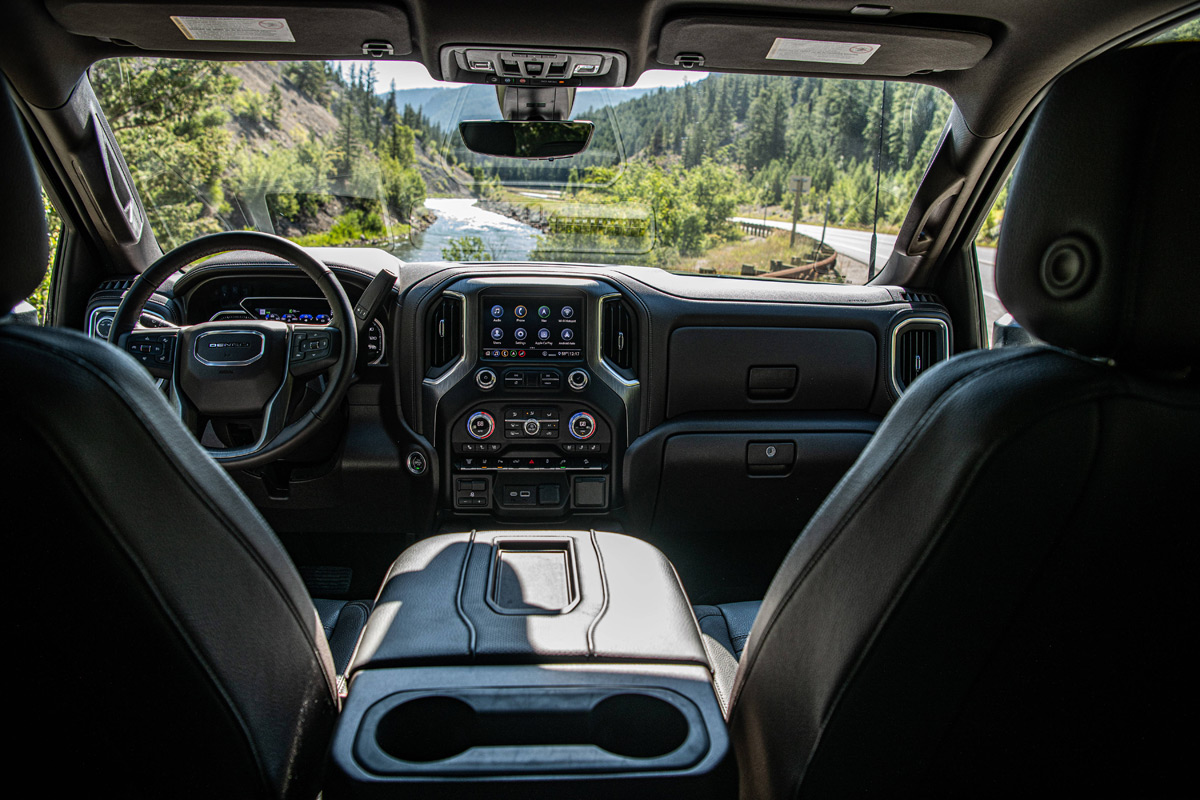 4. First-In-Class Head-Up Display & Rear Camera Mirror
For some reason, none of the heavy duty trucks offer a head-up display. Until now. The Sierra HD is available with a 15″ diagonal head-up display that offers useful trailering information, including vehicle speed, navigation information and an inclinometer display for the road grade. It projects onto the windshield low in the field of vision, so you can keep your eyes on the road. And it's customizable for whatever info you desire.
As the name suggests, the available Rear Camera Mirror lets you switch your rearview mirror from a traditional reflection to a streaming image from your rear camera. This is useful when you have something obstructing your rear-view and still need to see what's behind you. This mirror has been offered on a variety of GM, Buick, and Cadillac models, so it's great to see it makes it's way to GMC as well.
5. World's First MultiPro Tailgate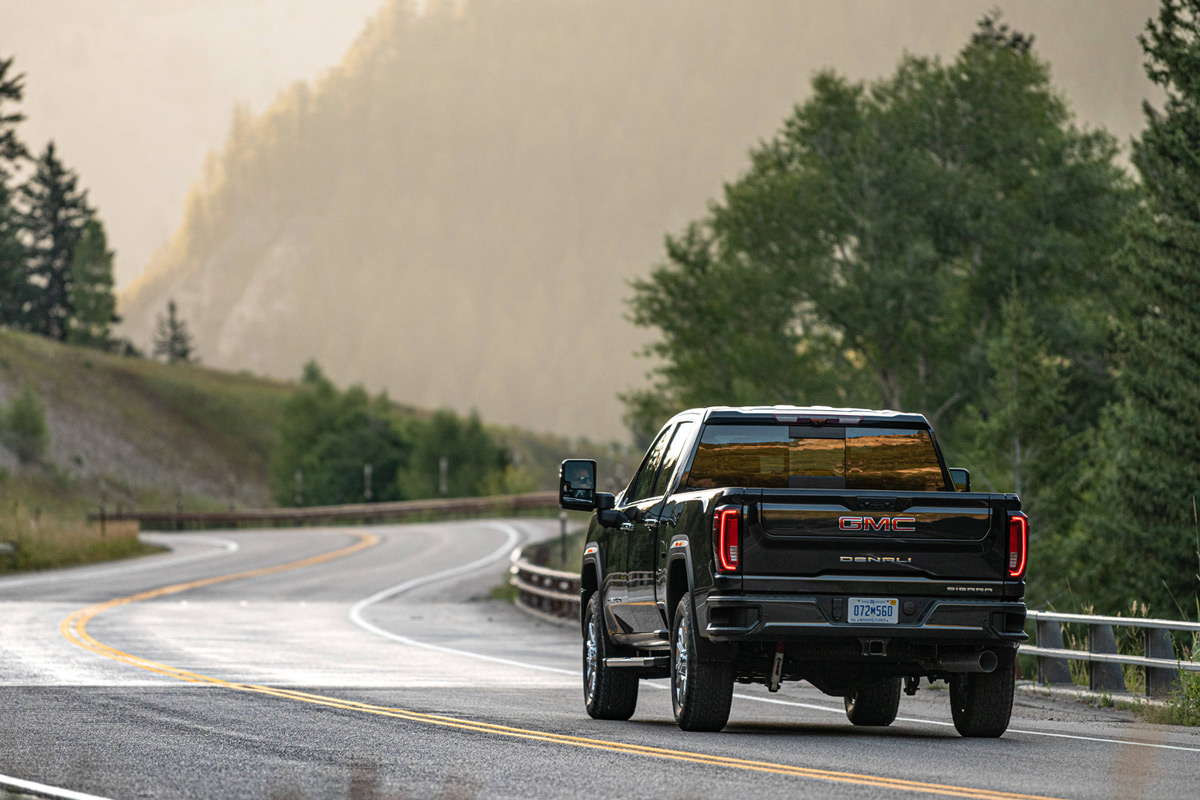 As with the GMC Sierra Denali we drove last year, the 2020 Sierra HD can be had with the GMC MultiPro Tailgate. This innovating tailgate features 6 unique functions and positions, offering enhanced second-tier loading and load-stop solutions, and easier access to items in the box. In addition, it incorporates a "step" mode that allows you to get in and out of the bed with ease, with a handle added for added stability.
In addition, the Sierra HD AT4 we tested had their CarbonPro bed, which is purpose built with strands of carbon fiber reinforced plastic to deliver unprecedented strength. It offers best-in-class dent, scratch and corrosion resistance, and it's ready for anything. Seriously, we took a baseball bat to it repeatedly and it didn't even make a dent.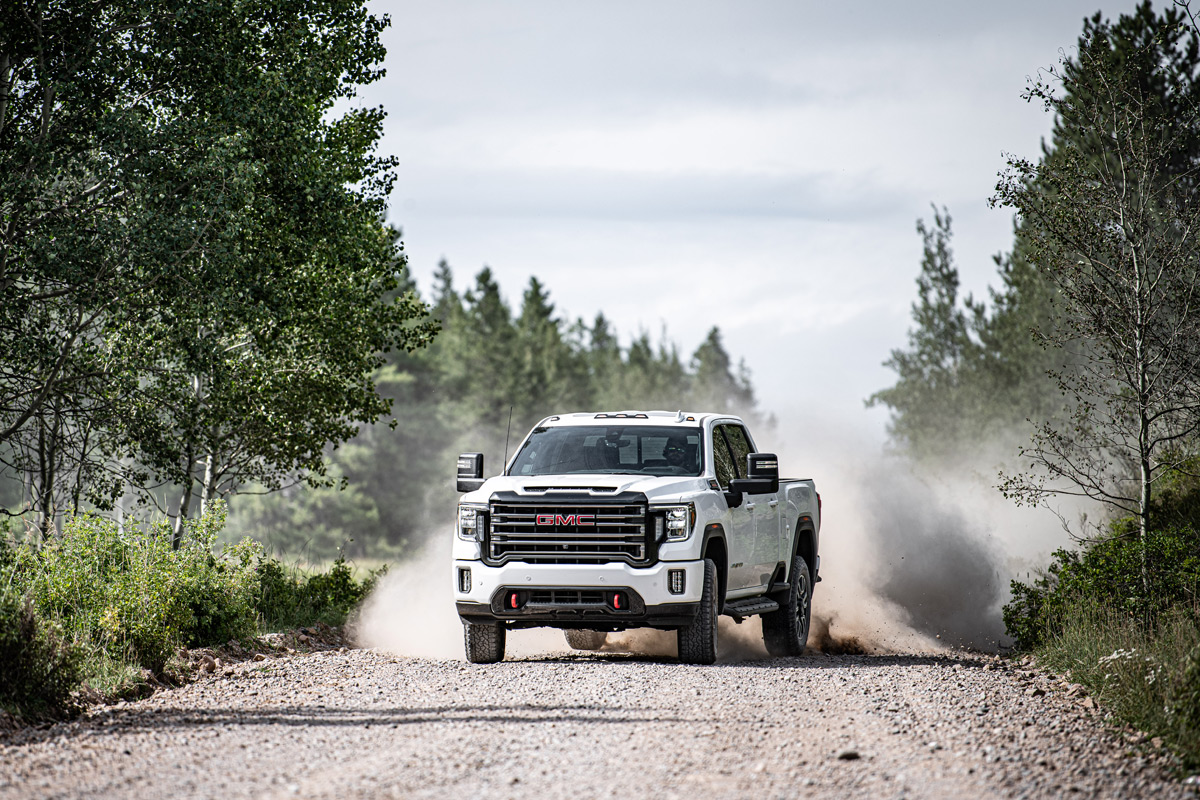 Overall, there is a lot to like about the new 2020 GMC Sierra HD. The trucks will be offered in three cab configurations, two bed lengths, two engine choices, and five trim levels, allowing customers to find the perfect heavy duty truck for their needs.
Pricing starts at a reasonable $38,790 for the entry-level Sierra HD regular cab, and can climb as high as $80,000 or more if you go for a top-of-the-line Denali with all of the options. It just depends on how crazy you want to get.
Visit GMC.com to learn more about the 2020 GMC Sierra 2500 & 3500 Heavy Duty trucks.