Have You Tried Applebee's New Hand-Cut Wood Fired Grill Items Yet?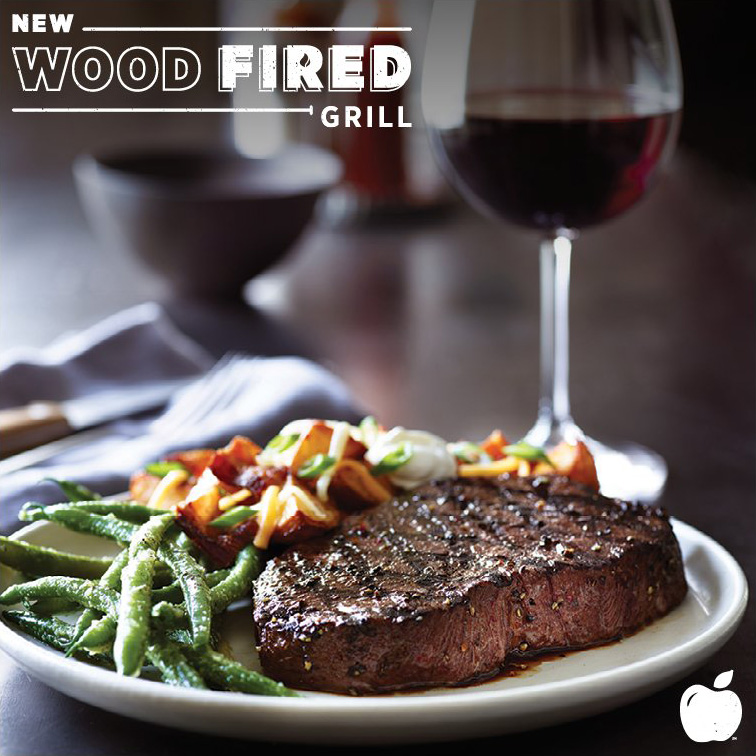 Over the past few weeks, I'm guessing you've probably seen numerous commercials promoting Applebee's new wood-fired grill menu on television, Snapchat, Pandora, and YouTube. And if you haven't, you will soon enough! And once you see it, you're going to get very hungry..
So here's the deal. Over the past few months, nearly 2,000 Applebee's locations have quietly replaced their traditional gas grills with new wood-fired grills that promise to infuse their food with a smoky flavor.
The first menu items to hit the grills are one-inch thick certified USDA Choice Top Sirloin Steaks and Bone-In Pork Chops. These items are hand-cut in the kitchen daily by trained meat cutters to ensure ideal thickness before they hit the grill. Walk into your local Applebee's, and the the mouth-watering aroma of American Oak smoldering is hard to miss.
"Our new wood-fired grill is the cornerstone of our elevated dining experience and we're excited for our guests to come in and try our delicious new wood-fired steak options," said Kevin Coughlin, director of operations, Applebee's New Jersey. "Our chefs are newly trained to ensure the optimal cut and preparation of each and every one of our Hand-Cut Wood Fired Steak dinners."
I was already excited to try out some of these new wood-fired menu items, so when the folks at Applebee's reached out to us and asked if we'd be interested in trying out the new menu, it was a no-brainer!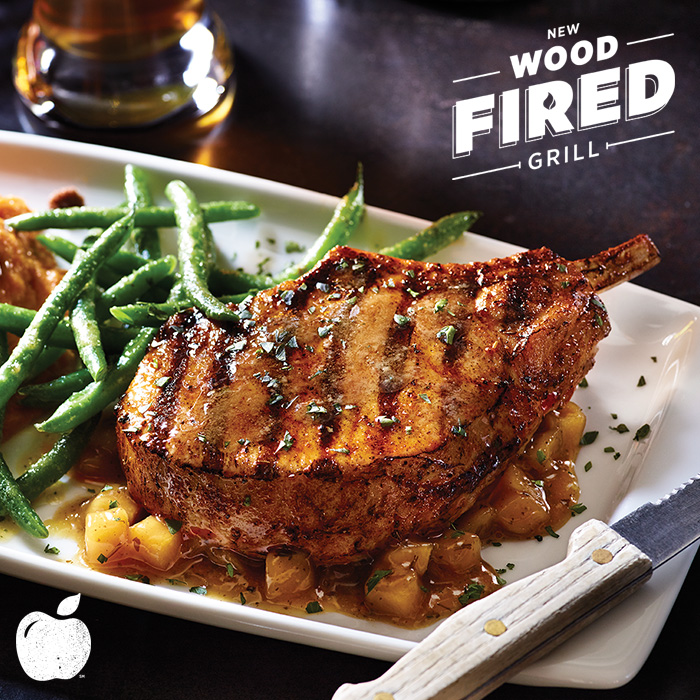 Walking up to the restaurant, it's impossible to miss the enticing aroma of American Oak smoke, letting you know that you are in for something special. The new menu prominently features the new grill masterpieces, which include Hand-Cut USDA Choice Top Sirloin Steaks (8 oz or 6 oz), Hand-Cut Bone-In Pork Chop with Honey Apple Chutney, Cedar-Grilled Salmon with Maple Mustard Glaze, Grilled Chicken Breast, and Double-Glazed Baby Back Ribs.
Naturally, I had to go with the 8 oz steak, which is aged a minimum of 14 days and hand-cut in house before being thrown onto the wood-fired grill. You can really taste that mild smokiness in each bite, and it was really something else. My wife opted for the baby back ribs, and they were pretty amazing as well. And for dessert, we shared the decadent triple chocolate meltdown, which is absolutely to die for!
Kudos to Applebee's for stepping up their game with the new wood-fired grill and menu. If you haven't been there in awhile, make sure you go back and try out the new menu when you get a chance!
But wait, there's more! Applebee's has generously offered up a $100 e-gift card which we're giving away to one lucky Guys Gab reader. To enter, simply leave a comment below and tell us what Applebee's menu item you plan on getting. We'll pick a winner at random on Wednesday, June 15th at 5pm EST. Contest open to US residents only.