Get Your Dad or Grad A Pebble Smartwatch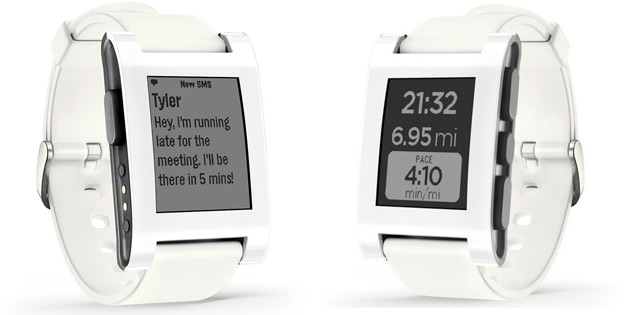 The Pebble Smartwatch connects to your iPhone or Android device via Bluetooth so you get the information you need exactly when you need it. Pebble is designed to make your life easier by providing personalized notifications and downloadable apps to keep you in the loop when you're on the go.
You can also customize the Pebble Smartwatch with watchfaces and apps to suit your personal style and interests. It features a long-lasting battery (5-7 days per charge), user-friendly operation, and an e-Paper screen that's readable even in bright daylight or underwater.
The Pebble dominates the smartwatch market, and for good reason. It looks pretty sharp (even more so in this exclusive Arctic White color that's available from Target), it's Pebble App store has hundreds of apps to bring even more functions of your phone to your watch, and it's incredibly simple to use.
Here are just some of the cool things you can do with your Pebble:
Be in the Know: See notifications even when hands are full, including calls, texts, emails and Tweets.
Music Control: Control music while driving, running, or if your phone is across the room.
Track Your Fitness: Track calories, distance, and speed from any of the apps available for Pebble.
Find Food Fast: Use Yelp to find restaurants near you, all from your wrist.
Never Get Lost… Again!: Google Maps can send turn-by-turn or step-by-step directions to the watch.
Of course, that's just the tip of the iceberg. Half the fun is exploring the various apps available for the Pebble and integrating them into your daily life.
Up until recently, if you wanted to purchase a Pebble Smartwatch, you had to buy it online. But Pebble has expanded it's retail presence and is now available in a variety of retail stores. Target recent started offering the Pebble (both in store and on Target.com), and they're the only place where you can get the Pebble in Arctic White, as it's an exclusive color to them.
The Pebble Smartwatch can be purchased from Target for $149.99. But don't delay, because these suckers are flying off the shelf!