Pebble Steel Smartwatch Debuts At CES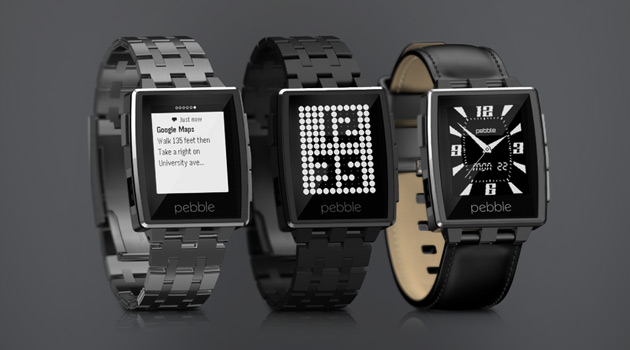 Back in 2012, a startup company called Pebble Technology set an insane Kickstarter funding record for their innovative Pebble Smartwatch, a customizable watch that let you download new watchfaces, use sports and fitness apps, and get notifications from your smartphone. It redefined the wearable market, and today there are over 300,000 Pebble owners from all over the world.
Yesterday at CES, the company unveiled their first new watch since the original model, the Pebble Steel.
Pebble Steel takes everything you know and love about Pebble—the crystal clear ePaper display, weeklong battery life, and waterproof design—and wraps it a smaller, thinner package. It's made of forged and CNC-machined stainless steel, designed to appeal to folks who want a dressier watch.
"With Pebble, we created an iconic, colorful, and sporty smartwatch," says Product Evangelist Myriam Joire, "but we wanted to build something even more refined. Pebble Steel cranks the style dial to 11."
The display is protected by a Corning Gorilla Glass lens with an oleophobic, anti-fingerprint coating. The housing also subtly incorporates a RGB LED light to indicate charge status. Like the original, Pebble Steel is waterproof up to 5 ATM.
Pebble Steel comes in two finishes: Brushed Stainless and Black Matte. All models are bundled with both a matching metal band and a black leather strap. The Black Matte Pebble Steel is crafted using a process called Physical Vapor Deposition to provide a tactile, deep black finish that's also ultra-durable.
"Our mission is clear," says CEO Eric Migicovsky. "Create the gold standard for wearables that mesh perfectly with your everyday life, and build the fundamental ecosystem and platform for these devices."
During CES 2014, Pebble partners Pandora, iControl, and Mercedes-Benz will feature Pebble Steel in hands-on demos of their new Pebble app integrations. These pioneering brands join ESPN, Yelp, Foursquare, and GoPro as part of Pebble's growing app family, ready to bring tiny moments of awesome to Pebblers' wrists every day.
You can pre-order Pebble Steel exclusively from getpebble.com for $249. Orders for Pebble Steel will begin shipping on January 28th.