Guinness Brings You A New Fall Beer!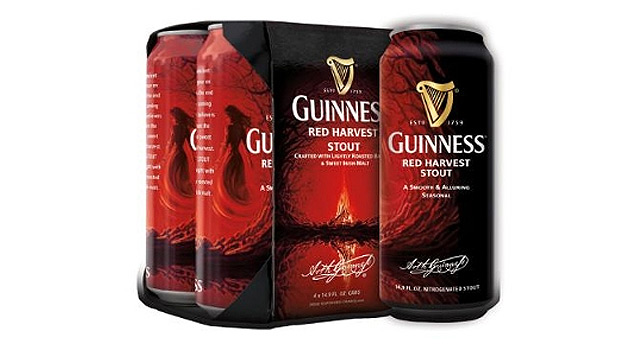 Celebrating ancient Celtic traditions, Guinness & Co. recently released GUINNESS Red Harvest Stout, a new, limited edition seasonal beer that's available in the United States this fall. This new craft brew, which captures the spirit of the fall season, provides a change of pace from the array of pumpkin beers often available this time of year while incorporating centuries old Celtic traditions.
With GUINNESS Red Harvest Stout, the makers of GUINNESS bring to the American beer drinker the ancient Celtic tradition of Samhain. In centuries past, Samhain (pronounced saw-wen) was the festival held every year on All Hallows' Eve in celebration of the end of the fall harvest and the coming of winter. Legend tells that on this night, restless spirits are beckoned from the darkness with bonfires and sweet offerings from the bountiful fall harvest. GUINNESS Red Harvest Stout captures the spirit of this ancient Celtic tradition and represents Guinness' brewmasters' own crafting of this special offering to adult consumers for this fall season.
GUINNESS Red Harvest Stout celebrates the brand's brewing tradition with its mildly sweet, velvety taste and deep red hue. The stout is crafted with a blend of lightly roasted barley which allows for aromas of caramel and toffee and is supported by a sweet malty taste. When poured into a pint glass, the nitrogen widget creates the iconic surge, unleashing the sweet and alluring flavors and delivering a distinctively smooth, flavorful taste experience to be enjoyed responsibly.
"GUINNESS Red Harvest Stout is perfect for fall and offers a great change of pace from the pumpkin seasonals crowding beer shelves," said Doug Campbell, Brand Director, GUINNESS beer. "GUINNESS Red Harvest Stout has a unique ancient Celtic connection with Halloween through the story of Samhain, and we encourage adult beer fans to enjoy it in moderation with friends and family."
GUINNESS Red Harvest Stout is available in four-packs of 14.9oz cans (4.1% ABV), and can be found at retailers and bars nationwide. When celebrating your own traditions this fall, Celtic or otherwise, Guinness reminds all consumers to enjoy GUINNESS Red Harvest Stout responsibly.