Here's A Hack To Get Free Internet On Your Next Flight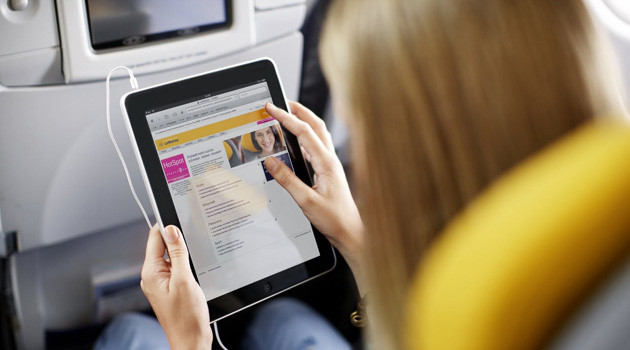 A few years ago, the airlines introduced Gogo Inflight Internet service, and it was a real game changer. While the service isn't always the fastest, it's a great way to pass the time on long flights, letting you stay current on e-mails, bang out a few blog posts, or just waste time on Facebook or Twitter.
The only problem? It's ridiculously expensive!
As such, I typically load my iPad with movies and books beforehand, and just deal with e-mail and such once I arrive at my destination. But on a recent 6-hour cross country flight, I ran out of stuff to watch, so I decided to check out the movies that Delta had to offer. And that's when I accidently discovered a loophole that gave me free Internet access.
You see, in order to watch a movie on your smartphone or tablet, you need to download the Gogo app. And when I clicked on the link to download the app, a funny thing happened – I started receiving notifications from Facebook?! That's right, in order to download the Gogo app, they temporarily give you Internet access, which you can then use for whatever you want.
Here's what you need to do:
Connect to the Gogo Wifi network
Head over to the Gogo homepage (it should bring you there by default when you open your browser)
Browse the movie library and find a movie
Click on the movie and select "Watch Now"
After you type in the CAPTCHA code, it'll ask you whether or not you have the Gogo app
By selecting "Download on the App Store" you will be taken to the App Store from Safari
Leave the App Store once Gogo takes you there
You are now connected to Gogo Inflight WiFi and can browse freely
When you think about it, the method used here is rather straight forward. In order to download the Gogo app, you're provided with temporary Internet connectivity. Once that's enabled, you're given a period of time to begin the download. But instead of using your Wi-Fi connection to download the app, you can start browsing to your heart's content.
After about 15-20 minutes, the Internet will stop working, and in order to get online, you'll have to repeat the process again. The first time this happened to me, I couldn't believe it. But a quick Google search for How to Get Free Gogo Inflight WiFi showed me that this "hack" has been going on for some time now, and it appears to work on multiple airlines.
Naturally, we don't condone the stealing of Internet service.. So use this information at your own risk. 🙂