Highlights From The 2011 New York Auto Show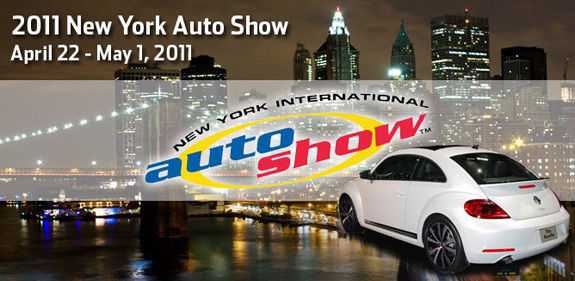 Apologies for the delay in getting this piece up, it's been a rough week. My digital camera flaked out 15 minutes into the show (it wanted to take video even when it was in picture mode), leaving me with an iPhone that wasn't doing the cars justice. If you want to see pictures from the show, Google is your friend.
This year was all about the MPGs – Electric, hybrid, and high-efficiency gas engines. With gas prices topping $4/gal, these cars couldn't have come at a better time. But it wasn't all green, there were some gas guzzlers that got the crowds excited as well.
For me, the best in show went to the 2012 Scion FR-S Concept, which CJ posted about a few days ago. Dramatic styling, lightweight, 6-speed manual coupled with RWD, and a pricetag under $30K. What more could you ask for? Toyota goes back to their sporty roots.
Other noteworthy car debuts include the 2012 Chrysler 300C SRT8 (465HP and 465 lb·ft of torque, with a 0-60 in the high 4 second range), the 2012 Grand Cherokee SRT8 (same stats as the 300C SRT8), the 2012 Mercedes-Benz C63 Coupe (a worthy competitor for the BMW M3 and Audi RS5), the 2012 Jaguar XKR-S (Racy Performance, Racy Looks, and a $132K pricetag!), the Lexus LF-Gh Concept (a major departure from their usual styling, I loved it), and the Mercedes-Benz A-Class Concept (not yet confirmed for the US, but hatches are hot).
Looking for something that doesn't break the bank? The 2012 Kia Rio was quite the crowd pleaser, and starts at only $12,990. Kia started getting some street cred with stylish designs at affordable cars, with the Kia Forte Koup and Optima; and now the Kia Rio joins the party!
If you want a fuel-efficient car with the safety of all-wheel drive, head over to Subaru's booth and take a look at the new 2012 Subaru Impreza. We did a piece on the new Impreza when spy photos were released a few weeks ago, and our feelings haven't changed much since seeing the production model. The 5-door is definitely the better looking of the two, but neither one is winning any beauty contests.
Chrysler debuted the 2012 Chrysler 200 S sedan and convertible. I thought the S trim looked pretty sharp, and it works particularly well on the convertible. But at nearly $33K for an S convertible, it'll be interesting to see if they've outpriced the market or not.
Honda gives their new 2012 Honda Civic Si a nice boost in displacement, getting rid of it's old 2.0 liter i-VTEC engine and replacing it with a 2.4 liter i-VTEC engine. Paired with a 6-speed manual, owners will enjoy an extra 30lb·ft of torque.
The 2013 Ford Taurus received a mild facelift, but the big news is what's underneath the hood. Base models are powered by a new 2.0-liter turbocharged 4-cylinder engine that proves 237HP and 250 lb·ft of torque that promises to deliver 31 mpg – Not bad for a car weighing 4000 pounds!
And last but not least, we saw the 2013 Chevrolet Malibu. Shortened wheelbase, new sheetmetal, and more spacious to boot. Oh yeah, and the Eco model will get almost 40MPG! The interior and rear tails seemed like they were taken directly from the Camaro, and the front is too similar to the Cruze. It's average looking at best, but it's competing in a segment against other cars like the Accord and Camry, so that's not really a big deal.
It was a great show, and I can't wait to see what next year's show has in store for us!