Movie Review: This is Where I Leave You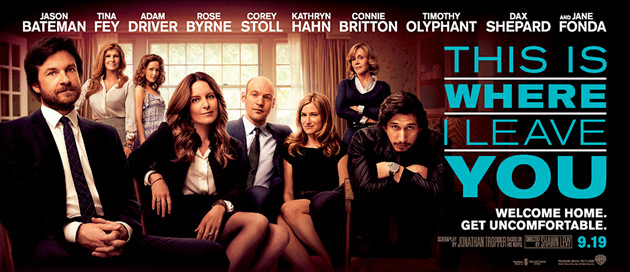 The last time Jason Bateman was on the screen, he was playing the role of the not so likeable Guy Trilby in the comedy Bad Words. In his latest movie This Is Where I Leave You, Batemen is back and more like the roles people are used to seeing him play, being the feature character Judd Altman in a comedy-drama that's both funny as well as touching. There's plenty of stars to go around, with even Jane Fonda playing her role as the mother Hillary Altman perfectly. The movie also stars Tina Fey, Rose Byrne, Corey Stoll, and Adam Driver.
The movie centers around the dysfunctional Altman family, with Judd being the character it centers around the most. Bateman's character has just gone though catching his wife sleeping with his boss (Dax Shepard), and then gets a call from sister Wendy (Fey) that their father has passed away. Following the funeral, their mother Hillary tells her four kids that the dying wish of dear old dad was that the kids would stay for 'Shiva,' the Jewish tradition of mourning – and stay in the house for an entire week.
The week is filled with plenty of comedy as the family comes together for the first time in years. From Judd reconnecting with an old friend Penny (Byrne) who had a crush on him in younger years, and also trying to deal with his wife and boss following the affair. Wendy is reliving some of her past as well, as now with two kids she connects with her old flame, played by Timothy Olyphant, while her husband leaves mid-week for business in London.
The other two bothers have issues of their own, with youngest brother Phillip sleeping with his much older therapist, and at the same time trying to overcome the stigma of being irresponsible and somewhat the black sheep of the family. As for oldest brother Paul (Stoll), he and his wife are trying to have a child, and he's also the son who stayed behind to help run the family business. The back and forth with Stoll and Driver as the oldest and youngest brother is a highlight of the film.
The comedy is genuine and the characters in the film do a fantastic job meshing throughout. There's enough of a soft spot in the movie to keep it serious, and Bateman is at his best, making this movie one that is going to get plenty of attention this fall season. Bateman, Fey and Fonda are great in their roles, and just when you think there can't be any more surprises in the family, there's one or two still left.
The laughs are enough to make it a movie to get to the big screen to see, and it's a great date night movie as well, so don't hesitate to spend your money on this great comedy-drama.