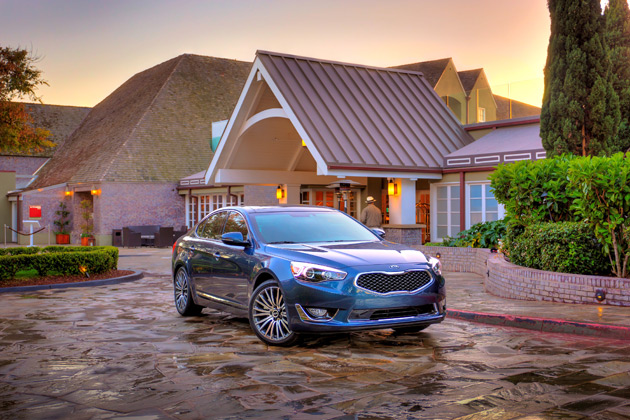 Thanks to Kia's recent Super Bowl ad with "Morpheus", everyone is now aware of Kia's new flagship vehicle, the K900. But did you know that Kia has another luxury vehicle in their lineup, the 2014 Kia Cadenza?
We briefly drove the all-new Kia Cadenza when it first came out last fall, and we just recently got a chance to drive the car for an extended period of time, which let us see how the car performs under normal everyday driving conditions. Keep reading to see our thoughts on it.
The first thing you'll notice about the Cadenza is that it's a sharp looking car.. Personally, I think it's one of the best looking car in the midsize luxury segment. You're immediately drawn to the Cadenza's massive 19″ alloy wheels, LED tail lights, and distinctive styling. It's amazing just how far Kia has come over the past few years!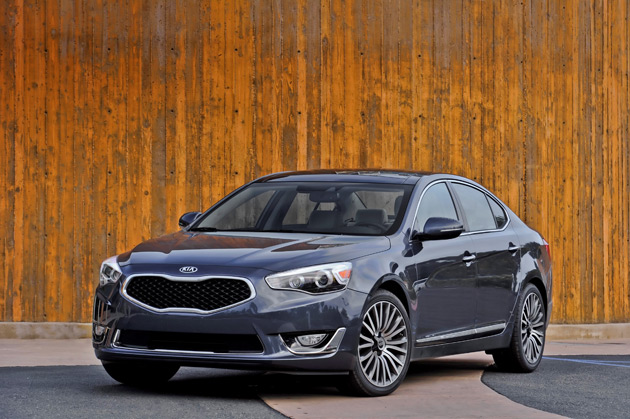 The interior enjoys the upscale treatment as well, rivaling some much pricier German brands, with numerous technology features standard. Our tester came equipped with the $3000 Technology Package, which adds advanced smart cruise control, blind spot detection system, lane departure warning system, an electronic parking brake, hydrophobic front door windows (windows that clean themselves), and sexy 19″ alloy wheels.
In addition, our car had the $3000 Luxury Package, which adds a panoramic roof with power sunshade, HID headlights with adaptive lighting, Nappa leather seat and interior trim, power driver's seat cushion extension, ventilated driver's seat, heated outboard rear seats, a heated steering wheel, supervision meter cluster w/ 7″ color LCD, power tilt & telescopic steering column, integrated memory system, and power rear window sunshade.
These two option packages elevate the car from good to great, and while I get why they're options (to keep the base price down), they really should be standard on a car of this caliber. If I had one complaint, it's that Kia doesn't offer those gorgeous cross-stitched leather seats that are offered in the Optima. They take the interior to a whole other level, and hopefully Kia will make that an option next year.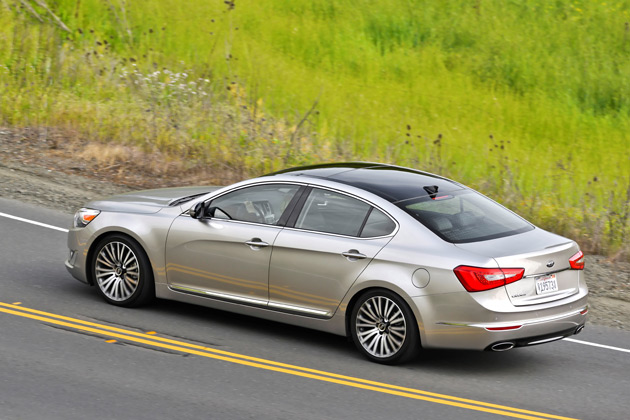 The Cadenza is equipped with Kia's most powerful V6 engine ever, a smooth-revving 3.3-liter gasoline direct injection engine that puts out 293HP and 255 lb-ft. of torque. Power is routed to the front wheels via a six-speed automatic transmission that includes a Sportmatic manual shift mode and paddle shifters.
With this setup, the car delivers adequate acceleration, while still delivering solid mileage (19/28/22 MPG) for a car of this size. But we'd love to see Kia offer a turbo variant to compete with some of the Cadenza's V8 competitors.
And thanks to the Cadenza's sport-tuned fully independent suspension with a McPherson strut setup in front and a multilink rear design, you're treated to a very performance-oriented ride, yet it doesn't beat you up. Surprising, given the low-profile rubber on those 19″ rims, but we're not complaining one bit.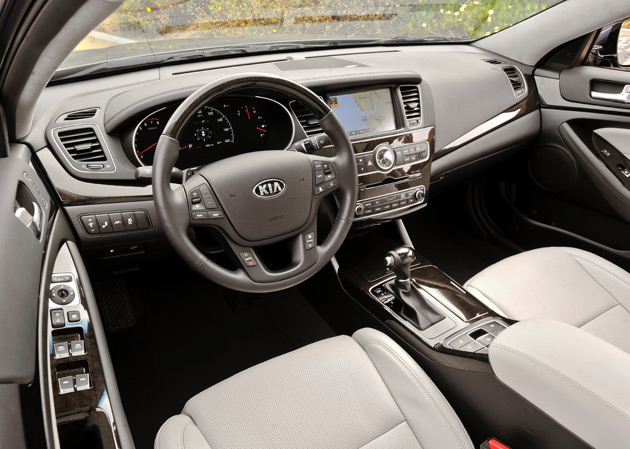 With an MSRP of $35,100, and an as-tested price of $41,900, the Kia Cadenza offers tremendous value for those shopping for a midsize luxury sedan. Kia's biggest challenge is changing people's perception about their vehicles after a particularly shaky start in the US.
But I'm here to tell you that they've come a LONG way since then, and I highly recommend checking out the Cadenza if you're in the market for a new car. You won't be sorry!