Review: Transformers: Age of Extinction (Blu-Ray 3D)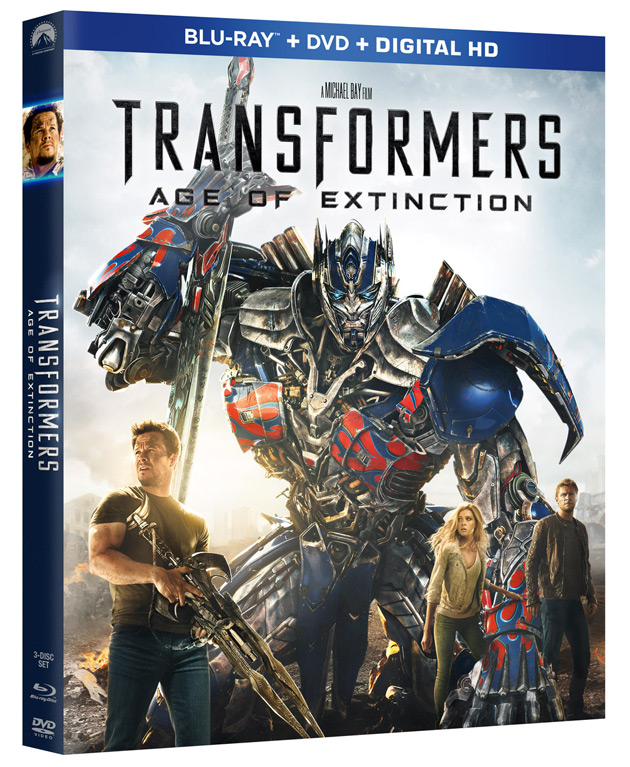 Transformers: Age of Extinction was a global smash hit when it hit theaters earlier this summer, and now the movie makes its highly-anticipated debut today on Blu-ray, Blu-ray 3D, and DVD. So is it worth buying? To find out, we got ahold of an advanced copy of the four-disc Blu-ray 3D Combo Pack from our friends at Paramount Pictures and screened it over the weekend at Guys Gab HQ. Here's what we thought of it.
Transformers: Age of Extinction takes place five years after the battle between the Autobots and Decepticons in Chicago. Humans now feel that all alien robots are a threat, regardless of what side they're on. So the CIA establishes a unit who's sole purpose is to hunt down and destroy any remaining Transformers. To aide them in their hunt, they've teamed up with an alien robot named Lockdown who is searching for Optimus Prime. Only Cade Yeager (Mark Wahlberg) finds Optimus first, and thus begins a chase that puts Yeager and his family in imminent danger.
Honestly, I had mixed feelings about this movie.. While I've been a Transformers fan since childhood, the last few Transformers movies seemed to have gotten away from their core storyline, and now they're more of a stage for Michael Bay's ridiculous over-the-top special effects. The storyline for Age of Extinction is extremely confusing, has huge plot holes (where did Lockdown come from, what happened to Shia LaBeouf, etc), and the movie is about an hour too long (clocking in at 164 minutes). Even the introduction of the Dinobots wasn't as exciting as I had hoped for, it was more of a visual spectacle than anything else.
Yet despite all these shortcomings, I still rather enjoyed the movie, much like I did with Dark of the Moon. It's a non-stop thriller with plenty of shoot 'em up action and unbelievable special effects, especially when viewed in IMAX 3D. Director Michael Bay used the first IMAX Digital 3D camera in this movie, making the images more immersive and stunning than anything that's been seen on the big screen so far. The cinematography and CGI is able to show the intense battle scenes and large scale attacks in a breathtaking, edge-of-your-seat way, and you feel like you're right in the middle of all the action!
Another reason you should consider picking up the Blu-ray Combo Pack is because it comes with over three hours of bonus content, and there are some great gems here. From selecting fierce new cars and designing new Transformers characters to constructing elaborately detailed sets, this bonus footage truly takes viewers inside the fun, hard work and excitement of making an electrifying global blockbuster film. There's also an in-depth interview with Michael Bay about his approach to the film's jaw-dropping action sequences, a crash course on the "Bayhem" of being on set for the massive, global production, a revealing look at the design process inside Hasbro Headquarters, and more.
Overall, if you can get past some of the movie's shortcomings and appreciate it for the guilty pleasure that it is, I certainly think Transformers: Age of Extinction is worth picking up. And if you've got the equipment, it's definitely worth spending a little extra for the Blu-ray 3D version over the standard Blu-ray or DVD versions!
Rating: 3.5/5