Sitting Down With The Cast of FXX's 'The League' – Part One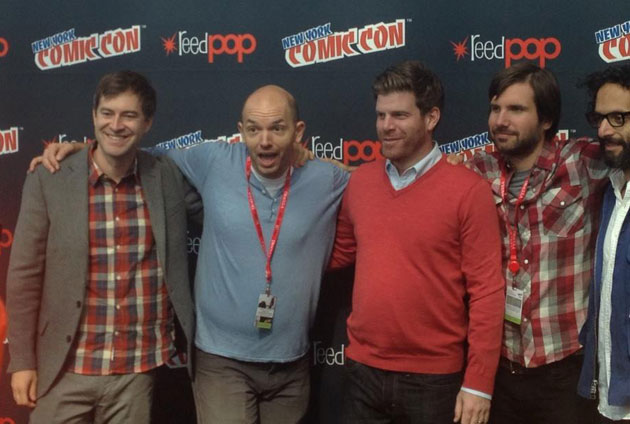 Who knew that the fantasy football wave would come to this? Well into it's 5th season, FXX's The League has helped resurge fantasy football team names and spark a rise in posting videos where you can trash talk your opponent each and every week. They have invented some of the catchiest songs on TV (check out Vinegar Strokes) and have changed the way we look at Christmas Elves on the Shelf.
I recently had the opportunity to sit down with a number of the show's cast members, including Mark Duplass (Pete) John Lajoie (Taco) Steve Rannazzisi (Kevin) Paul Scheer (Andre) Kate Aselton (Jenny) and Jason Mantzoukas (Rafi). We talked about life, the show and Arnold Palmer's urine. I also was able to interview the creators of The League, Jeff and Jackie Schaffer. It was an extremely fast paced carousel where I got maybe five minutes with each cast member, but let me just say that they were hilarious and just truly appreciative that we love watching their show.
I have compiled this into 2 parts, so enjoy part one of my sit down with the cast and creators of The League. First up was Jeff and Jackie Schaffer.
I first have to ask this because it is one of my favorite songs. I heard that you guys wrote Vinegar Strokes. Where did that inspiration come from?
Jeff: Vinegar Strokes came from friends of ours that went to my high school. This was on a message board for our high school league, and one of the guys was giving each other shit, and he said "Blah blah blah, I was at the vinegar strokes." And I said "What the hell is that?" He said "You know it's the moment right before your about to ejaculate and it looks like someone held a spoon full of vinegar up to your face." I said that's going in the show as soon as we can find a spot. Charlie McCruden in my high school league, that's where vinegar strokes came in.
Chuck McCruden is a great name.
Jeff: Chuck McCruden is a great name, and he is a Chuck McCruden through and through.
I also have to ask because I love the character Frank 'The Body' Gibiatti. Is there a man out there like 'The Body?'
Jackie: That guy is an amalgamation of different people that we have met over time. I knew some guys like that in college.
Jeff: Lacrosse playing assholes!
Jackie: Lacrosse playing assholes, um I went to Georgetown and a few members of the lacrosse team did resemble Gibiatti.
Jeff: And then you are like, well what does a lacrosse playing asshole do when he grows up? Well he works at the security committee in Chicago. He is just a real douche-y, dude's dude. But man is Ike Barinholtz (he plays Frank) funny though! He is also the sweetest guy in the world, he would say these terrible things and just go "I'm so sorry!"
How much of the show is actually written, because I know that you (Jeff) have had some experience on Curb Your Enthusiasm and Jackie you worked on Old School.
Jackie: We write single spaced outlines/scripts that are 15 pages long. There is a lot of dialogue in them, because it's our job as show-runners to make sure that on the day, because we have very little money and very little time, that we actually have something to shoot. As Jeff has said before, it's like comedy stock exchange, if you can beat the script, beat it. We definitely go in there though with fully flushed out stories and dialogue and all sorts of other stuff, but a lot of the great stuff we end up using is improvised. It is a better version then what was written down.
Jeff: And that's the best thing about what we call semi-scripted or semi-improvisedm because we get the best of both worlds. We make sure that the scenes make sense and the scenes are funny, and then we have these great guys come in and say things that you didn't know they were gonna say and you start re-writing. So basically every scene gets rewritten, and what we love about it is that it doesn't feel scripted because of the improve, but it doesn't feel to much like improv because we have an outline.
Was their an improvised line that you thought was really funny, but ended up not making the show?
Jackie: A million of them!
Jeff: You have to watch the outtakes on the DVD. You should see the Jason Mantzoukas outtakes on the DVD.
Jackie: There is a ton of stuff that ultimately doesn't make the show, because you start going down one thread so you have to pick and choose what makes sense for the story.
Do your editors secretly hate you?
Jeff: Oh they love it! Well they love it and hate it. Here's the thing, we spend a lot of time in the editing room because first cuts could be like 40 minutes long and we have to get down to 20 minutes. So like the show that we just aired for you guys was still 2 minutes long. We have to cut 2 minutes. It's a pain in the butt!
Well it looks like our time is up! Thank you so much for sitting down with me.
Mark Duplass (Pete) was next