Sunglasses – They're Not Just For Summer
Just like your skin, your eyes are susceptible to damage from too much sun exposure. Don't believe me? Just ask Anderson Cooper. A few years ago, the television host temporarily lost his vision after filming for several hours on the coast of Portugal. The culprit, he said, was UV light, which bounced off the water and into his eyes, causing eye sunburn.
And here's the thing, summer isn't the only time you need to be wearing sunglasses, because ultraviolet rays can damage your eyes whether it's sunny, cloudy, or overcast. Heck, sun reflecting off snow and ice is just as dangerous to your eyes during the winter months!
The good news is that you can keep your eyes safe with a good pair of shades. But keep in mind that not all sunglasses are created equal. And you can't use price as a gauge of quality, either, as many higher priced brands cost more because of fashion, not function. Instead, look for sunglasses that block 100% of UVA and UVB rays. My suggestion? Pick up a pair of Under Armour sunglasses.
We recently had a chance to try out two pairs of Under Armour sunglasses, the Rumble Storm and the Alloy, and we couldn't be happier with them!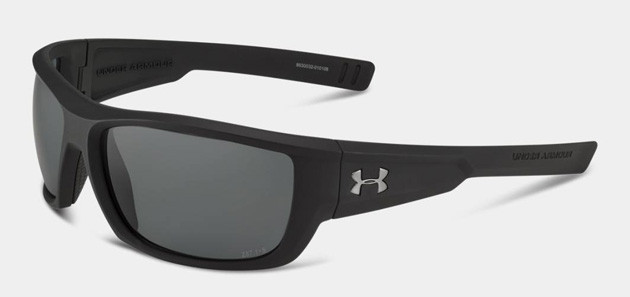 The Rumble Storms are pretty sweet looking, and the wrap-around design ensures that no sunlight is able to sneak in from the sides. All Under Armour performance eyewear lenses block 100% of UVA, UVB and UVC rays. The UA Storm lens technology is resistant to oils and salt water, so they're perfect for fishing, kayaking, or even surfing. These are also polarized, which help cut glare and allowing for crisper vision. Sujeet actually took them on a rafting trip in Las Vegas on the Colorado River near the Hoover Dam, and they worked out great for him.
If you want something a bit more modern looking, the Alloys might be more your speed. As with the Rumble Storms, these lenses block 100% of UVA, UVB and UVC rays. But these frames are INCREDIBLY light, it's really something else! The ultra-light ArmourFusion frames are built from a combination of titanium & Grilamid for superior strength and flexibility. Their ArmourSight lens technology delivers up to 20% more undistorted peripheral vision and is up to 10X stronger than ordinary polycarbonate lenses. In addition, their Multiflection lens coating guards against scratches and smudges.
Under Armour has a wide variety of sunglasses to choose from, all with the quality, looks and protection that you're looking for. So pick up a pair of Under Armour sunglasses today, and keep your eyes protected.