The Top Streamed Shows & Movies Of 2022
With so much quality content available on the various streaming services out there these days, more people have been cutting the cord and saying goodbye to their expensive cable bills. But with new streaming services popping up left and right, it's easy to get overwhelmed by the vast variety of choices.
In the old days, Netflix was pretty much the only player in town. But in recent years, they have seen competition come from the likes of Amazon Prime, Disney+, HBO Max, Hulu, Apple TV+, Paramount+, and others.
And while these new streaming services offer a lot of great content, Netflix still reigns supreme, with their programs holding the top spot every week of the year except for four (those weeks were won by Prime Video's Reacher and The Rings of Power and Disney+'s animated film Turning Red).
According to ExpressVPN's streaming summary, the fourth season of Stranger Things is the most streamed show in 2022, sitting at the #1 spot on the streaming charts for whopping 8 weeks, breaking nearly every streaming record out there. In addition, Ozark, Cobra Kai, Inventing Anna, Dahmer, and others all dominated the charts as well.
You can see the full list below: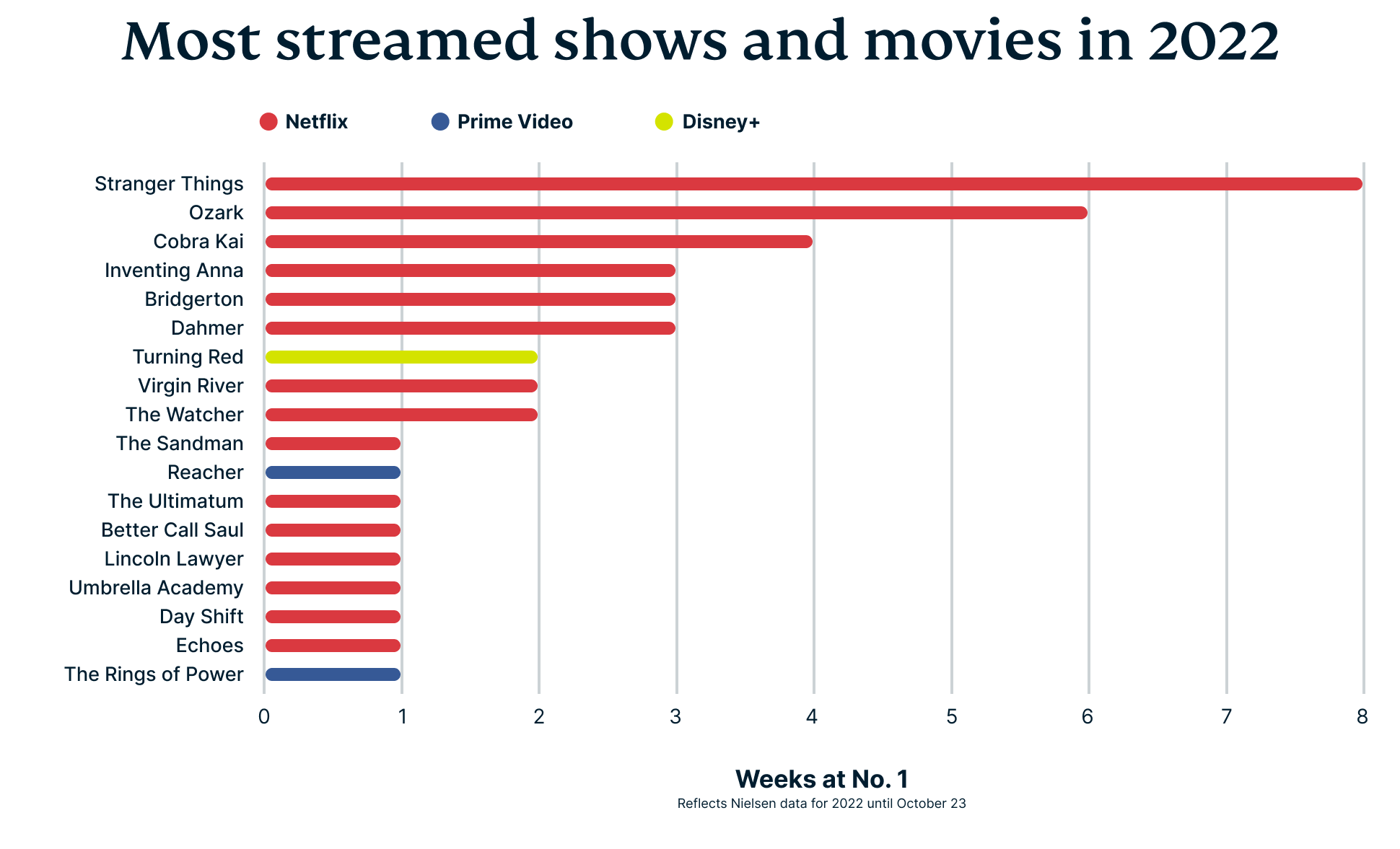 Now with Manifest and Dead To Me both just dropping on Netflix, you can be pretty sure that the streaming giant will continue to dominate the charts for the rest of 2022. Of course, if Yellowstone had been released on Paramount+ instead of on the Paramount Network (which is on cable), that might have been a different story, as people are obsessed with that show.. and for a good reason.
However, perhaps the biggest milestone of all came in July, when streaming viewership in the U.S. surpassed cable for the first time ever, according to Nielsen. While streaming has been claiming a larger slice of the pie than broadcast television for a while, this was the first time it exceeded both broadcast and cable.
Needless to say, if money is tight, there's never been a better time to consider cutting the cord, as streaming services offer a huge amount of quality content, and they're not afraid to flex their deep pockets to bring it to us (like with Amazon spending $715 million on The Lord of the Rings: The Rings of Power).
Personally, if I could only afford three streaming services, it would be Netflix, Prime Video, and Disney+. Together, they offer so much good stuff that you'll never run out of things to watch!
What's been your favorite show of 2022? Let us know in the comments section below.