Toyota Needs To Build The FT-1 Concept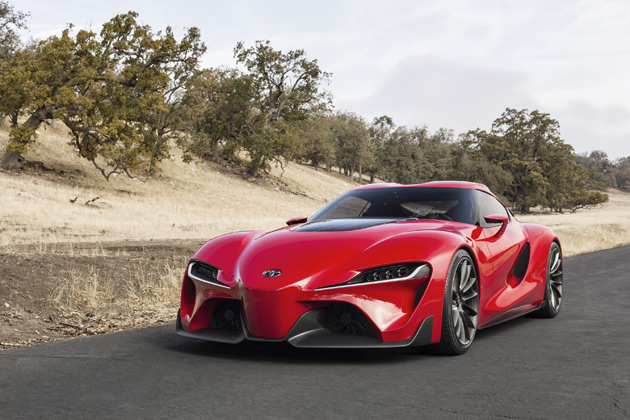 Toyota virtually blew the doors off the North American International Auto Show with the reveal of the stunning Toyota FT-1 Concept sports car. The name says it all – FT-1 stands for "Future Toyota," and the number "1" represents the ultimate. According to the designers, the FT-1 Concept is the ultimate expression of a Toyota coupe design, building upon Toyota's rich sports coupe heritage dating back to the 2000GT, Celica, Supra, MR2 and most recently Scion FR-S.
The project started nearly two years ago and represents a labor of love by a passionate, dedicated and gifted Calty design team. "Our team was heavily influenced by Toyota's sports car past, especially Celica and Supra, and we sought to capture some of that history. It is an aggressive, track-focused sports car concept with a presence that has been amplified for shock and awe," said Alex Shen, Calty's Studio Chief Designer.
Toyota's design decisions have typically been driven by consensus among a large group of stakeholders. Under Akio Toyoda's stated directive to invigorate Toyota products with energy and passion, the approval process has been streamlined. This new approach aims to produce cars that connect more deeply with customers, generating a more satisfying ownership experience that complements Toyota's legendary reputation for quality, dependability and reliability.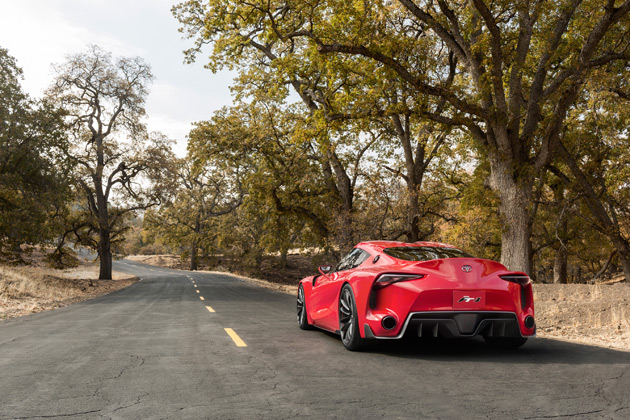 "Function-sculpting" design language yields curved, muscular, expressive body forms seemingly shaped by the wind. Inlets, ducting, and vents are features of the exterior design that help reinforce its track–ready nature with elements of purposeful airflow management. At higher speeds, a retractable rear wing deploys and tilts forward to create additional downforce. The body's athleticism is expressed with taut surfaces and dramatic fender forms that seduce the eyes when covered in an unapologetically red hue.
The front engine RWD configuration locates the cockpit far rearward within the wheelbase to improve weight distribution. This design element also helps create the classic sportscar proportions one would expect from a vehicle poised to dominate even the most challenging road course. The cockpit's wraparound windshield and side glass openings are a distinct nod to the design of the legendary Toyota 2000GT.
While technical specifications do not accompany the concept, one can assume that the FT-1 represents an ideally balanced front-engine, rear wheel-drive layout that is powered by a high-technology, high performance internal combustion engine. Beneath a transparent glass hood, an ambiguous engine cover hides a powerplant left to the imagination of the onlooker.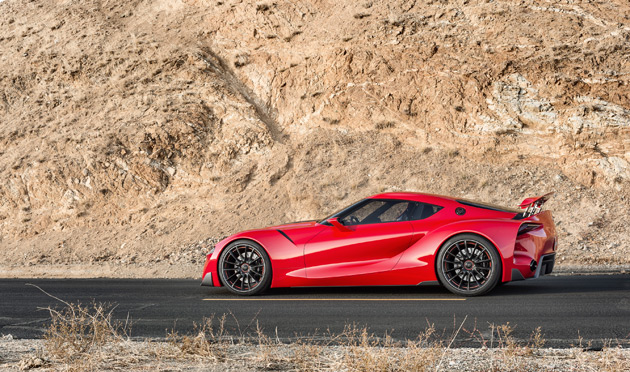 For Toyota, this concept embodies the possibilities of the new and exciting design mission ahead. "Sports cars represent the ultimate driving expression in its purest form. As car enthusiasts ourselves, this is the kind of project we dream about working on," said Calty Design Research president Kevin Hunter. "Beyond its obvious visual impact, FT-1 is symbolic of a new chapter for Toyota Global Design. This provocative concept truly captures the passion, excitement, and energy of the Toyota we are evolving into and embodies elements of the emotion and performance that Toyota will imprint upon future production designs."
Here's hoping that Toyota decides to make the FT-1 a reality, as fans like myself have been waiting for a worthy successor to the iconic Supra for the past 15 years. Fingers crossed!