Toyota Shows Off FT-1 Concept Car In NYC
Last Wednesday night, Toyota transformed The Standard High Line & Biergarten in NYC into a throwback arcade as a way for the media to get embrace their inner child while checking out the FT-1 concept car.
The venue was lined with video games (including Sony's Gran Turismo 6, the game for which the FT-1 was originally created for), food, and music blaring from the speakers (courtesy of old-school rapper Biz Markie).
But there was one thing that stood out and grabbed everyone's attention. One very special, gorgeous piece of man-made automobile ingenuity. They call this stunner the FT-1! This is a car that will raise your blood pressure and make you weak in the knees. The FT-1 is undoubtedly beautiful and mean looking, and it took my breath away everytime I looked over in that direction.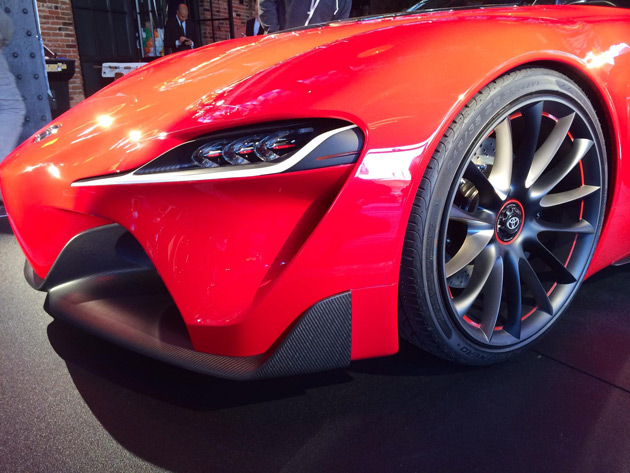 The FT-1's got curves and edges that all flow majestically and seamlessly. The 21″ rubbers it's wearing will have no trouble putting down whatever obscene amount of power it's producing to the ground, and massive brakes will help bring it to a stop in a hurry. It's got a hydraulic spoiler (which I'd love to see in action) and a pop-up display in front of the steering wheel. The list of technological achievements they've managed to stuff in this car goes on and on. Did I mention the seats have fans in the headrest so that your head doesn't get hot? I'm guessing that will come in handy when you're taking the FT-1 to the max.
I really wanted them to start the car and give it a few revs to hear the howl of the engine. Unfortunately that didn't happen, so I had to settle for my second best option. They didn't call this venue the Toyota Arcade for nothing. They had two custom made driving machine rigs set up so we could drive the FT-1 around the track in Gran Turismo 6. Yes, it's a videogame and it can't really compare with the actual car, but it definitely gave people an idea of what the FT-1 is capable of achieving.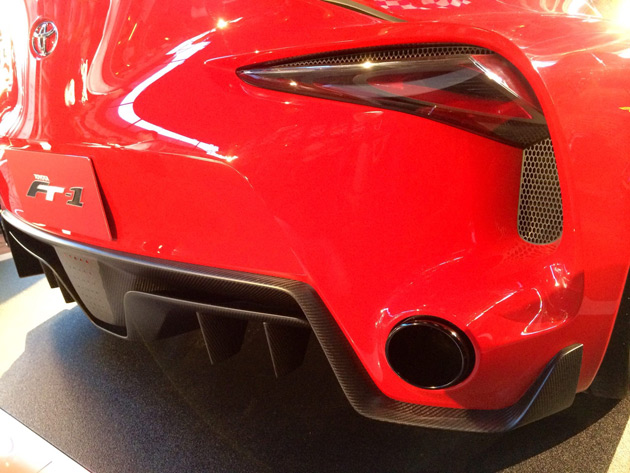 With a massive 60″ TV in front of me, a steering wheel and foot pedals, I blasted through a couple rounds in the game and came up with a time of 1:39.072. Not bad in my opinion. I was in second place on the board at that time. Unfortunately, by the time I left the event, I had been knocked down to seventh. I was still happy to be on the board though!
At the venue they had 3D printed miniature replicas of the FT-1 made. I couldn't resist myself and grabbed two of them. Nothing was really said about the car at the event, but just by looking at the FT-1, you could use your imagination and imagine what it's capable of doing. I can't wait to see what Toyota decides to do with this concept. Will they put it into production or it just be another pie in the sky concept?
I highly doubt it's the latter since there's been plenty of whispers about a Supra replacement in the works. Is the FT-1 the prelude to the Supra? Who know, only time will tell. Until then, fingers crossed!