ViewSonic VA2431WM 24-inch Widescreen LCD Monitor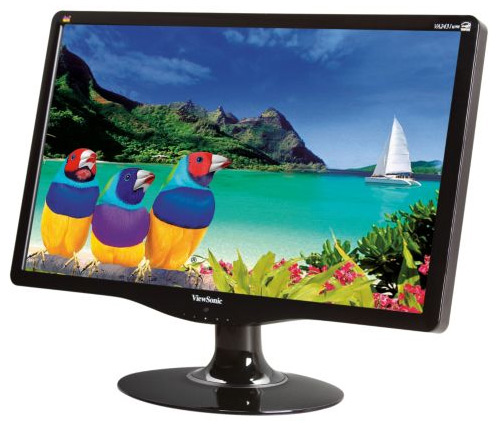 ViewSonic. I've been using their monitors since the late 80's, their Rainbow Birds ever present out of the corner of my eye.
Then somewhere along the line, I started getting lazy. Instead of building computers from scratch, I started buying pre-built machines from Dell. No longer was I dropping a pretty penny on the latest video card or Sound Blaster Pro. Sure, I still had a great Logitech 5.1 speaker setup, but I plugged them into whatever generic audio card came with my computer. Gaming was no longer a priority for me, so whatever monitor came with the PC was fine.
On the flip side, instead of dropping $1000+ on a new rig, I was spending under $500.
But truth be told, there's a very noticable difference between a "regular" monitor and a high-end one. Just ask any graphics designer, and you'll get an earful. 🙂
So when Dell offered a "free" ViewSonic VA2431WM 24″ LCD monitor with the purchase of a new computer, I jumped at the deal. My Dell E207WFP had served me well, but I was ready for something bigger and better. Here are the official specs on the monitor:
24-Inch (23.6-Inch Vis) widescreen LCD monitor with Energy Star 5.0 cert.
1080p (1920 x 1080) Full HD resolution with 16:9 aspect ratio for perfect image reproduction
DVI and VGA video inputs for diverse connectivity options
100mm x 100mm VESA compliant for wall mount or monitor stands
ECO mode for up to 30% power saving
Brightness: 300 cd/m2
Contrast Ratio: DC 100,000:1(1000:1)
Response Time: 5ms
Size (LWH): 25 inches, 20 inches, 6.5 inches
Weight: 15.4 pounds
So after using it for a month, here are my thoughts:
This sucker is HUGE! I'm running a dual-screen setup with this new 24″ monitor, and my old 20″ Dell monitor. Together, the two widescreens take up the entire width of my desk. It's pretty intense, but I just can't function without dual-screens.
The native resolution for the ViewSonic is 1920×1080. Coming from 1680×1050, it took a few days to adjust to the new resolution. But now that I'm used to it, I'm really enjoying the extra real estate.
Unfortunately, I'm not 100% thrilled with the monitor. Even though most reviews claim the monitor is crisp, clear, bright, and vibrant, I can't seem to get my colors correctly calibrated. Now, it's possible that the issue might be with the crappy video card (Integrated Intel® X4500 Graphics Media Accelerator) that came with my Vostro. Because of the smallish power supply on the Vostro, there weren't a lot of other video cards to choose from. If any nice folks want to send me another video card to try out, I'd be happy to give it a shot!
The ViewSonic didn't come with a DVI cable, only a VGA cable! Honestly, this is the first monitor I've purchased that didn't come with one. The guy at customer support suggested I buy a cheap cable from Amazon.com. He was one of the nicest CSRs I've ever dealt with, but that wasn't exactly the answer I was looking for. It's a $5-10 cable, what gives?!
The user interface is TERRIBLE. There are 2 buttons that change functions based on what menu screen you are at. I am not a fan of these, because when the menu is not showing you have no way to know which button does what. Even when in the menu sometimes I can't tell what button is going to perform what action because the icons are small and vague (is a door with an arrow going to exit the menu or enter the sub-menu?).
The monitor puts out some serious heat! The power consumption specs don't look too bad on paper, but I have an issue that requires me to leave my screens on 24/7. My second monitor is the Dell E207WFP, which doesn't have any Windows 7 drivers. As such, every time that monitor goes to sleep and then wakes up, Win7 gets confused. When the monitor comes back on, anything that was on that 2nd screen gets shifted over to my main screen. It's such a mess. So my only option is to have the screens go to a blank screensaver after 10 minutes, so I don't have any image burn-in. But I'm wasting power for no reason. If anyone knows a way around this (maybe a custom INF file for the E207WFP?), I'd love to hear from you!
Lastly, with darker pictures you're going to notice blue light bleeding out from the edges. It's REALLY noticable, but even my old Dell does this to some degree. That doesn't make it right, but at least it's not isolated to the ViewSonic.
All in all, I fairly happy with the monitor. At this price point, you have two choices. A higher-end monitor with a smaller screen, or a larger monitor with less features. Ultimately, you have to decide which choice is right for you.