Watch Video Of Chad Johnson Getting Cut By Dolphins On HBO's Hard Knocks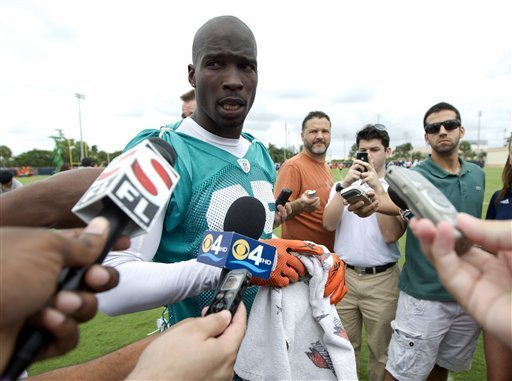 In case you haven't been following the drama with Miami Dolphins wide receiver Chad Johnson (aka Chad Ochocinco), here's a quick recap to get you up to speed:
This past weekend, Johnson's wife Evelyn Lozada found a receipt for a box of condoms that he purchased. A heated argument ensues, during which Johnson allegedly head-butted Lozada, for which he was later arrested (charged with domestic battery).
The Dolphins signed Johnson this off-season, but with the stipulation that they wouldn't put up with him being a distraction. It was a one-stike deal, and Johnson's recent arrest sealed his fate. So as expected, the Dolphins released him on Sunday.
And now, thanks to HBO's Hard Knocks, the whole world gets to see exactly how it all went down. Oh yeah, did we forget to mention that an HBO camera crew has been following the Dolphins for this season's show? Talk about TV gold!
In the video below, we see Dolphins head coach Joe Philbin sitting down with Chad Johnson and letting him know that he's being cut:
In addition to getting cut by the Dolphins, his VH1 show scheduled to debut next month has been cancelled, and his wife (of six weeks) has filed for divorce.
Needless to say, Chad Johnson is having the worst week ever!