Which Console Will Win The 8th Generation Race?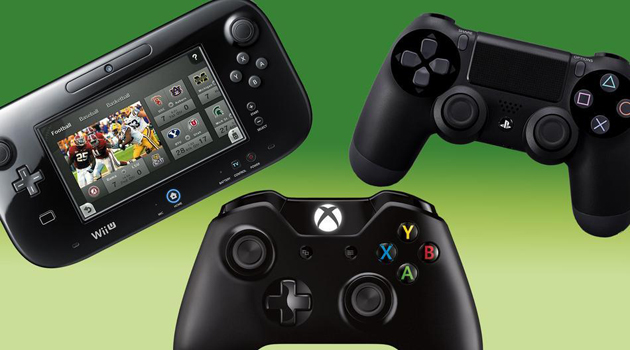 The eighth generation of video game consoles is now upon us, and, as usual, everyone is wondering which game console is the best. Some say that there is always one console that stands head and shoulders above the competition and will be remembered as the best system of its generation, while others say that no one console is "better" than the rest and that it comes down to the personal preferences of gamers. The only thing we do know right now is that it's a very heated race, mostly between Sony's PlayStation 4 and Microsoft's Xbox One. Both Sony and Microsoft have their diehard fans, as does Nintendo. But does any one company have enough fans to turn their console into the best and most dominant on the market? Is there one console that is objectively better than its competition? Let's take a look.
Xbox One
If Black Friday sales are anything to go by, the Xbox One is currently dominating the next-gen console war. It's currently the most expensive of the new consoles (its $499 price tag is higher than that of the PS4 by $100), but it made for 31 percent of all the home console sales made at Target and Wal-Mart on Black Friday. This could be because the Xbox One is being marketed as an all-in-one entertainment center capable of streaming video services and running applications such as Skype and Internet Explorer. It also comes with an updated version of the Kinect peripheral complete with a 1080p camera and improved voice controls. Basically, the Xbox One is Microsoft's attempt to appeal not just to gamers, but to also appeal to mainstream consumers who otherwise wouldn't be interested in buying a new video game console. On the other hand, this could be a turn-off for some people who just want a great game system and not a console that replaces their entertainment center. The Xbox One also lacks backwards compatibility, which is bad news for those who already have a vast library of Xbox 360 games.
PlayStation 4
While the Xbox One aims to replace the household entertainment center, the PlayStation 4 seems to be geared more toward gamers. Yes, it does have features that allow it to work as an entertainment center, but it seems to devote more of its considerable power to being a game system first. It's easier to capture and share video and screenshots with Sony's machine, and it has a considerably lower price of $399. The PlayStation 4 sold more quickly when both systems launched last month, but only time will tell if its dedication to gamers and game developers trumps Microsoft's desire to dominate the realm of mainstream home entertainment.
Wii U
The Wii U seems to be the dark horse of the current console generation. It has been on the market longer than the Xbox One and the PlayStation 4, but it has shipped a paltry 3.91 million units since its release. This is definitely a disappointment, especially since the Nintendo Wii was the top-selling game console of its generation. Still, the Wii U has plenty of intriguing features that should attract casual gamers such as a novel controller that works as a tablet and a handheld version of the console, and it is backwards compatible with Wii games. That may be enough to keep the Wii U afloat for at least a little while. But it's clear that Nintendo's dominance in the video game console industry is a thing of the past.
Kyle Morrison writes on a variety of tech topics such as video game consoles, computer software, smartphone accessories and other related matters.