Audi R8 LMX Has Frickin' Lasers Headlights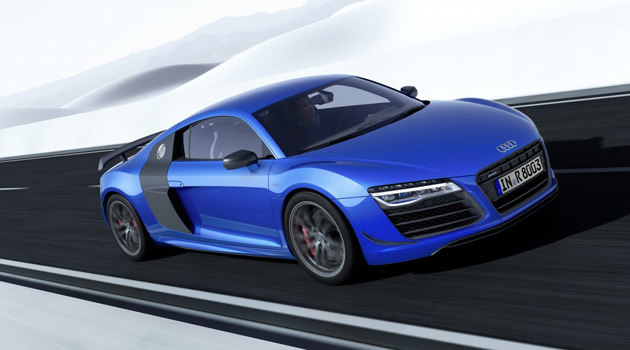 Audi had all of CES buzzing earlier this year with their Sport Quattro Laserlight Concept, which sported a pair of laserlight headlights. And now that sci-fi fantasy has become a reality in the limited edition Audi R8 LMX.
The Audi R8 LMX is being touted as "the world's first production car with laser high beams." The advanced Laserlight system kicks in automatically at speeds of 37 mph and above, with dual laser modules creating a cone of white light with twice the range of the all‑LED headlights. They emit white light at a color temperature of 5,500 Kelvin, thus enhancing the overall visibility and safety of the driver. And other drivers need not worry, as the LMX uses four high-powered diodes and a camera-based system of sensors to detect other vehicles on the road and adjust the light appropriately.
The LMX features an Ara Blue exterior with a glossy black tailpipe, 19″ alloy wheels, and carbon fiber ceramic brake discs. The interior sports a carbon fiber trim, Napa leather seating, and an Alcantara headliner.
Powering the Audi R8 LMX is a 5.2-liter V10 engine coupled to a seven-speed S tronic transmission and Quattro AWD. All this is good for a 0-60 time of around 3.4 seconds, and a top speed of 199 mph.
Production begins this summer, and only 99 cars will be built. The price tag for such exclusivity? $290,000.