Extreme Terrain and Barricade Off-Road Unveil Their Project Trail Force Jeep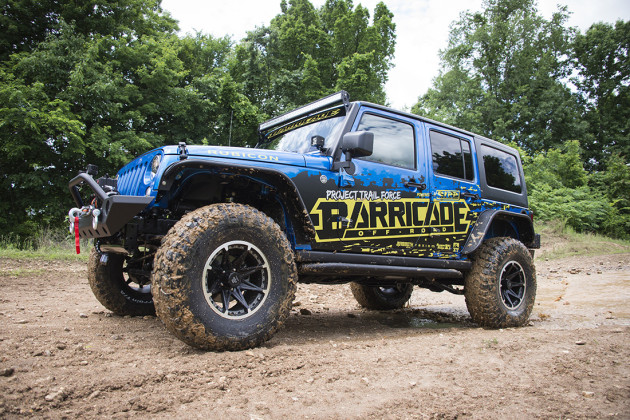 Jeep specialty tuners ExtremeTerrain and Barricade Off-Road teamed up to build a fully-built $73,000+ 2015 Jeep Wrangler Rubicon, and they unveiled this bad boy, which they've dubbed Project Trail Force, today at the Bantam Jeep Heritage Festival in Butler, PA.
If you want to see Project Trail Force in person, the custom Jeep will be on display at the SEMA Show in Las Vegas later this year. But it won't be leaving with them.. That's right, one lucky winner will drive away with the keys to Project Trail Force, and you can find out how to enter this contest at the bottom of this post!
The driving force behind Project Trail Force is a centrifugal Ripp Supercharger, adding over 140 horsepower to the otherwise factory 3.6L V6. Featuring some of the toughest and most advanced aftermarket Wrangler parts available, Project Trail Force sits 3.5" higher than stock thanks to Rock Krawler's long-arm lift kit that utilizes coil-overs to help give it the needed clearance for obstacles. Rounding out the look as well as the off-road performance are 37" tires and Mammoth Boulder Wheels to conquer any trail.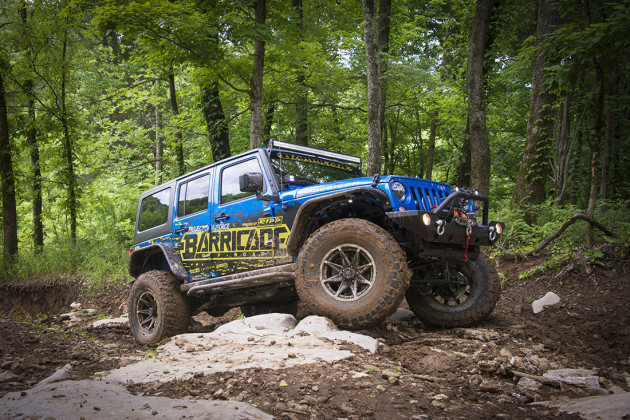 The exterior of Project Trail Force boasts a trail-ready upgrade of Barricade Front Bumper, Rear Bumper with Tire Carrier, Fender Flares and Rock Sliders, giving this Rubicon the additional clearance it needs to flex the larger 37" tires. Prepped for late-night wheeling, this 2015 Wrangler features a full Raxiom Lighting upgrade including two 2.5" LED spotlights, two 3" square LED off-road lights and a 50" double row LED light bar. In case that isn't enough lighting to turn night into day, Project Trail Force is equipped with KC Hilites 7" LED headlights.
On the inside, this 2015 Wrangler is hooked up by Rugged Ridge with their Grab Handles, All Terrain Floor Liners, Cargo Liner and Seat Covers. Finally, the interior is finished with a Raxiom OE-Style Navigation including Bluetooth and Back-up Camera to help you find the trail.
Project Trail Force features over $24,000 worth of aftermarket parts including:
Suspension: The 3.5" Rock Krawler lift kit installed incudes long arms and coil overs to give this Jeep great on-road handling and off-road performance.
Armor:  The Barricade bumpers on this Jeep give improved approach and departure angles, as well as body protection on the trail.  The Barricade Rock Sliders protect the rocker guards from rocks and stumps off-road, and their metal fender flares provide additional clearance for big tires.
Lighting: Raxiom Lighting took care of adding bumper mounted lights, A-pillar lights, and a 50" light bar that will turn the darkest trail into day.
Interior:  The interior of the Jeep is decked out in Rugged Ridge grab handles, seat covers and floor mats to add convenience and protection.
Engine: Ripp's centrifugal supercharger system takes care of adding more power to this Jeep. For on-road or off-road driving the additional power allows this Jeep to outperform the rest.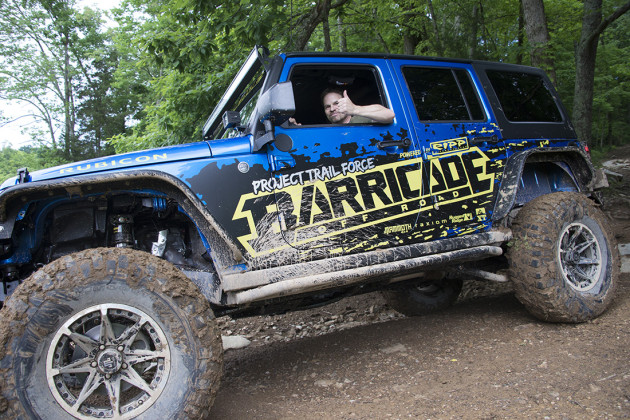 ExtremeTerrain's Kevin Tetz, the former host of Trucks! on the Spike Network, played an integral role in the Project Trail Force Build. Kevin worked to install a lot of the parts and commented on the build saying:
"The winner of Project Trail Force is going to get an awesome rig that has stood up to all the punishment we've thrown at it. It has proven itself on and off the trail. We built this Jeep from the tires up and it's ready for anything!" – Kevin Tetz
Project Trail Force is being unveiled at the Bantam Jeep Heritage Festival located in Butler, PA, where it will represent 2015 and lead the Guinness Book of World Records attempt at the largest Jeep Parade. Butler was the birthplace of the Jeep in 1940 and this year is the celebration of the 75th anniversary of the Jeep, making it the perfect event to unveil Project Trail Force and kick off the giveaway!
Starting today and through October 23, 2015, fans can enter online up to once a week to win Project Trail Force. ExtremeTerrain will be flying the winner to the 2015 SEMA Show in Las Vegas, NV to claim their prize. Kevin Tetz will be on-hand to deliver the keys to the lucky winner. Must be 18 years or older to enter and a resident of the United States.
For more information about the sweepstakes, please visit:
http://www.extremeterrain.com/jeep-wrangler-project-trailforce-giveaway.html.
Good luck!