Hennessey Challenger Hellcat HPE1000 – Because 707HP Just Isn't Enough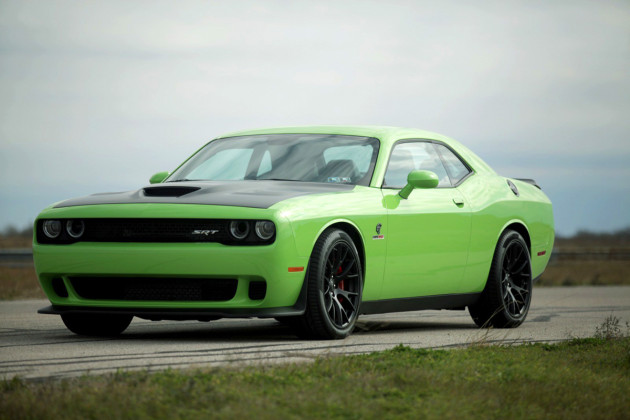 "What the Dodge Challenger SRT Hellcat really needs is more power," said no one ever.
But since Everything's bigger in Texas, the guys at Hennessey Performance decided to take the Challenger Hellcat with it's lowly 707HP and dial it up a notch.. To the tune of 1,032 HP and 987 lb-ft of torque!
The Dodge Challenger Hellcat HPE1000 takes the Hellcat's supercharged 6.2L Hemi and slaps on a pair of turbochargers that work in conjunction with the blower to produce 15 psi of boost.
Having driven the regular Hellcat (both on the track and on normal roads), I can tell you firsthand that while it is a ton of fun, it's also quite a handful. Give it too much throttle, and the car goes sideways quick. So I can only imagine what it's like with an extra 300 horsepower on tap!
But if you're daring enough to slip behind the wheel of the HPE1000, get ready for the ride of your life. The car does 0-60 in 2.7 seconds, and the quarter-mile in 9.9 seconds at 142 mph.. Based on ideal conditions with an experienced driver on a prepped quarter-mile dragstrip running on drag radial rear tires.
The video above shows the Hennessey HPE850 Hellcat Challenger in action. So just imagine what it will be able to do with 20% more power!
Visit www.hennesseyperformance.com for more information on the Hennessey Challenger Hellcat HPE1000.