Incredible Rum-Infused Food and Drink Recipes From Top Chef's Hugh Acheson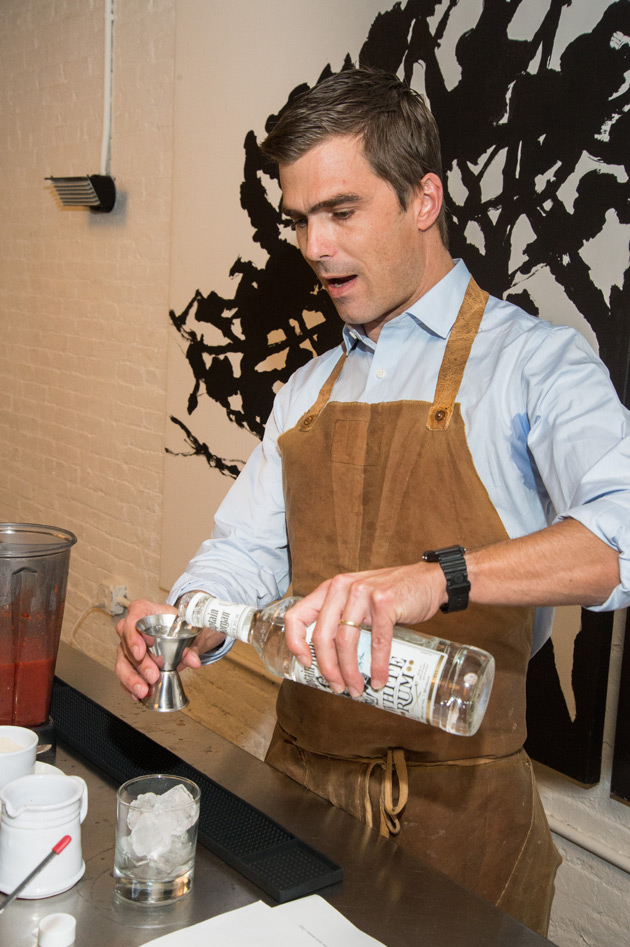 Last week, the good folks at Captain Morgan invited me to lunch at Haven's Kitchen in New York City for an editor roundtable with Top Chef judge Hugh Acheson. The promise of good food and drinks from a culinary legend was too much to resist, so I braved the oppressive NYC heat for what was sure to be an epic lunch.
Acheson debuted some incredible rum-infused food and drink recipes (made with Captain Morgan, naturally) that are perfect for the summer, and we ate and drank every last bite, and then we went back for seconds.
When I arrived at Haven's, I immediately headed to the bar, where they were making two of Hugh Acheson's signature drinks, the Mint Mutiny and Captain's Agua Fresca. Both cocktails are perfect for those looking to beat the heat this summer, but the Agua Fresca really won me over, with the combination of rum, strawberry and cucumber really coming together nicely. Recipes for both drinks can be found at the end of this post.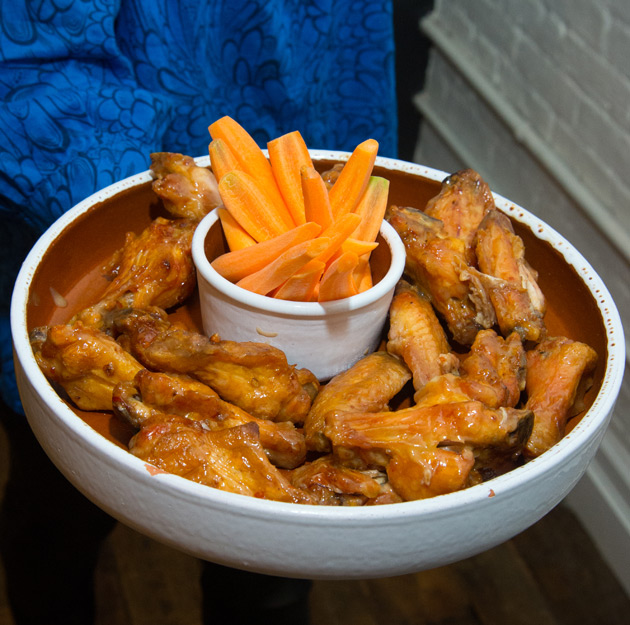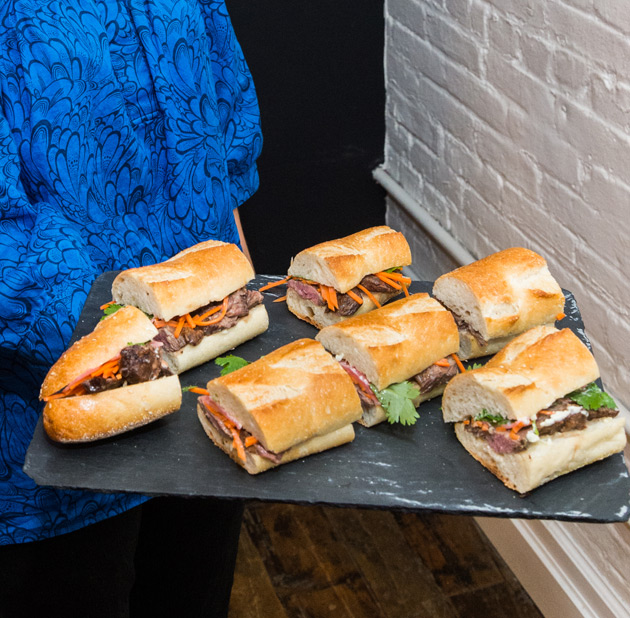 After enjoying a couple of cocktails, Acheson spoke for a bit while we chowed down on some tasty grub. On the menu were two rum-infused dishes, Captain Morgan Original Spiced Rum Glazed Chicken Wings and Skirt Steak Captain Morgan Spiced Black Rum Banh Mi. Both dishes were out of this world! If you want something unique to serve for your Fourth of July party, consider whipping these up for your guests!
As a parting gift, Captain Morgan gave each of us a copy of Hugh Acheson's book A New Turn in the South: Southern Flavors Reinvented for Your Kitchen, which contains over 120 of his favorite Southern recipes. I can't wait to try my hand at some of these dishes, as they all sound so good!
Thanks to Captain Morgan for hosting this fun event, and to Hugh Acheson for the great food and drinks!
---
Mint Mutiny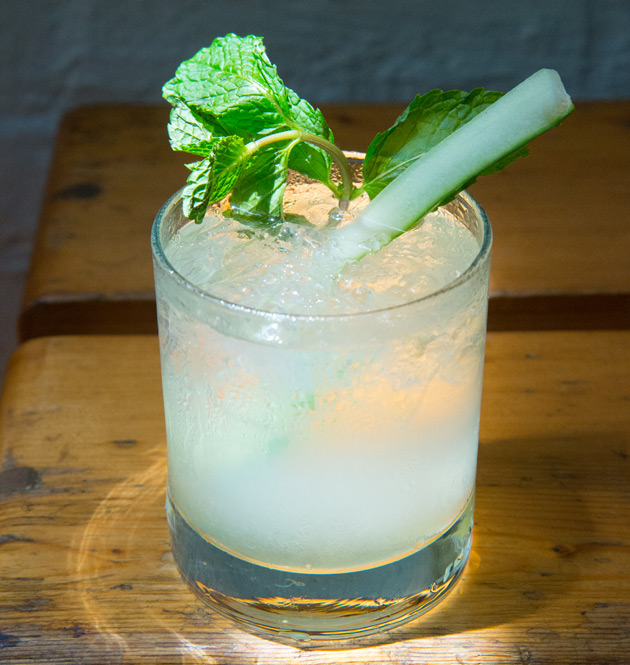 Crushed ice
1 teaspoon fresh mint, torn into pieces
1½ ounces Captain Morgan White Rum
½ ounce freshly squeezed lemon juice
½ ounce Rose Water-infused Simple Syrup (recipe follows)
Club soda
1 cucumber spear
1 mint spring
Directions: Fill a julep cup with crushed ice. Stir in the torn mint. Add the Captain Morgan White Rum, lemon juice, Rose Simple Syrup, and then fill with club soda until the cup is almost full. Top the cup with a mound of more crushed ice and garnish with a cucumber spear. Rub the mint sprig between your palms to express the natural oil and garnish with the cucumber. Serve with a straw.
Rose Simple Syrup
1 cup sugar
1 teaspoon of rose water
Directions: Add 1 cup of hot water to the sugar and stir until the sugar is completely dissolved. Add the rose water, cool to room temperature, and refrigerate the syrup until ready to use.

Captain's Agua Fresca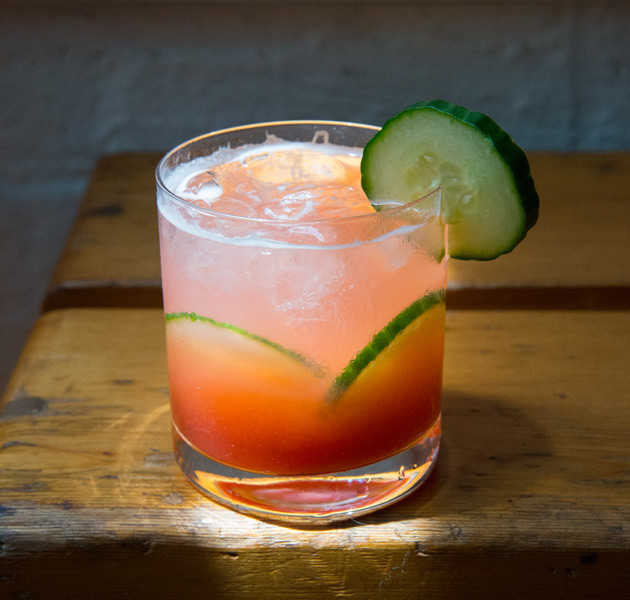 1 1/2 ounces Captain Morgan White Rum
2 ounces Strawberry and Mint Agua Fresca (recipe follows)
3 Cucumber Dials
Directions: In a rocks glass, combine the Captain Morgan White Rum and Strawberry and Mint Agua Fresca with cracked ice. Slide the 3 cucumber dials down the sides of the glass.
Strawberry and Mint Agua Fresca
(Makes approximately 2 cups)
¾ cup water
2 cups of strawberries tops cut off and hulled
2 tablespoons sugar
3 ounces lime juice
2 tablespoons of fresh mint leaves
Directions: Puree all ingredients in a high-speed blender. Strain through a fine mesh strainer. Chill and set aside until ready to use.