Infiniti QX30 Concept Debuts In Geneva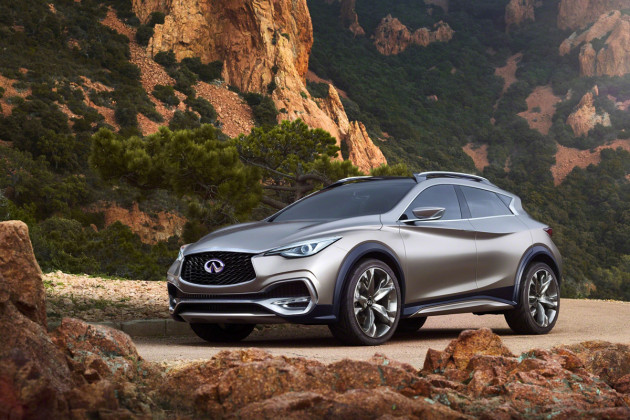 A few weeks ago, Infiniti teased us with a few photos of their Infiniti QX30 Concept ahead of it's debut at the Geneva Motor Show. If you liked what you saw and were hoping to learn more about this luxury CUV, you're in luck, as Infiniti unveiled the QX30 Concept this mornining in Geneva.
Some excerpts from their press release:
Infiniti has revealed the stylish and highly capable QX30 Concept, the design vision that will inspire a new premium compact crossover.

Making its debut at the 2015 Geneva International Motor Show, the QX30 Concept cements Infiniti's ambitions to expand into the global premium compact segment, which is forecast for significant growth with the entry of younger affluent customers.

Combining the sleek lines of the coupe with the command sitting and all-wheel drive of a crossover, the QX30 Concept is just as adept at navigating high street as it is exploring weekend getaways.

"The Infiniti QX30 Concept foreshadows an entry in the premium compact segment that provides a new alternative to customers in this segment," said Roland Krueger, Infiniti President and CEO. "The vehicle embodies our conviction to give customers the freedom to go wherever they want, whenever they want – in a way that expresses their individualized character."

With its sharp looks and original features, the QX30 Concept was designed by an international team to appeal to these global customers who are less likely to follow tradition. The concept's compact footprint matches their search for a product that suits their urban lifestyle. The elevated stance of the crossover also provides a higher visual perspective in city traffic and in parking maneuvers.

The QX30 Concept previews a family of vehicles which are designed to be matched with a wide range of powertrains, both gasoline and diesel. The array of powerplants is expected to cater to a variety of lifestyle aspirations around the world, depending on whether customers prefer a sportier or a more efficient drive.

The QX30 Concept also hints at Infiniti's renowned sporting driving dynamics, and drivers can expect a nifty throttle response, especially useful when negotiating urban traffic.

With big wheels and thick tires, the QX30 Concept not only looks rock-solid but also feels it, greatly helping to increase driver confidence both on-road and off.

The QX30 Concept is the latest in a series of concept vehicles for which Infiniti has announced a definite and clear intent for production. The QX30 Concept-inspired crossover will be launched next year.
The premium compact crossover space is really starting to heat up, and Infiniti's QX30 should provide some legitimate competition for others in this segment. Cars like the BMW X1, Mercedes-Benz GLA, Audi Q3, and Lexus NX better watch their back!