Jennifer Aniston Plays A Stripper In New Movie 'We're The Millers'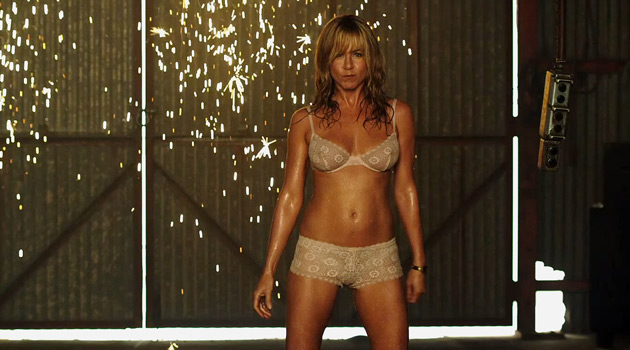 Jennifer Aniston occasionally takes on roles that completely go against her good-girl image. The Good Girl and Horrible Bosses come to mind. Now she takes things to another next level in We're The Millers, where she plays a 44-year old stripper who's involved in a ridiculous drug smuggling scheme.
In We're the Millers, a small time pot dealer (Sudeikis) is forced to retrieve a massive shipment of weed from Mexico, so he devises a plan pretending to be a normal American family driving into Mexico for vacation. The dealer recruits two young people to pretend to be his kids, and he asks his stripper neighbor (Aniston) to be his wife. What could possibly go wrong?!
This is more of a comedy than a thriller, and they've assembled a pretty epic cast to help pull this off: Jason Sudeikis, Ed Helms, Emma Roberts, Nick Offerman, Ken Marino, and Kathryn Hahn, among others.
The following red-band trailer is NSFW for language and giant, swollen testicles.
We're The Millers will be released on August 9th, 2013, and I for one can hardly wait!