Look How Far Online Dating Has Come Over The Past 20 Years
It's hard to believe it, but Match.com is celebrating their 20th anniversary this year, and it's pretty remarkable how far online dating has come in the past two decades since they pioneered the category. Back then, most of us accessed the Internet via modems, and e-mail was a brand new concept.
Back then, many people turned their nose up at the concept of "online dating", but Match saw the potential of the Internet and ignored the haters. Needless to say, their bet paid off in spades. After all, how many other web companies from 1995 are still around today? Not too many..
In the last 20 years, more than 125 million people have joined Match, more than 10 million relationships were formed on the popular dating site, and Match was responsible for more than 1 million babies were born. It's hard to argue with stats like those!
This infographic shows you a timeline of events depicting the evolution of Match and the dating landscape as we know it today:


Bill and Freddi Straus hold the distinction of being Match's first online dating success story. The couple met on the site back in 1995, and despite a touch and go first few dates (Bill tried impressing Freddi by ordering the lobster, only to find himself $5 short when the bill came; Freddi almost cancelled on Bill for their second date because of a bad perm, but he wouldn't hear of it), they fell in love, moving in after 1.5 years of dating, and ultimately getting married on January 1, 2000. It's been 15 years since they said "I do", and they're still going strong. Mazel tov to the happy couple!
There's no question that the future of online dating is rapidly changing. These days, people are busier than ever, and they're searching for love while they're on the go. In fact, more than 20 million people have used Match through a mobile device. In the next 20 years, experts believe that 2 out of 3 relationships and more than half of all marriages will begin online, and you better believe that Match will be responsible for a good number of those love connections.
Congrats to Match on their 20th anniversary, and here's to the next 20!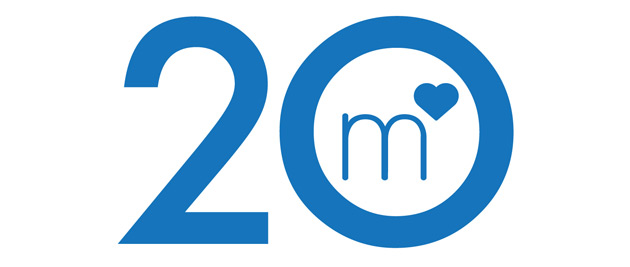 Disclosure: This post brought to you by Match.com, but all opinions are 100% my own.