Lexus Tempts Consumers With Alter Ego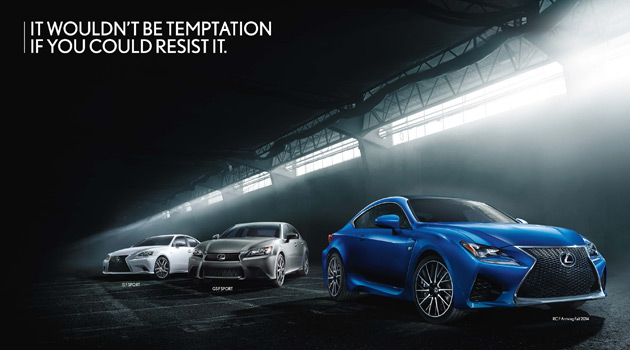 To tout its performance-focused F lineup, today Lexus launches a new marketing campaign that highlights a bold side of the brand. The TV spot features the exhilarating new RC F, the powerful LFA, the striking IS F SPORT and the fierce GS F SPORT. Like the spirit of these four vehicles, the spot emboldens consumers to indulge their desires.
"Lexus has a provocative new attitude that is represented particularly well by the F line of vehicles," said Brian Smith, Lexus VP of marketing. "This stylized spot showcases the performance-driven arm of the brand while introducing consumers to a different side of Lexus."
The new general market spot Temptation (shown above) utilizes a rich color palette and a series of emotion-driven vignettes. The look and feel of the ad is a continuation of Lexus' design direction and celebrates the alter ego of the iconic luxury brand.
The spot begins airing today during primetime, late night, cable programs and network and cable sports.