Barclays Premier League Fans In NYC Can Get Free Uber Rides August 14-17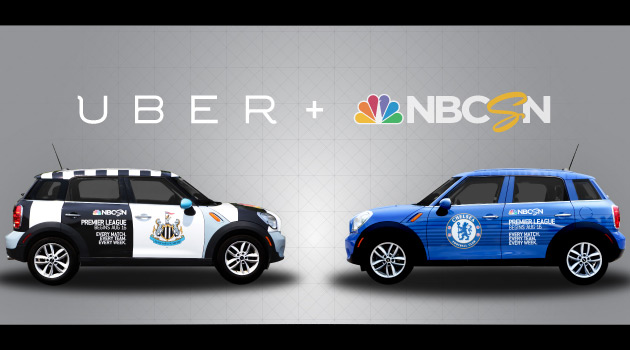 The World Cup Champion was crowned last month, but the "football" frenzy continues for fans of the Barclays Premier League in New York, thanks to a partnership between NBC Sports Group and Uber to welcome the 2014-15 season, kicking off on Saturday, August 16th.
In celebration of its second season as the exclusive home of the Premier League in the US, NBCSN will unleash a custom-skinned convoy of Mini Cooper Countrymans – one for each of the 20 Barclays Premier League teams – into the Uber platform, to provide complimentary rides to New Yorkers from August 14–17.
To catch one of these exclusive and free rides, fans in Manhattan can simply enter promo code BPLonNBC in the Uber app for the chance to ride in one of the 20 unique Mini Cooper Countrymans. Once inside, a "Speak Football" app will challenge riders to put their soccer knowledge to the test, as they race against the clock to answer questions from the rules of the game to soccer slang.  Riders will also be invited to enter a sweepstakes for the chance to win two round-trip tickets to England to see a Premier League match during the 2014-15 season.
"We are celebrating the start of the Premier League season and are excited to bring fans closer to the game." said John Miller, Chief Marketing Officer, NBC Sports Group. "Collaborating with Uber to create this custom experience and giving two lucky supporters the chance to catch a match in England later this season is a unique promotional kickoff."
Fans can find the Premier League Uber rides in Manhattan at the following times:
Thursday, August 14 from 3:00 pm – 10:00 pm
Friday, August 15 from 3:00 pm – 10:00 pm
Saturday, August 16 from 6:45 am – 2:00 pm
Sunday, August 17 from 7:30 am – 2:30 pm
The 2014-15 season kicks off on Saturday, August 16th at 7:00 am ET with Premier League Live on NBCSN followed by Manchester United v. Swansea City, and continues throughout the season on the networks of NBCUniversal, on the Premier League Extra Time bonus TV package, and streamed live on NBC Sports Live Extra.
For NBC Sports Group's Premier League television schedule for the first 3 months of the season, click here.