Our Turn In #PassTheCrown Virtual Holiday Gift Swap

A signature staple of the holiday season is the annual gift swap, where friends, family and co-workers taunt each other during a game of on-going gift exchanging to see who comes out with the best present. Known to many as a Yankee Swap, Chinese Gift Exchange or Dirty Santa, this season, Crown Royal has invited us to join their annual #PasstheCrown digital gift swap.
A group of prominent bloggers, YouTubers and other social media influencers were recruited to participate in the month-long program, where serious decisions will occur on whether we should #PasstheCrown and steal someone else's present or open our own gift provided by Crown Royal.
Here's how it works:
Over the course of 3-4 weeks, every blogger playing the game will receive an awesome gift from Crown Royal on a pre-designated day at 9am.
The gift will be virtually wrapped in one of Crown Royal's iconic purple bags embroidered with a hint as to what's inside.
Upon receipt, we will have until 5pm that day to decide if we want to open the bag to find out what's inside, or steal a gift already opened by a person before us – Forcing them to take whatever was in our bag!
The game actually started over a month ago, and today's our day to pick. That's right, we ended up with the last pick of the game!
But before you get too excited, there's a twist in this year's game. Whichever participant uses #PassTheCrown the most on Twitter throughout the duration of the program will receive the privilege of having the FINAL steal! So we have to be strategic here.. If we steal a really good gift, it could get stolen from us come Monday.
Here's the clue they sent us for our gift.. Any guesses on what it might be?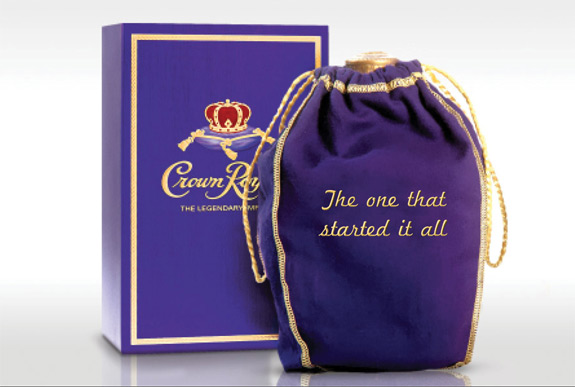 What do you think we should do? Should we keep it, or should we steal one of the other gifts? There are some great gifts up for grabs, including an iPad Mini, a Kindle Fire, a digital smokehouse, a GoPro camera, private cooking classes, and more!
We'll find out what's in the bag later this afternoon, so be sure to check back with us to find out what the prize is!
And don't forget, for every Tweet, Facebook post or YouTube video using #PassTheCrown, Crown Royal will stuff one bag to send to soldiers overseas as part of the Heroes Project.
And if you like the embroidery work on that Crown Royal bag, its available to adults (21+) on www.CrownRoyal.com for $9.95 and features a max of 40 characters – perfect for the person who says it short and sweet.