Pringles and Star Wars Join Forces for "The Force For Fun" Video Contest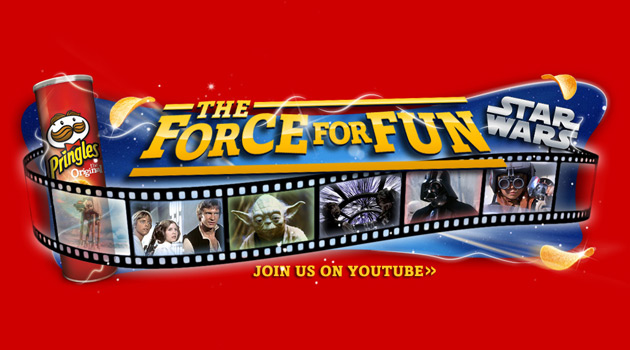 From the aspiring filmmaker who forced his little sister to dress as a Stormtrooper when they were kids, to the father of 12 who loves all things Han Solo, one thing unites all of the video creators participating in The Force For Fun video contest: A love of Star Wars and Pringles.
This year, the two iconic brands teamed up to create a video contest asking fans to mesh Pringles with the Star Wars universe in :30 and :60 videos. More than a thousand video ideas were submitted, and we've got the top seven videos for your viewing pleasure:
Don't Hold Your Breath (by Colin Duffy & Matt Sklar, team "Norman Invasion"):

The Delectable Weapon (by Ryan O'Rourke & John Griese):

Wookiee Mistake (by Brooke Dooley, Jordan Allen & Luke Rocheleau, team "Side of Fries"):

Sounds Like A Party (by Jared Hedges & Dave Cain, "Team Spaceman"):

Roommate (by David Brashear):

Jim vs. Vader (Erik Beck & Justin Johnson, team "The Indie Machines"):

Darth Visits (by Steven Houser):

Which one is your favorite?