Review: eBags Mother Lode TLS Weekender Convertible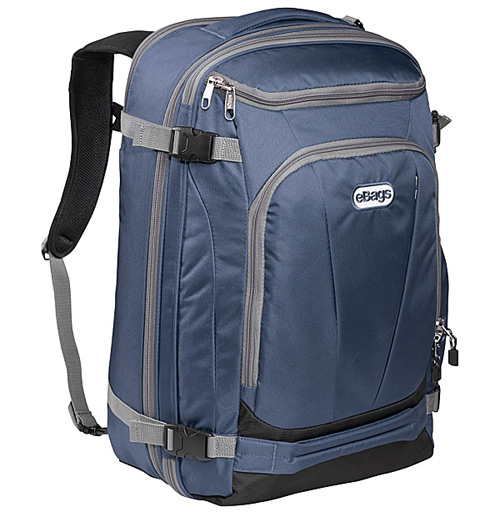 If you're a long-time reader of the site, you know that I travel quite a bit.. Many of these trips are short (2-3 days), where bringing a small rollaway suitcase doesn't make much sense. I've found the perfect solution, the eBags Mother Lode TLS Weekender Convertible.
Don't be fooled by the seemingly normal appearance of this "backpack", as it's looks can be deceiving. The TLS Weekender Convertible is amazingly roomy, and it's loaded with smart features: Adjustable laptop storage, expandable compartments, contoured airmesh backpack straps, travel organizer, fold-down shelf, etc.
Airlines have placed rules and size limits on the luggage that people can carry on with them, and the Weekender Convertible was designed with those carry-on regulations in mind. The bag measures in at 22″ x 14″ x 9″, which is pretty much dead-on with most airlines rules. Even packed to the gills, I had no problem placing the bag in every overhead compartment I tried.
There are so many pockets and compartments, you're sure to discover some that you missed midway through your trip. While it looks like a backpack, it packs like luggage. And the Laptop Sling is pure genius!
It's hard to explain just how roomy the bag really is, but these pictures should help you see how much it's capable of holding:

Ready to purchase your very own eBags Mother Lode TLS Weekender Convertible? Then head on over to The eBags Brand website, where you can order one in your choice of five colors for just $79.99. And of course, it comes with The eBags Brand's lifetime warranty!