Rise Of The Hybrid Supercars
Hybrids. We think of them as efficient, economical, and good for the planet. We think of them as the good citizens of the automotive world, the goodie two-shoes. Sure, the Toyota Prius is a triumph of engineering and efficiency, but no one ever accused this green grocery-getter of being manly. Well, I'm here to tell you: the times they are a-changing.
A paradigm shift is afoot: automakers are beginning to show us that "green" and "mean" don't have to be mutually exclusive. How are they doing it? The hybrid supercar. Below we'll detail five of the hottest hybrids ever conceived. Not all of them are destined for production, but each of these is much more than a mere concept. There's some serious hybrid horsepower at play here, and it's sure to trickle down into the cars we'll be driving in the years to come.
Porsche 918 Spyder Hybrid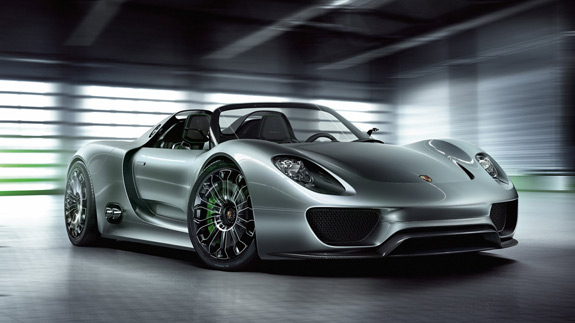 This two-seat, mid-engined "uber-hybrid" will be the first plugin-hybrid from the Teutonic geniuses at Porsche. Power will come from three separate motors. First up is a 4.6-liter, gas-combustion V8 developing 580 horsepower. As if that weren't enough, the 918 will have two electric motors that add an additional 215 horsepower. That means 995 total horsepower will be available through the driver's right foot, which should be good for a 0-60 time of sub-three seconds and a top speed in excess of 200 mph. It's run a 7:14 lap time on the Nürburgring, which is within 2.5 seconds of the track record. The 918 will also offer an EV-only mode, in which it should return 78 mpg, though projected range is less than 20 miles. Feeling the need for some of this green speed? Production begins next year. You'll need $845,000 to be one of the 918 lucky owners.
Kepler Motors Motion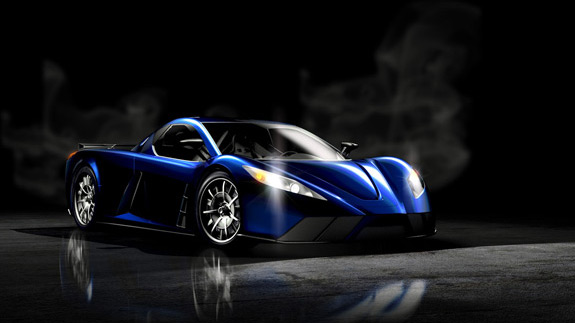 Thought Porsche was the only company capable of producing a hybrid supercar that scoots to 60 mph in less than three seconds? Not so. Kepler Motors, a small automotive manufacturer based out of Cosa Mesa, CA, released videos last month of their own hybrid supercar, the Motion. The brainchild of founder Russ Wicks, the only man to hold world speed records of 200+ mph on both land and water, the Kepler Motion has a twin-turbo 3.5-liter Ford EcoBoost V6 that's good for 550 horsepower. That's what drives the rear wheels. The front wheels? Those receive an extra 250 horsepower from a pair of electric motors. The resultant performance claims are very comparable to the Porsche 918: 0-60 in 2.5 seconds, with a top speed of 200+ mph. Only 50 of these AWD monsters will be produced. Expect prices to be in the high six figures, if not over $1 million.
Jaguar C-X75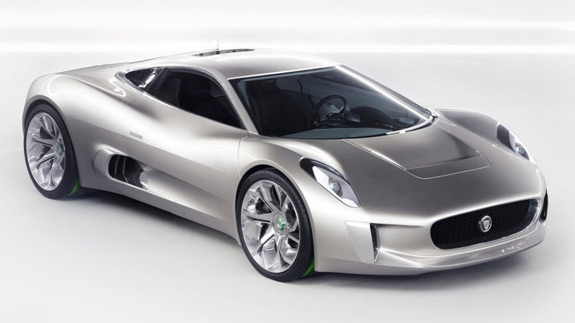 Unlike the Porsche and Kepler, whose gas engines directly drive the rear wheels, the Jaguar C-X75 receives all of its power from electric motors. Specifically, this uber-Jag has four separate electric motors, one for each wheel. These combine to produce 778 total horsepower. The C-X75 does incorporate a gas engine, but it serves only as an onboard generator, recharging the batteries for the electric motors. In the original concept car, a pair of small, diesel-fed gas turbine engines fit the bill. However, for the production model, Jaguar was going to abandon these in favor of a more conventional 1.6-liter gasoline engine. In EV-only mode, it had a range of 78 miles, while Jaguar claimed a 0-60 time of 2.8 seconds and top speed of 205 mph. Jaguar originally planned to build 250 of these hybrid supercars, selling them at a price of $1.3-1.6 million each. Alas, Jaguar announced just this month that plans for production have been canceled on account of the global economic crisis.
Audi Diesel-Hybrid Supercar (R20)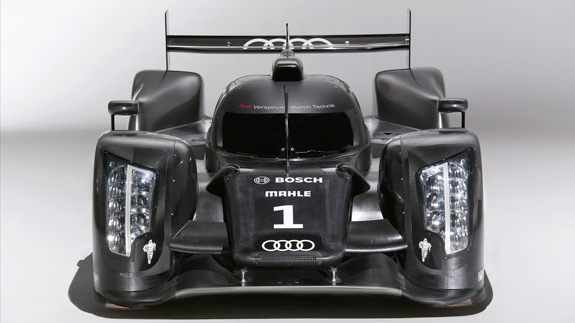 When we think of hybrids, we normally think of gasoline-electric powerplants. However, industry blogs across the board have been claiming that diesel engines are making a comeback, and Audi has always been at the cutting-edge when it comes to the intersection of diesel and performance. Now they're taking things one step further, combining diesel and electric power in the R20 supercar. This street-legal racer will be based on Audi's championship-leading R18 Le Mans Prototype (LMP) race car. The rear wheels will be driven by a retuned version of the R18's 3.7-liter TDI turbocharged diesel engine, with an output of around 550 horsepower. Additionally, there will be a pair of electric motors driving the front wheels, contributing roughly 75 horsepower each. The R20 will have gull-wing doors and a 360-degree camera system instead of conventional mirrors. Unfortunately, we may have to wait until 2017 for it to go into production.
Nissan GT-R Hybrid

The Nissan GT-R has long been a giant-killer, capable of outperforming German and Italian supercars that cost twice as much. The current iteration is powered by a 3.8-liter, 545-hp twin-turbo V6. That makes this supercar smoking fast, but not so eco-friendly with a combined EPA rating of just 16 mpg. Well, rumors abound that the next evolution of the famed GT-R will be a hybrid version. Specifics are unknown at this point, but industry insiders speculate that the GT-R could receive a similar setup to what powered the 2009 Infiniti Essence concept: an electric motor mounted between the engine and transmission, which boosts power and relies on regenerative braking for charging. No performance numbers are known, but we can only assume that the GT-R hybrid will outperform the current version, which gets from 0-60 in a scant 2.8 seconds and tops out at 193 mph.
As you can see, today's automakers are forcing us to reconsider our notions of the hybrid car. Each of the hybrid-powered supercars on this list can achieve a 0-60 time of less than three seconds. Obviously, hybrid doesn't have to mean "slow" or "boring." Honorable mentions for this list included the BMW i8, Ferrari HY-KERS, and Infiniti Emerg-E, and Fisker Karma. But these vehicles, as powerful as they are, don't quite fit the bill as supercars. Still, it just goes to show how quickly the hybrid car is evolving.
Taylor Brown is the founder of AutoFoundry.com, a fast-growing automotive blog that brings you the latest and greatest stories from the auto world. You can follow him @AutoFoundry.