The 2014 Ram 1500 ProMaster Cargo Is A Big, Bad Moving Machine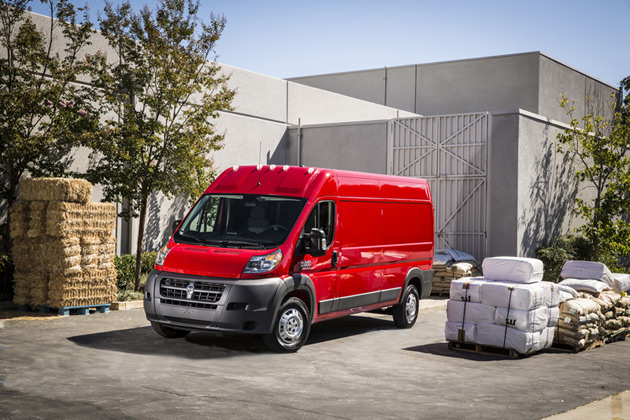 Normally here at Guys Gab we don't tend to talk about commercial vehicles. In this case, however, we're talking about a new cargo van from Ram Truck that was loaned to us so we could help fellow auto journalist Tim Esterdahl move. Since I have a background in commercial vehicles and experience driving them, it seemed like a good opportunity to stretch our legs a bit and the 2014 Ram 1500 ProMaster Cargo was a good choice to do it with.
This is a large and in charge van. Based on a European style, specifically the Fiat Ducato, the ProMaster features a snub nose, a big square body, and an efficient and fast-rising windscreen and fascia. It's made to be both aerodynamic and spacious. Emphasis on the "spacious" part.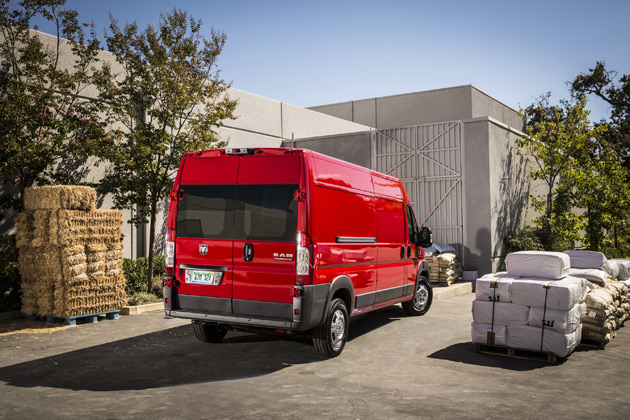 The side sliding door opens wide enough to allow a full pallet to be slid into the cargo area while the rear doors open and fold back nearly parallel to the van's body, allowing another pallet to be inserted through them without down stacking. This translates to a lot of space inside the Ram ProMaster, especially in this High Roof option as we drove it.
And by a lot of space, we mean three bedrooms worth of stuff. Mattresses and all. The 2014 Ram ProMaster held a king-sized bed (frame, head and foot boards, mattress, box springs), two twin beds (ditto), a baby's crib, a dresser and chest of drawers, and a lot of miscellaneous items beyond that. In fact, had Tim not owned a lot of dusty, unused Gold's Gym equipment, we probably could have gotten his entire house into this van.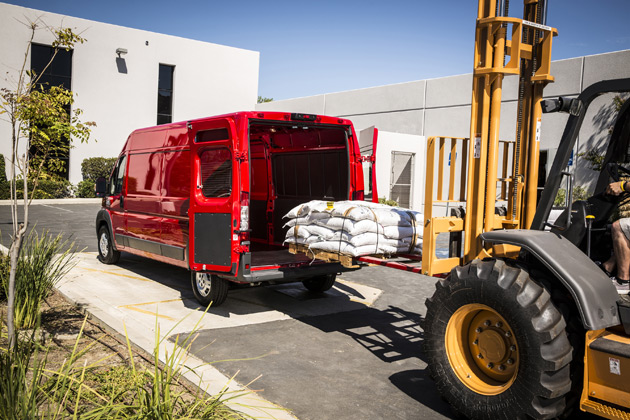 The ProMaster, of course, is aimed at a commercial market that would include workmen, tradesmen, and even package delivery and movers. The professional movers Tim had hired were in love with this van's capacity and ease of entry. The 2014 ProMaster Cargo features the lowest loading deck in the industry, just about knee-level for most men, allowing you to load down into it rather than up – a big back and knee saver. The interior cargo space is well-designed for aftermarket upfitting as well, so work benches, tool hangars, and a lot of other things would be easy to add.
On the road, the van drives like a combination of a pickup truck and a bus. When empty, it's skittish, of course, because it's built to be carrying weight. Once loaded, it's confident and very steady to drive. It is not, however, the best setup in terms of driver comfort and ergonomics.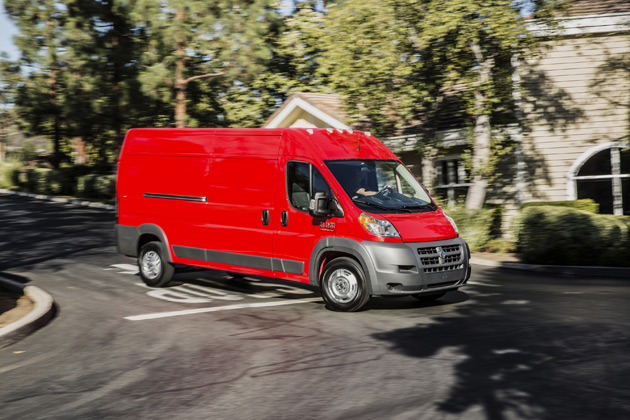 The driver's seat sits very high, so that a big man like myself (I am six foot, three inches tall) looks out through the top of the windshield. This gives a commanding view of the road, but it makes you feel inclined to duck, even though there is plenty of headroom beyond that. It also means that the steering wheel is down at your knees, despite being pulled up and out as far as it will adjust. Because I could not move the seat forward (my knees would then be crowding the wheel), the window channel bisected the driver's side mirror, cutting a large chunk out of the field of view. This could all be remedied by merely cutting two inches or so off of the seat stilts to lower it down, which would be an easy task as those stilts are about four to five inches tall.
Outside of those caveats, we found that the Pentastar V6 performed very well through its six-speed automatic transmission and the 2014 ProMaster handled nimbly in traffic and on the highway. Because it is front-wheel drive (also unique to the segment), the Ram ProMaster Cargo has a tight turning radius and smart handling characteristics. The optional backup camera is well-placed for maneuvering into a dock, loading door, up a driveway, or back to a trailer.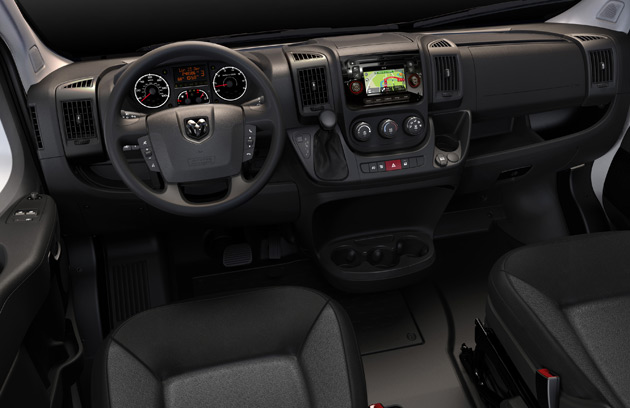 All in all, the 2014 Ram 1500 ProMaster Cargo is a capable, well-designed commercial van that many will find a good choice for workday use. Even if all you're doing is moving a friend. More proof that Chrysler is picking up the pace in competition.