The Neighbors 2 Trailer Is Raunchy, Sexy And Hysterical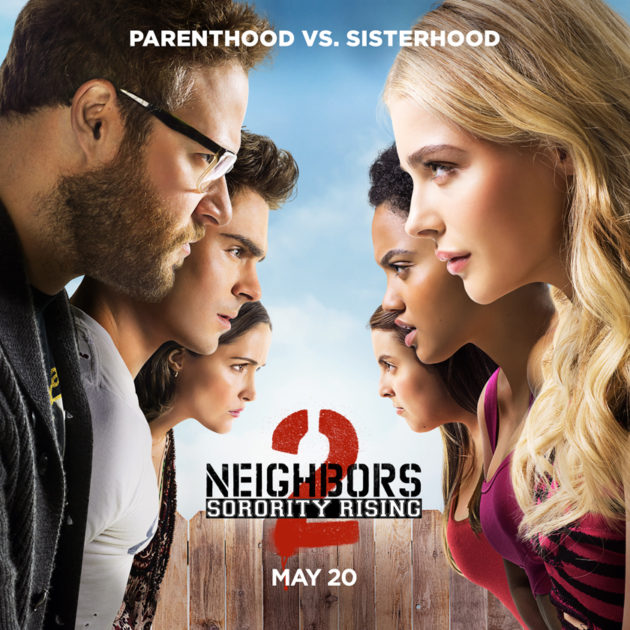 In the wild and raunchy comedy Neighbors, Seth Rogen and Rose Byrne played suburban parents who had to tap back into their hard-partying days to take down a noisy fraternity that moves in next door. The movie was a smash success, so they decided to make a sequel, which comes out next month.
When I first heard that they were doing a sequel, I rolled my eyes. But after watching the trailer, I'm totally on board for this. And the fact that hotties Selena Gomez and Chloe Grace Moretz star in it doesn't hurt either..
Now that Mac (Rogen) and Kelly Radner (Byrne) have a second baby on the way, they are ready to make the final move into adulthood: the suburbs. But just as they thought they'd reclaimed the neighborhood and were safe to sell, they learn that the new occupants next door are a sorority even more out of control than Teddy (Efron) and his brothers ever dreamed of being. Tired of their school's sexist, restrictive system, the unorthodox ladies of Kappa Nu have decided to start a house where they can do whatever the hell they want. When Shelby (Moretz) and her sisters, Beth (Clemons) and Nora (Feldstein), find the perfect place just off campus, they won't let the fact that it's located on a quiet street stand in their way of parties as epic as the guys throw.
That's right, this time around it's not the fraternity that's jeopardizing Mac and Kelly's way of life, but rather a new sorority called Kappa Nu that is all about partying, drinking, and drug use. And in order to take down the new Greeks next door, they bring in their former nemesis Teddy Sanders (Zac Efron) as their secret weapon.
You can check out the official trailer for Neighbors 2 below:

Honestly, I was laughing my ass off throughout the trailer. And if you want even more, you can check out the Neighbors 2 red band trailer, which really takes things to the next level.
May 20th can't get here soon enough!