Tips For A Safe Thanksgiving Road Trip From GM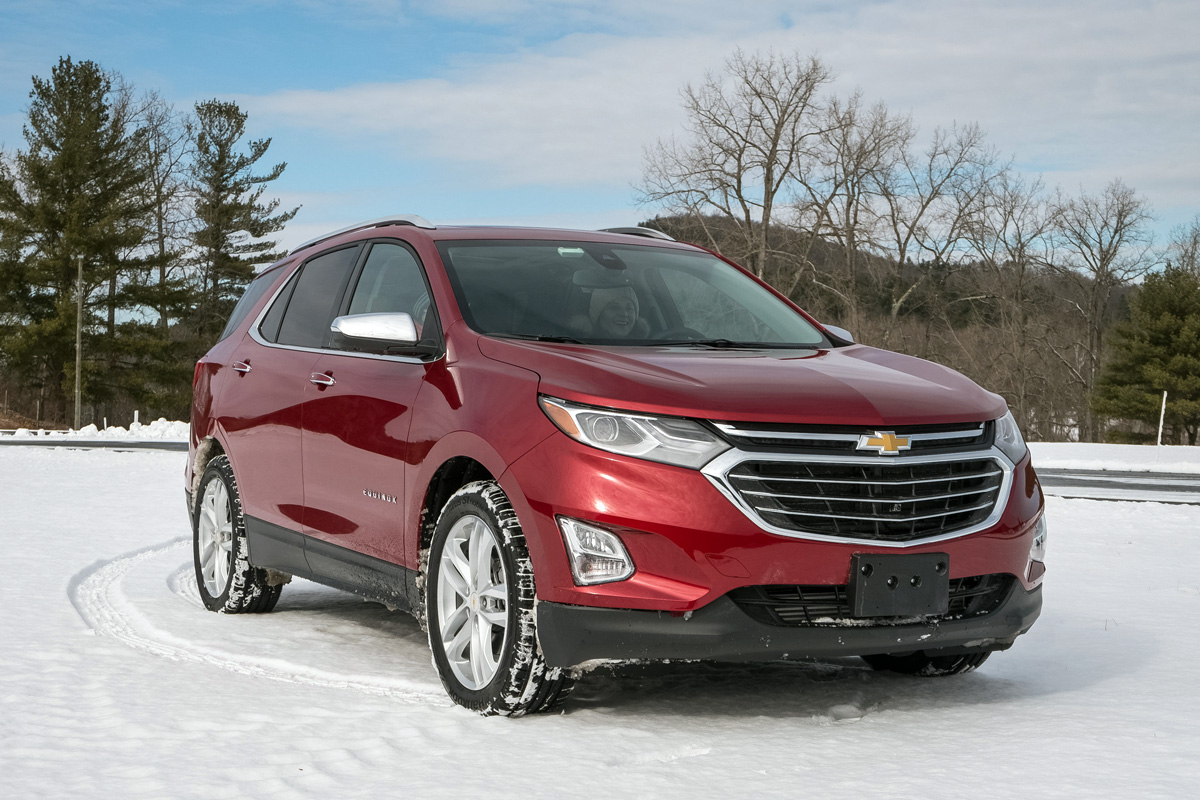 General Motors would like to wish you a Happy Thanksgiving and also be sure that you prepared to make it safely "over the river and through the woods to grandmother's house" this holiday season, by sharing some winter driving car preparation tips for you and your audience.
While winter driving can be stressful for motorists, from navigating the knee-deep snow and steering clear of accidents on the roadways, it's also a stressful time for your car. Imagine having to wake up from a frozen sleep with the turn of a key and set off trudging through the ice, snow and slush of winter driving moments later.
To make sure your winter driving is as smooth as possible for you and your car, GM Consumer Advocate James Bell has prepared some tips to get you ready for that drive to grandma's house this holiday season.
Five tips to prepare your car for winter driving:
1. TIRES: Be sure your tires are ready for winter driving and have sufficient tread depth. All tires have a weather rating specifying the weather conditions the tire is designed to perform best in. Depending on where you live and the winter climate, you may need to update your tires to the correct specification for your driving needs. This may mean a M+S (mud+snow) rating would give you the best performance in inclement weather.
Some areas with a lot of snow and ice may require studded tires or snow chains to travel in higher elevations during the winter months.
Also, be sure there is sufficient tire pressure as air pressure can drop by 15 percent in the cold weather.
2. FLUIDS: Be sure the various fluids and oils in your car are the right specification and level for winter driving. This includes your engine oil, which may require a lower viscosity rating for colder temperatures, and your engine coolant (anti-freeze) is suitable for cold weather. Improper or old coolant may not adequately protect your engine from the freezing temperatures.
Make sure you have all-season windshield washer fluid and your reservoir is full.
Preparing for winter is also a great time to have a dealer mechanic check your car over to make sure that not only your fluids and oils are up to spec for the winter, but to also check other fluids, such as your car's brake and transmission fluids to make sure they are in good condition and properly filled.
One last note about fluids: Keep your gas tank at least one-half full. As moisture can accumulate in your vehicle's gas tank, maintaining a full to half-full tank of gasoline can prevent fuel line freeze-up. That may keep your car from starting in the cold weather and result in a call to the local towing company to get your car into the service center.
3. BATTERY: If there is one system on your car working overtime in the winter, it's your car's battery and electrical system. Did you know it can take as much as 5X the cranking energy to start a cold engine in freezing temperatures versus an engine in the summer? You might come out one brisk morning to a dead battery and need to call your neighbor for a jump start.
That's why it's important to have your battery checked by a mechanic to determine its condition and if it needs to be replaced before winter. Just like the old saying, paying a little now can save you a lot later if you have to have your car towed or need to have additional items repaired due to the lack of proper electrical current available from a weakened battery.
If you are driving one of the new electric or range-extended electric vehicles, be sure to keep a charging system with you at all times and plug-in whenever possible to keep your traction batteries changed and the batteries warm. Just like your starter battery, traction batteries can lose their charge capacity in the colder temperatures.
4. WINDSHIELD WIPERS and FLOORMATS: Among the hazards of driving in winter weather, is the potential loss of visibility due to snow and ice accumulating on your windshield. Making matters worse, it's often difficult to tell if your windshield wipers are worn out until you need them – like during a snowstorm!
A simple rule of thumb is to replace your car's windshield wipers in the spring and in the fall. If you have a rear wiper, it's best to replace it too, along with the front wiper blades.
Many top brands now make winter-specific windshield wiper replacements that have a solid rubber coating to prevent the blades from freezing and more able to conform to the curve of the windshield to provide a more thorough cleaning of the glass surface.
While you're picking up some new wiper blades, why not checkout some all-season floor mats. While many cars now offer carpeted mats as standard equipment, a rough winter can really take their toll. All-season mats, made of durable rubber, can be easily removed and cleaned with a garden hose and scrub brush. And if you're stuck, they can be used to provide you some extra traction.
5. VEHICLE INSPECTION: While most people might not think of taking the time to have a professional give your vehicle a winter inspection, having your dealer service center or trusted mechanic perform a pre-winter inspection is more than just a good idea, it could save you money and headaches in the long run.
Items, such as a cracked windshield or scratch in your car's paint, could worsen dramatically due to the fluctuations in temperature. What might be a small blemish in the fall could turn into a significant issue by spring. Therefore, it may pay to have those items identified and repaired before winter.
Now is also a good time to check your vehicle's exterior and interior lamps. This includes headlamps, side marker lamps and turn signals, and the rear tail lamps and brake lights. When the weather is bad, it's best to see clearly and to be seen!
Five tips to prepare you for winter driving:
1. BE PREPARED: Like the old scout motto, be prepared for anything winter can dish out to you, including being stranded or stuck in the snow. That means take along an extra pair of gloves and boots, and other items, such as a blanket, flashlight, jumper cables, a portable shovel, and ice melt are all good things to store in your car's trunk for the winter.
Should you get stuck you will have the tools you need to hopefully dig yourself out and keep yourself warm. It's also good idea to have a package of hand warmers and some snack food in the glove compartment in case you get stuck in the snow and are outside for a prolonged period of time.
Be sure to have a cell phone and charger in case you need to call for help.
2. HAVE A LIFELINE: It's a good idea to have a lifeline to you and your car in case of an emergency. Systems such as OnStar can connect you to 24-7 trained emergency personnel who can help you in case of an emergency. These systems use dedicated cellular connections and can activate automatically after an accident. They can also pinpoint your exact location if you are lost or cannot be seen from the road, as in the case of sliding into a ditch or in whiteout conditions.
OnStar now offers the FMV mirror, which can be installed in virtually any vehicle, and offers most of the features of the full OnStar system, including accident alert and 24-7 emergency response.
3. WINTER TOOLS – A GOOD ICE SCRAPER: It's essential to keep the proper winter tools to keep your car ready for driving in the winter weather. A good snowbrush and ice scraper is a must-have for clearing snow and ice from your vehicle. Be sure to clear all of your windows of ice and snow before driving, and remember to clear away ice and snow from your headlamps, turn signals, brake lights – including the high center-mounted brake light – and your license plates. Also, be sure to stow ice scrapers in a safe place while to make sure it doesn't get in the way while driving or injure someone in an accident.
4. KNOW YOUR CAR'S SAFETY FEATURES: All cars sold today – and many cars on the road – now have various forms of traction and braking control systems. It is essential to know which of these systems are installed on your vehicle and to know how to use them properly.
Anti-lock brakes – are designed to prevent your wheels from skidding on dry, wet or icy surfaces. For vehicles without an anti-lock braking system, the best way to control a vehicle sliding on icy surfaces is to pump the brakes to safely bring the vehicle to a stop. For cars with anti-lock brakes, the system does that for you, so apply a constant firm pressure on the brake pedal and the system automatically applies the correct brake pressure to bring the car to a stop without locking up the wheels.
Traction Control – is a system that works opposite to anti-lock brakes. Instead of gradually easing your car to a stop, traction control gradually applies power to the drive wheels in a way that prevents wheel spin. The proper way to drive with traction control is to go ahead and drive as you normally would, with the exception that no matter how much you press the accelerator, the car will moderate acceleration to move the car without spinning the wheels.
Note that traction control systems are switched on by default. That means the system is automatically engaged when you start your car but can be turned off in certain situations, such as if you're stuck in snow and needed to rock your vehicle to get out. In those cases, turn the "TC" switch to off until you have safely dislodged your vehicle. Turn the system back on before you continuing driving.
Electronic Stability Control (ESC) – are systems, such as GM's StabiliTrack, which merge technologies such as anti-lock braking and traction control, to provide additional safety when driving in inclement weather. The systems are beneficial while driving and can sense when a car is beginning to lose control. ESC will simultaneously divert power and apply braking to affected wheels to regain proper vehicle direction and stability. Again, ESC is on by default, and while it may be switched off in certain conditions, it should be activated when driving in inclement conditions.
5. STAY ALERT – while coffee and cider might be good to keep drivers feeling fresh and alert while driving home from grandmother's house, it's also a good idea to know your vehicle's emergency alert, weather and navigation systems. This is especially true if you are going on an extend drive along unfamiliar roads.
If your car has a navigation system, be sure to familiarize yourself with how it works, if it has an emergency weather or traffic alert system, be sure you know how to activate it and access it when it provides alerts.
For cars that do not have these advanced navigation or emergency radio systems installed, check ahead for local traffic alert frequencies to tune into on your car's AM band. Either way, the traffic and weather alerts can be a lifesaver, warning drivers of whiteout and black ice conditions, and to help avoid potentially very dangerous driving conditions.
With that, plan your route, and let others know where you will be traveling and when you'll arrive.