Toddy Wedge Polishes & Cleans While Holding Devices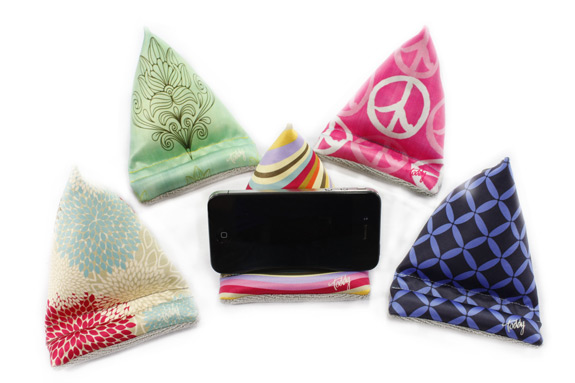 Toddy Gear, creator of the innovative Toddy Smart Cloth, is proud to debut its latest creation.
The Toddy Wedge is a multi-faceted accessory for a plethora of electronics, home items, GPS', and mobile products. It impresses in its ability to both clean and hold your phone in place, making it a convenient and functional tech accessory.
The Toddy Wedge is the perfect shape for your phone to rest against, providing an optimal viewing solution for your device, even if fitted with a case. It also delivers impeccable cleaning capabilities with the revolutionary, dual-sided microfiber finishes, featuring an antimicrobial coating to also protect the wedge from grime.
You can easily keep your electronics dirt and smudge-free by cleaning them with the bottom portion of the Toddy Wedge, which is crafted with microfiber plush. The top portion of the Wedge, constructed with microfiber silk, can be used to polish touchscreen devices, gaming accessories, household items, and more. Each Wedge is handcrafted in a variety of vibrant colors and designs that will be sure to please any one.
"Instead of always reaching for a cloth in your pocket or drawer to clean devices, we revamped the design and created a product that can also serve as a solution to keep your phone in place," said Todd Gabel, founder and president, Toddy Gear. "The shape of the Wedge offers more convenience and style to our loyal customers whether they use it during travel, while out to eat, or while watching movies on their phones. The options are endless."
Toddy Wedge is now available at www.toddygear.com for $14.99 and will be available on Amazon.com in mid-September.