Tracy McGrady: Remember Him?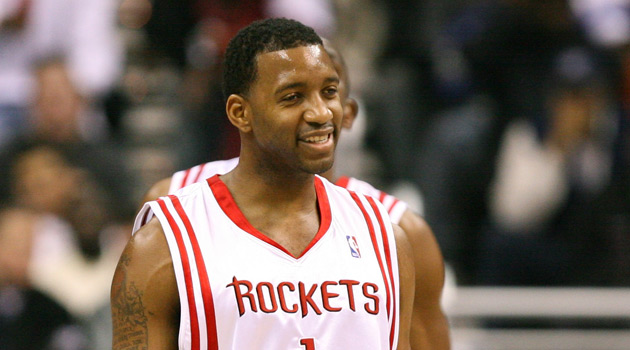 Tracy McGrady used to be one of the most dominant athletes on the court. He could slam dunk with the best of them and even a novice basketball fan, knew exactly who T-Mac was. McGrady decided to skip college and was drafted 9th overall by the Toronto Raptors in 1997. Alongside Vince Carter, the two became two of the scariest dunkers in the league. McGrady was traded to Orlando in 2000 and became one of basketball's elite. He became an NBA scoring champion, but McGrady couldn't take the Magic far into the playoffs. In 2004 McGrady was traded to the Houston Rockets, where he spent most of his career. He would team up with Yao Ming and created one of the most intimidating 1-2 punch in the NBA during that time. Tracy though, still couldn't complete his dream of winning an NBA title. Soon Mcgrady would become belittled with injuries, those injuries would plague much of 2005-2010. During the year 2010, McGrady would have only played in 6 games with the Rockets and was traded to the New York Knicks. Injuries undermined his potential Hall of Fame career.
This former 7-time All-Star would become a shell of his former self. McGrady couldn't even get a shot with an NBA team and opted to play for China in 2012. Why am I telling you such a somber story of one of the elite dunkers of my generation? Because in 2013, right before the last game of the season, McGrady was signed by the San Antonio Spurs. McGrady made a career of not making it out of the first round of the playoffs, and now he's in his first NBA Finals with the San Antonio Spurs. McGrady has only played in four games this postseason and hasn't recorded a bucket. With the Spurs headed to Game 7, McGrady has his first chance at an NBA title. Is this how we are going to remember McGrady? Riding the bench and giving high fives to players like Boris Diaw and Gary Neal who will never have a career as illustrious as T-Mac. At least they are playing though.
I personally hope that McGrady does get a ring. He earned his ring, and there are hundreds of players who have never had this opportunity to hoist the trophy. (Dan Marino and Allen Iverson, to name a few) But how will we remember him? I will remember Tracy McGrady for what he was, a pure athlete, a complete scorer and hopefully by tomorrow night; an NBA champion. Best of luck T-Mac, you earned it.
Are you rooting for McGrady tonight? Do you think his legacy is tarnished if he gets his ring with the Spurs? McGrady's former coach Jeff Van Gundy thinks McGrady is a Hall of Famer, do you?
Some pretty sick T-Mac highlights:

Photo Credit: Wikipedia