What's The Deal With This "Get Windows 10" Icon In My System Tray?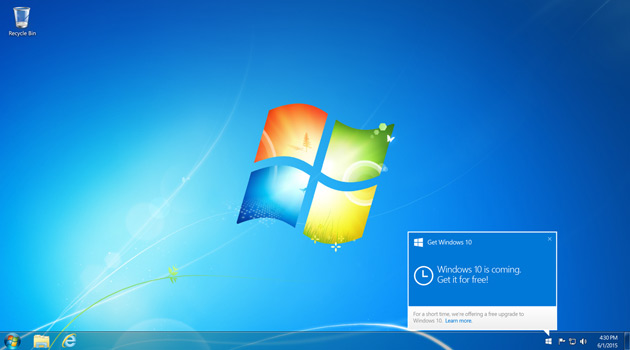 A few days ago, a little "Get Windows 10" icon magically appeared in my system tray, asking me to "reserve an upgrade for Windows 10". Now, if you've been following the news about Windows 10, you know that it is being offered as a FREE upgrade for current Windows 7/8 users when it's released on July 29th. So what's the deal with this whole reservation system?
Apparently, Microsoft is offering the registration process so that Windows 10 can be downloaded to your PC ahead of the July 29th launch. Why is this beneficial? Well, because half the planet will be trying to download it (all 3GB of it) when it's released, and you know it's going to be a total shit show, with servers going down or running at painfully slow speeds. (If you've ever tried to activate a new iPhone on launch day, then you know exactly what I'm talking about..)
Now I'm probably one of the few people who actually like Windows 8.1, but everyone I've talked to who has played with the Windows 10 preview had nothing but great things to say about it. It runs faster, brings back the Start menu, includes a new browser, and the inclusion of Cortana.
I'll probably still wait a few days before installing it to see what kind of issues other users are facing (because you know there are bound to be some bugs), but overall I'm pretty excite about the prospect of Windows 10.
Are you planning on upgrading to Windows 10?