Win A Finals Prize Pack From Enterprise : Ultimate Pick Up Moments Sweepstakes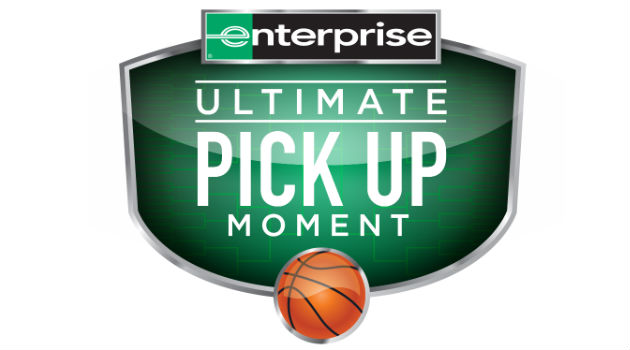 March Madness® 2014 will truly be one for the ages. Not only is just about everybody's brackets busted by upsets and overtime drama, but we are only just getting started! Now I know I'm not the only one who's billion dollar bracket was busted immediately, so I had to secure my chances at winning in some other way.
Enterprise provided that with their own bracket battle. Right now if you go to Enterprise's Facebook page, you can vote for the Ultimate Pick Up Moments in NCAA® March Madness® history. They are currently in their own Final Four, and just by voting for some of the best moments of recent memory, you can enter yourself to win a trip for two to Indianapolis, along with tickets to the 2015 NCAA® Men's Final Four®!
But that's not all! We here at Guys Gab are doing our own little contest! We want to know which of the Final Four® Ultimate Pick Up Moments sticks out to you and why?
We first have to check out the four finalists using Enterprise's Facebook App. Lets check them out!
The Shot '92:
Everybody has an opinion when it comes to Christian Laettner. There is one thing that we can all agree on though. His turnaround jumper as time expires deserves it's recognition as one of Enterprise's "Ultimate Pick Up Moments" in March Madness history. First you have to appreciate that long inbounds pass and the leaping abilities of Laettner to catch and control the ball. Second Laettner's pivot which allowed him room to hit his immaculate jumper. The rest is history, Duke wins the National Championship and Laettner never became the super star that the 3rd overall pick in the NBA expects.
In Tribute:
What I love about this moment is that it truly isn't about basketball here. Its about brotherhood and friendship. This is what makes college ball great is that it is still a team sport. Bo Kimble shoots left handed free throws in honor of his friend and teammate Hank Gathers who collapsed on the court during a game earlier in the season. Loyala Marymount went on to win and advance to the sweet 16. Brotherhood prevailed that season and it is surely the most touching and heart wrenching "Pick Up Moment" on the list.
The Put Back:
1983 National Champions NC State were the underdogs coming into the championship game facing a tough Houston team. This shot is one of the most iconic National championship moments of all time and surely is an "Ultimate Pick Up Moment" for the ages. Lorenzo Charles slam with one second remaining had the 6 seeded Wolfpack rushing the court. What also makes this an "Ultimate Pick Up Moment" is that NC State had one of the most iconic and inspirational coaches of all time. Jimmy V's legacy alone can make 'The Put Back' the winner in this contest.
Smart Shot '87:
It's only fitting that we have two national championship moments going head to head in the final four. Keith Smart's iconic jumper in 1987 solidified the Hoosiers as the best team in basketball that year. Smart's one dribble pull-up wasn't just a "Pick Up Moment" for the Hoosiers, it was extremely clutch and smooth. Let's see if Smart's jumper can handle Jimmy V in the Semi's.
My Predictions:
In Tribute over The Shot
The Put Back over Smart Shot
Championship: The Put Back over In Tribute
Now what you guys need to do is leave a comment below telling us which "Ultimate Pick Up Moment" is going to win the whole thing and why. The best comment will win the Ultimate Finals Prize Pack Which includes the following:
Finals Party Pack ($350)
$200 AMEX Gift Card
Mini Basketball & Hoop Set
Bamboo Wood Lap Table Tray
2 Basketball Table Cloths
Cups, napkins, forks, knives for 40 people
Enterprise Duffel Bag
Enterprise Game Day Seat Cooler
Enterprise Stress Reliever
Enterprise Can Koozie(10 pack)
Enterprise 24oz Tritan Water bottle
EDIT: CONTEST CLOSED, WINNER NOTIFIED
And don't worry, because this awesome prize pack will be delivered to you just in time for the NCAA Finals on April 7th. And if you don't win the prize pack this go around, you still have three other chances to do so!
During the Kentucky/Louisville, @bullzeyedotcom will be live tweeting the game and will be giving away an Ultimate Prize Pack as well! Just use #EnterpriseNCAA to enter. Keep an eye out for Next Impulse Sports (@playgrounddad) who will be live tweeting a game during the Elite Eight for a chance to win a finals pack. And TheHoopDoctors.com will be making a blog post where you can also comment for a chance to win!
Mad props to Enterprise for hooking up four lucky winners, and don't forget to vote for the "Ultimate Pick Up Moments" via their Facebook app. These pick up moments are just like Enterprise, because as they say, "We'll pick you up!"
Disclosure: Guys Gab was compensated for our participation in this campaign, however the opinions expressed here are my own.