Infiniti Q50 Eau Rouge Sports 560HP Engine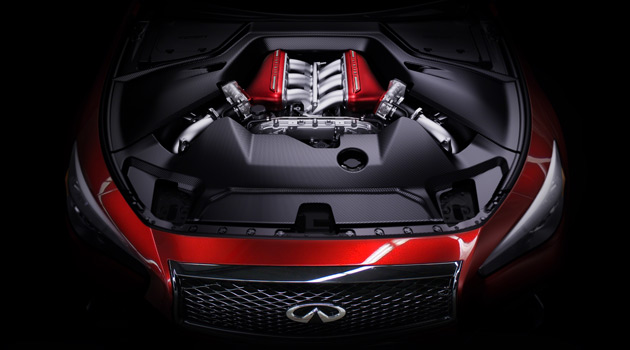 Infiniti has been teasing us for the past few months about the Infiniti Q50 Eau Rouge Concept, and just a few weeks ago they released a sound byte of the engine revving, giving us some clues as to what might be lurking under the hood of this red-blooded beast.
And today at the 2014 Geneva International Motor Show, they finally revealed the beating heart of the Infiniti Eau Rouge Concept, a 560-hp, twin-turbocharged, 3.8-liter V6 gasoline engine that partners a full-time, all-wheel drive system with 50/50 front-to-rear torque split. Predicted acceleration of 0-60 mph in less than four seconds and a top speed close to 180 mph would put the Q50 Eau Rouge firmly into the premier league of super-sports sedans.
"Building on the extremely positive feedback on the Q50 Eau Rouge at its recent Detroit Auto Show launch, we decided to further whet the appetite of performance sports sedan fans by engineering this powerful heart into our blood-red beast," said Johan de Nysschen, president of Infiniti Motor Company Limited.
The most powerful and exhilarating gasoline-powered Infiniti model has not been confirmed for production, but the unveiling of the Q50 Eau Rouge in Geneva underlines the company's determination to create engaging performance cars for a premium segment.
Fingers crossed!