Learning About Towing Fundamentals With The GMC Sierra Denali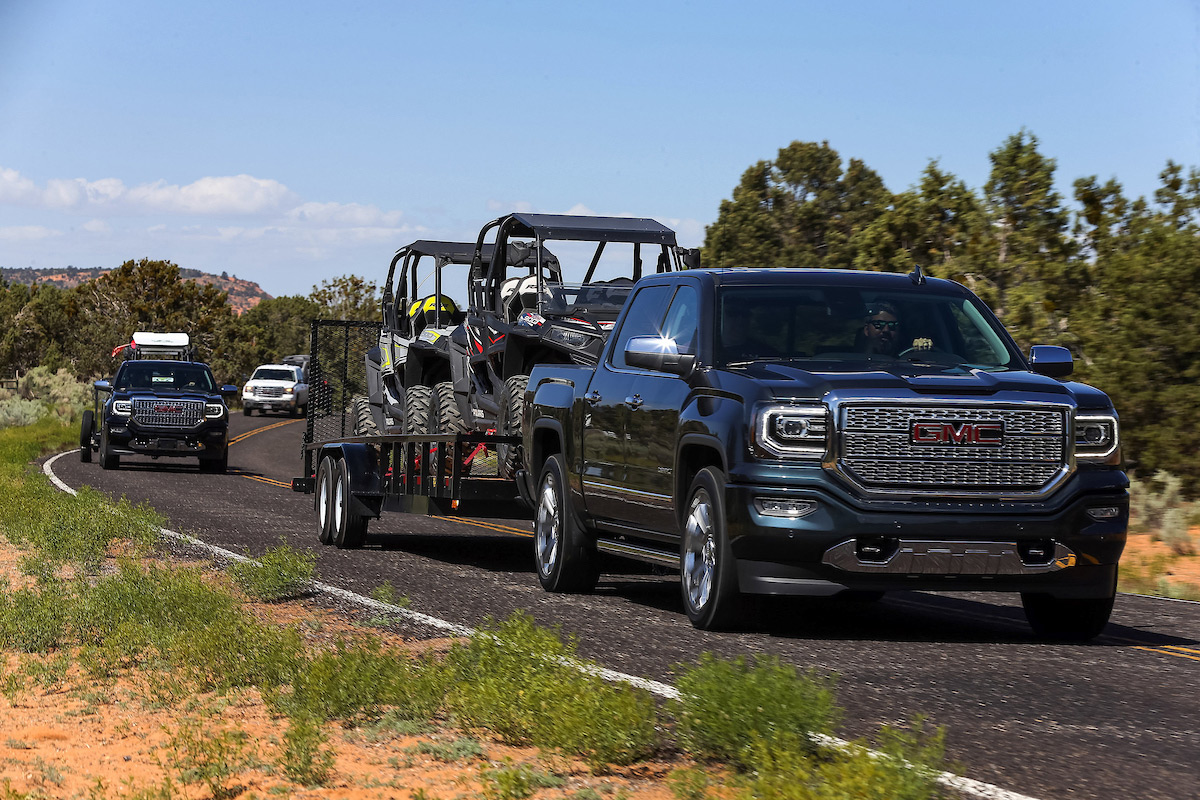 The first time I had a chance to drive the 2018 GMC Sierra Denali, I enjoyed the experience, but it felt like something was missing – a trailer loaded with toys. What I didn't know at the time was that GMC is only major manufacturer that has towing as part of it's DNA from their smallest SUV (Terrain) to their largest truck (Sierra HD).
We recently spent some time with GMC learning more about towing fundamentals and why the GMC Sierra makes a great choice for anyone who's weekend plans might involve heading out into the wild to go boating, biking, or exploring with a UTV. While this wasn't my first time towing, I learned quite a bit here, which I'm here to share with you guys.
Our journey began at the Red Mountain Resort in Saint George, Utah where we learned more about proper towing, before heading off on a road trip that included dune riding at Coral Pink Sands State Park and a road trip through Zion National Park. Throughout the experience it was clear that the Sierra was made for the job at hand!
According to GMC, 75% of all Light Duty truck owners tow – but 30% of those owners don't know how much weight their trucks can haul. Similarly, outside of professional customers, very few consumers have a solid understanding for what features make one truck a better towing platform compared to another.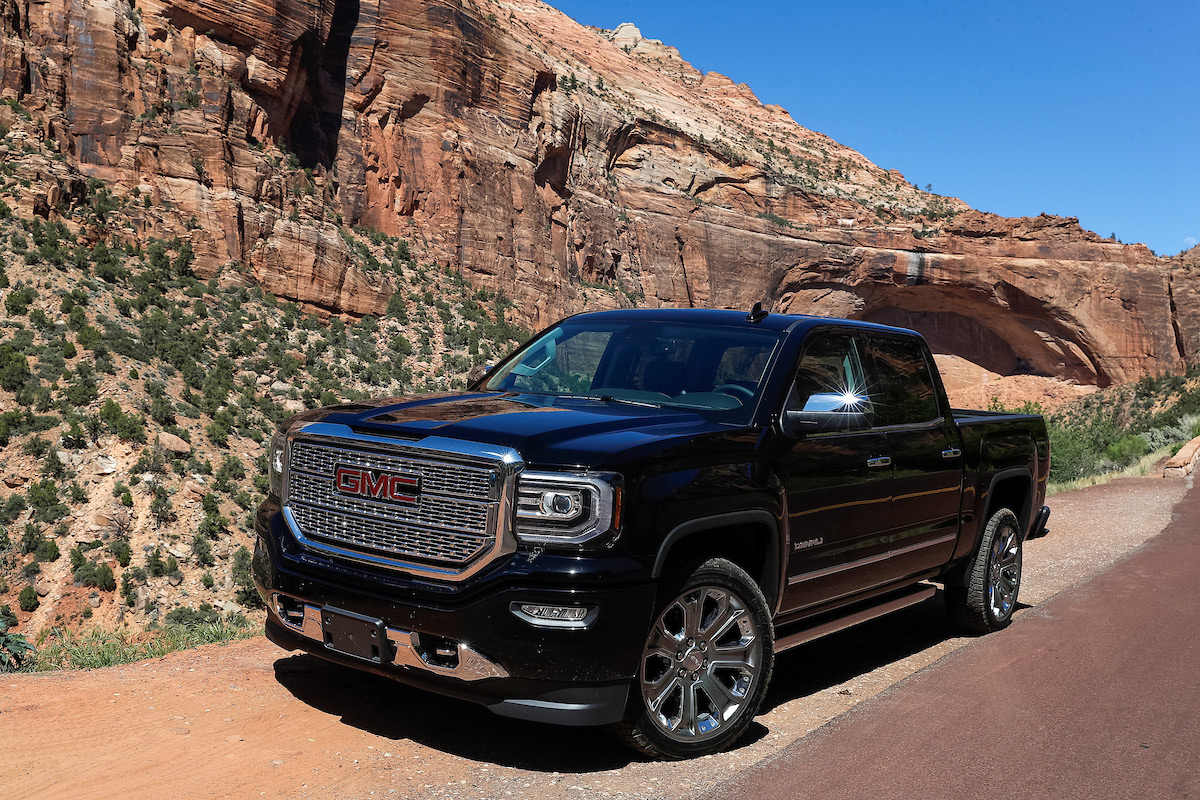 It's Not Just How Much You Tow, It's How Well You Tow
It's easy to get lost in the number of max towing ability and think that's the only thing that's important. Frankly the 2018 GMC Sierra Denali holds its own there compared to peers, with a max trailer rating of 12,500 pounds (23,300 for the Sierra HD). However, there's more to getting to the cabin or camp site than simply how much load you can pull. That's a LOT of weight! Far more than most people will ever need to haul.
Max load limits today are absolutely enormous, and most people won't even come close. For instance, our trailer contained two Polaris RZRs and it was still only 7,000 pounds.
The important factor is to make sure you can town that weight safely, quickly, and easily. That's where having the right truck comes into play.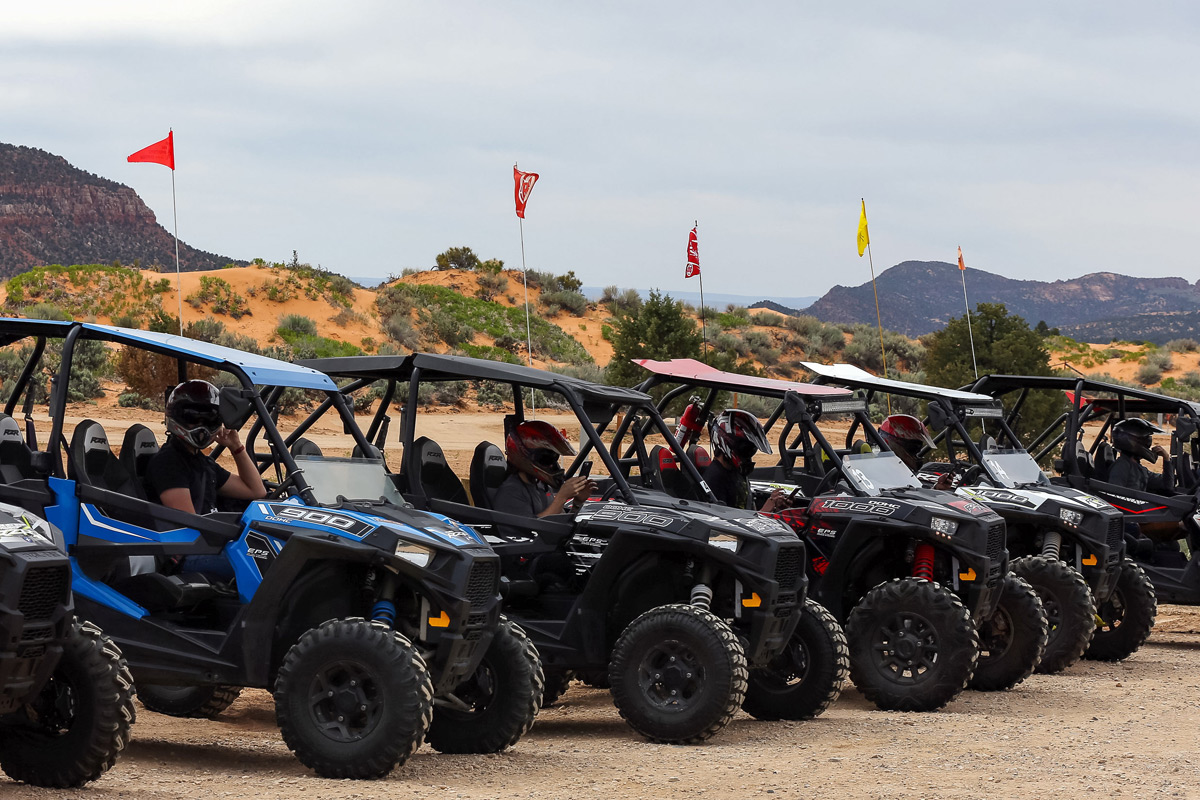 Key Features That Make The Sierra Denali A Great Truck For Towing:
Premium Trailering Mirrors – While I prefer the large compound mirrors on the larger Sierra HD Denali, I was pretty impressed with the smaller more compact ones found standard on the Sierra Denali. It allowed easy viewing of oncoming traffic as well as the end of the bed and I found it very easy to judge distances for passing vehicles. These mirrors are also heated to prevent icing in winter and contain LED rear guidance lamps when backing up.
Trailer Sway Control and Trailer Brake Controller – Sensors automatically detect a trailer that has begun to sway and applies both the trailer and vehicle brakes to restore proper towing control. You can also do this from within the cab to apply the trailer brakes manually.
Tow/Haul Mode – Provides more power to accelerate when hauling heavy loads by raising transmission upshift points.
Hill Start Assist – Sensors detect when your vehicle is at a 5% or more grade and holds the brakes until the accelerator is pressed so as to avoid rollback.
Auto Grade Braking – Senses when you want to slow the GMC Sierra and helps automatically maintain the desired speed.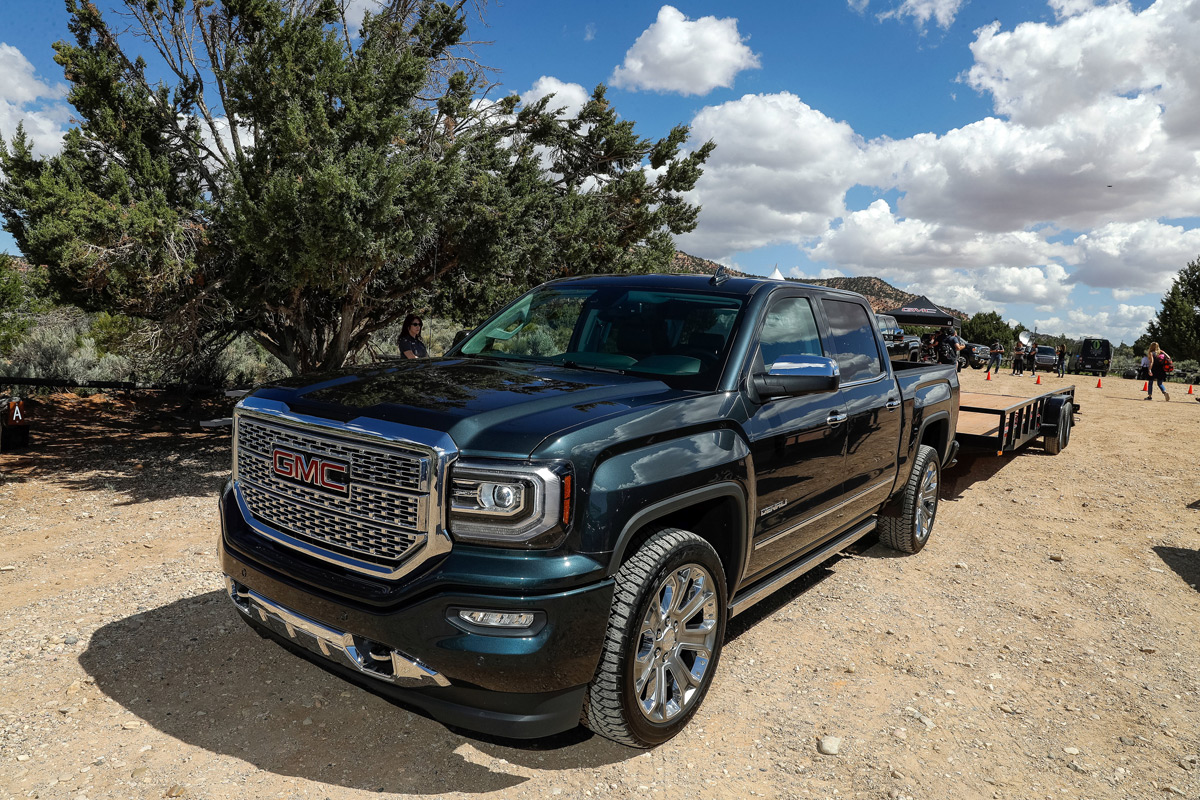 Rear Vision Camera System – To help align the hitch with the trailer. GMC also offers a dealer-installed accessory produced by EchoMaster that provides multiple camera points to provide simultaneous views of your load all tied into the center console view screen. Unfortunately, that was not available on our model.
On the road, the Sierra performed great on the first leg out to the park. It hauled our load with ease while being nice and roomy for two "full sized" adult men. Inside, the Denali trim offered us the comfort of a Bose premium audio system, heated and ventilated leather seats, power step, and a driver alert package that included features such as Forward Collision Alert, Lane Keep Assist, and IntilliBeam Headlamps. The Sierra Denali is unapologetically a truck and it feels like it, however the ride is smoother in the Denali trim in part due to the Magnetic Ride Control which helps dampen bumps and rough road surfaces.
While the Sierra with trailer in tow isn't going to win any speed competitions, it felt very stable with the "Max Trailering Package" that increases towing capacity and performance.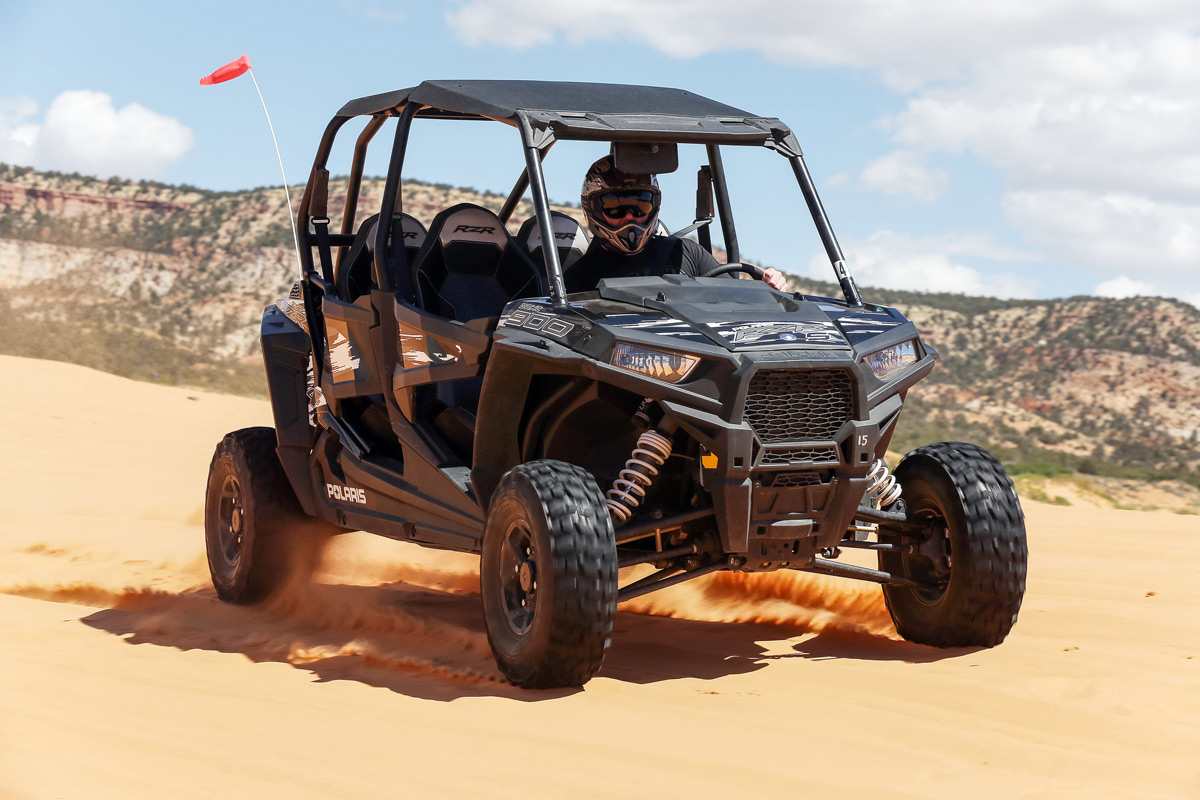 Specifically, the Max Trailering Package in our truck featured a 420hp 6.2L V-8, with a 9.76 ring gear, 3.42 8-speed axle ratio, trailer brake controller, enhanced cooling radiator, revised shock tuning, and heavier-duty rear springs to help support the load better.
Upon arrival at Coral Pink Sands State Park, it was time to unpack the RZRs and have some fun. The sand here was simply amazing, and photos don't do it full justice. The dunes were created as wind blew through a notch between the Moquith and Moccasin mountains eroding the red Navajo sandstone over the past 15,000 years. As it eroded, sand was deposited on the valley floor and dunes formed.
While it is a state park, approximately 90% of the dunes are open for riding. Trails range from sandy paths through trees to wide open dunes where you can get pretty aggressive and even catch some air.
After a full day of racing around the dunes (and collecting sand in places sand should never collect) it was time to head home.
This time, we got to drive the Sierra Denali without a trailer to experience how it performed with out a load. Once again, I was very happy with the ride though it felt a bit stiff since it's really most comfortable with a load pressing down on the suspension.
Despite that, it was a fun drive through the mountainous roads of Zion National Park as we headed back to Saint George. You certainly aren't going to take tight turns at car speed but sitting above the action a bit and simply cruising down the road is where this truck excels.
All in all, it was a fun day in the desert learning more about the GMC Sierra Denali and the finer points of towing like a pro.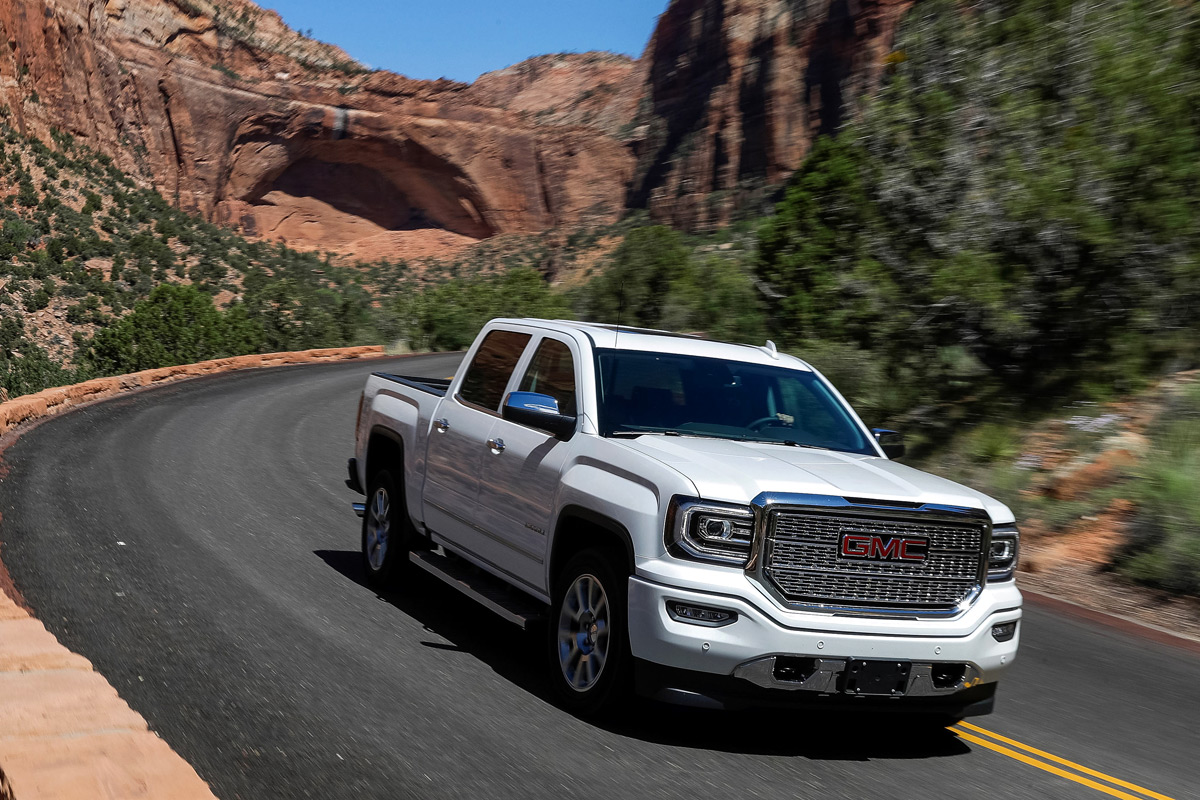 Photo credit: Isaac Brekken for GMC