Mazda Miata 25th Anniversary Edition Debuts At New York Auto Show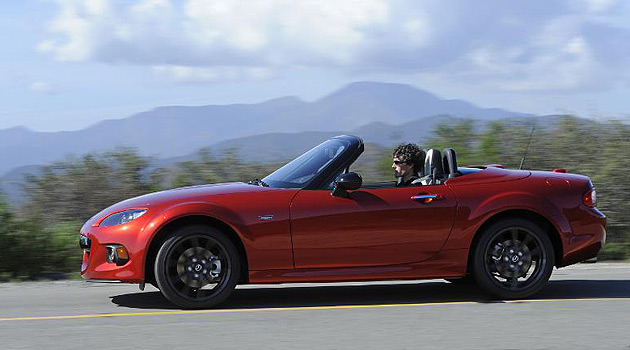 Mazda today debuted the MX-5 Miata 25th Anniversary Edition during a press conference at the New York International Auto Show (NYIAS). A global announcement, this limited-edition automobile will be sold as a 2015 model with only 100 vehicles being slated for sale in the United States. The anniversary edition was built not only as a tribute to the unassuming diminutive roadster that sparked a large automotive impact but also to celebrate every owner and car enthusiast it's won over throughout its 25-year history.
"The original concept behind the MX-5 was so simple: to offer the pure joy of a lightweight sports car that moves precisely as the driver intends," said Takashi Yamanouchi, chairman of the board, Mazda Motor Corp. "While responding to increasing safety and environmental requirements, in the 25 years since its launch we have had to continually reinvent the MX-5 – far beyond a simple evolution – in order to stay true to that original ideal. The history of the MX-5 is one of changing everything in order to stay the same, a history of innovating in order to preserve."
The MX-5 Miata 25th Anniversary Edition was crafted as a sincere "Thank You" to every Miata enthusiast, past, present and future. With an acolyte's attention to details, meticulous attention was paid to the weight and balance of the engine's moving parts. While components such as pistons, connecting rods and flywheel are already preferably lightweight with low inertia and their original tolerance is set extremely fine, even within these acute tolerances Mazda engineers hand-selected the lightest, best balanced premium parts for inclusion in the engine. The result is an engine that revs even more freely, delivering an extraordinary response, precision acceleration and a deeply satisfying engine note. Lastly, Bilstein dampers are standard on six-speed manual transmission-equipped vehicles.
Outfitted only in a Soul Red Metallic premium coat, the depth of this deep red symbolizes the multi-faceted nature of the fiery fiend within. Creating a striking contrast are the Brilliant Black A-pillars, windshield surround, outside mirrors and MX-5-signature Power-Retractable Hard Top (PRHT). Other ebony-inspired exterior elements include black front combination lamp bezels and 17-inch Dark Gunmetal 10-spoke aluminum alloy wheels, which are wrapped in grippy Bridgestone Potenza RE05A 205/45R17-84W tires.
The interior opens up brightly as a luxury lounge with its standard Almond leather seats and door trim. A liquid metal-like satin chrome finish is used on the louver rings, gauge cluster meter rings and inner door handles. Immediately a more soothing atmosphere compared to its ready-to-rumble exterior disposition, looks are almost always deceiving as detailed hints abound to MX-5's rascal nature. Brilliant Black is expressed in the form the seatback garnish with Piano Black commanding the steering wheel spokes. Genuine black leather wraps the steering wheel, parking brake lever, armrests and manual transmission shift lever booth.
To continue the exterior's contrast-color theme, distinctive red stitching is used throughout on all premium touch points. Another minute but hardly minor detail is the instrument panel. This panel features a red base paint but is delicately hand-painted a Piano Black gradation, meaning no two vehicles will feature the exact same texture. Also, only the anniversary edition will be equipped with aluminum alloy pedals.
But no limited-edition anniversary model is complete without the proper badging. The 25th Anniversary logo is pronouncedly etched into the leather headrests as well as on the stainless steel door scuff plates. On the exterior, a single 25th Anniversary badge is mounted onto the driver's side front fender and features an identifying serial number. As the soul of the sports car continues to be reinvented, this MX-5 Miata 25th Anniversary Edition is only the beginning of another 25 years and beyond of daily driving, weekend racing and all the excuses in between to get behind the wheel.
On sale later this spring, all 100 2015 MX-5 Miata 25th Anniversary Edition models will be made available for pre-order exclusively via MazdaUSA.com. Details on final timing and the pre-order process will be released via Mazda's social media platforms in the coming weeks.