One-Month Review: 2012 Fiat 500
Since we haven't had the chance to drive the Fiat 500 yet, I asked my friend Dino V (who bought one last month) to post his impressions of the car so far. Here's what he had to say:
Being European and having spent a lot of time on vacation overseas, I have always wanted cars like Fiat, Alfa Romeo, and Renault to return to the US. So when I saw that the Fiat was slated for the US, I needed to take one for a spin.
I've owned my 2012 Fiat 500 for over a month now. It has seen the unusual 50 degree December days, rain, snow, cold, etc. So it's time for a 1-month review of the car and first impressions.
Overall, first thing that stands out is that car meets and exceeds the EPA city/hwy gas mileage. Driving in the city and thru traffic I have noticed 31 mpg all day every day. Get on the highway, throw the manual transmission into 5th and enjoy 40-45mpg, sometimes even slightly higher!
Fortunately, my Fiat was an October 2011 production, so the seat and brake fluid recall were already corrected.
I went with the Grigio color, which has a nice metallic touch to it and really makes the car's lines pop. I then decided that the black leather seats with grey inserts were a perfect match for the interior and made everything flow perfect.
Interior:
First thing that stands out when you enter the car is the speedometer which has 3 layers (information screen in the middle, rpm gauge, and speedometer). I found it to be great as everything is right there and at a quick glance you see everything needed. Everything in the interior flows nicely and much better quality than the other fuel efficient hatchbacks.
The panel going across the front of the dashboard has been painted to match the exterior color. Even has the chrome rings around the buttons which add a nice accent. The Bose 7 speaker and amp sound system, sound real good and have not seen another vehicle that compares to the Fiat with a stock sound system anywhere close.
The seats are higher up, but not to worry as they are extremely comfortable. I was not expecting the sporty bolstered seats to be so comfortable. In addition, the seats do a nice job of hugging you when you feel the need to blast thru some twisties. The Fiat does have a rear seat but don't expect to fit a full size adult back there.
Headroom is not a problem, so don't worry about your head grazing the top of the roof. While the front seats don't really offer a concern for height, the bolsters make the seats more snug for some. If you're a bigger person, you might find yourself not fitting in the seat and sitting on the lower bolsters. Of course the resolution for this would be to go with another model which does not have the sport seats.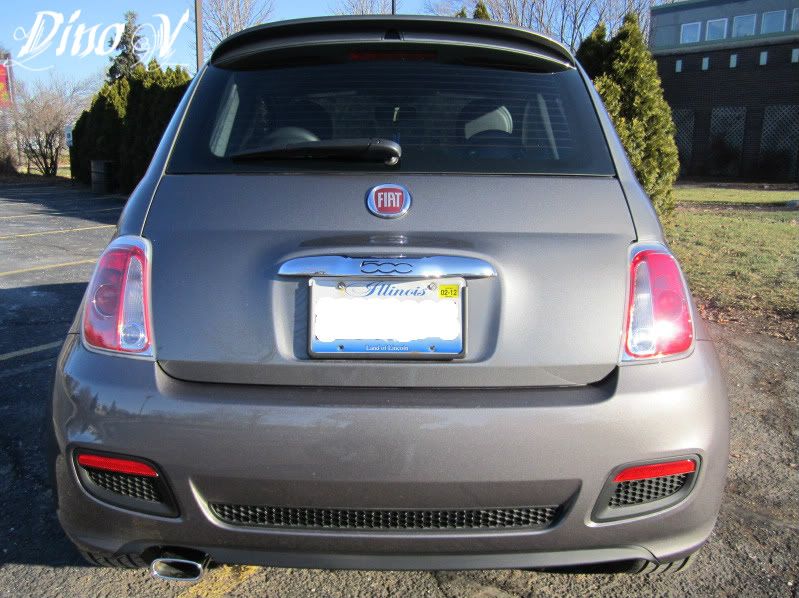 Performance:
For a car that is so fuel efficient, it still offers a fun, peppy and interesting ride that many others in this segment lack. It makes you feel like you''re blasting thru some mountains in Italy. The manual transmission is very easy to shift and very smooth. Which is great, because the car requires constant rowing thru the gears to stay in its powerband and begs to be in the correct gear. I have not found this to be annoying, but instead it adds to the fun factor.
Also, the shift knob design is extremely comfortable, it feels like you are holding an 8 ball in your palm. A manual transmission is a must on these cars, don''t settle for the automatic. The Multiair system gives this 4-cylinder a more aggressive exhaust tone and sounds great. In order to achieve the most fun, hit the sport mode and enjoy. Everything becomes more alive: steering gets tighter and more responsive, and the engine is much more responsive. Hit some twisties and enjoy.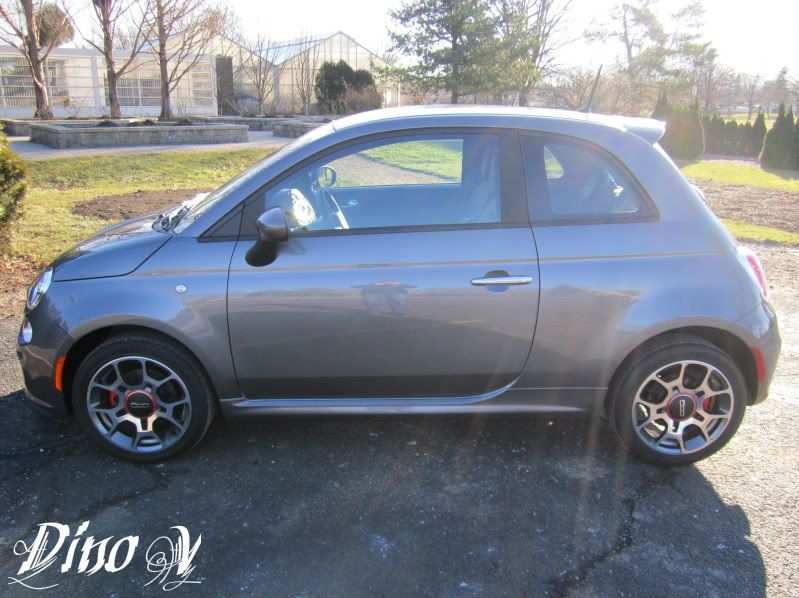 Wheels/Brakes:
The stock brakes are great, and I have not noticed any fading in long distance driving. I am glad they did not put drum brakes in the back and instead kept it with calipers and rotors all around. When I first saw the wheels, they caught my attention. Nice design, easy to clean, and they look good on the car. The tires are low profile, so extra caution is needed during our Midwest winters. Of course, tire pressure monitor system is also included.
Gas mileage:
The Fiat has a 10.5 gal fuel tank and takes premium fuel. Of course, if you have a heavy foot, you''re not going to get off the chart mileage but still in the mid to upper 20s! Driving moderate in the city, I have noticed 28-35 mpg depending on various factors. On the highway 37-50 mpg depending on various factors also. Truly amazing numbers for a car that doesn''t sacrifice fun to achieve them.
Conclusion:
So far, I am still enjoying the Fiat as much as I did the first day I drove it. It gives you the feel of a "driver''s car," yet still offers great gas mileage while capturing the Euro feel. It's very hard to go places without getting noticed. Everyone wants to check it out, find out what it is, and learn more about it. Unfortunately, its size is not accommodating for everyone, especially if you need it to function as a family car. But if you''re looking for a unique, fuel efficient and fun car, take one for a spin.
Happy motoring!
p.s. I just received my welcome packet in the mail today. The cover is same color as my Fiat, and inside it includes a large catalog of accessories to further customize the Fiat. In addition, Fiat sent a USB shaped in the Fiat logo. This plugs into the USB port in the glovebox and records your EcoDrive data.