2014 Fiat 500L – Your Girlfriend Will Fall In Love Again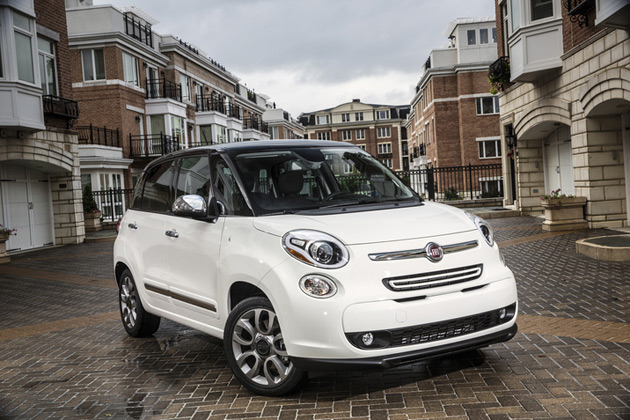 Let's face it, with the exception (perhaps) of the Fiat 500 Abarth, the 500 series from the Italian automaker is not exactly what anyone would describe as "manly." The 2014 Fiat 500L, all-new for the American market, isn't manly either. It is, however, very attractive to women. In short, your girlfriend will love it and you won't hate it. Until you drive it a while, then you'll start liking its little quirks and odd mannerisms.
Now let's get personal. I am a big, manly man. Don't laugh, I'm serious. I'm six feet, three inches tall, forty-nine inches around at the chest, and live in the Wyoming tundra. I'm hung like a gorilla (Google it). I sing lumberjack songs. I BBQ. I would be the subject of Dos Equis commercials if I were older and more debonair. And I am now a fan of the Fiat 500L. Don't make fun of it. I will break you.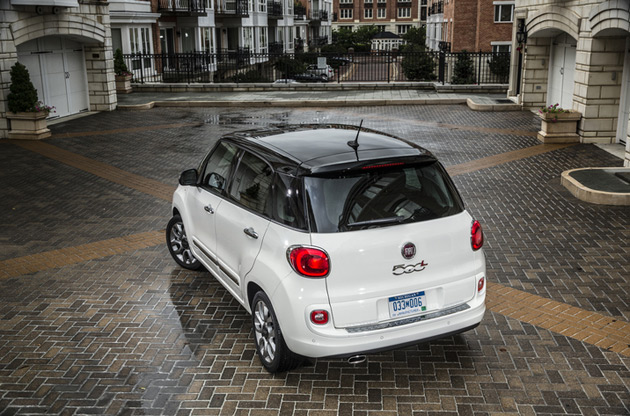 There is a lot to like about this odd Italian machine. It has the same visual charm of the little 500 at the front, but then becomes similar to the Mini Countryman when you get past that front door and find that there's a second and a hatch. The 500L is about two feet longer than the 500 coupe to accommodate that second set of doors and bigger back seat. The drivetrain and many details remain the same, though.
For a car guy, the main appeal of the 2014 500L is its European dual-clutch transmission. The base models all include a standard six-speed that anyone who's driven the Fiat 500 on the track will instantly be glad to see. In everyday driving, though, that's not as practical as an automatic. Rather than put in a full-blown auto trans, however, Fiat instead did one of their odd Euro twin clutch "automated manual" jobs. Some people hate this. Car guys, though, will love it for its odd nature and exceedingly smooth shift at speed – so smooth you'll swear it's a CVT.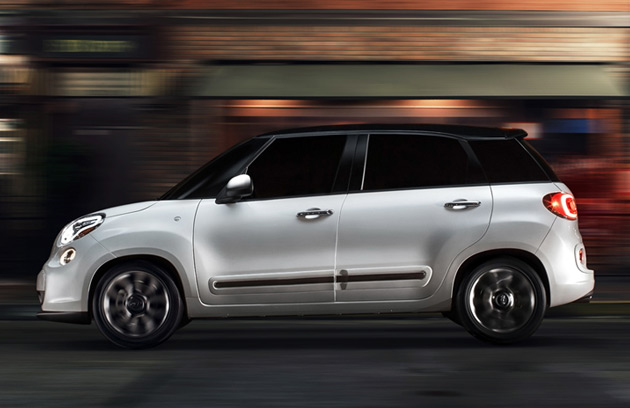 The other thing to love is also under the hood, right next to that transmission: the 1.4-liter inline-four. It's purely Italian with its odd sounds (listen to it here) and over-charged turbo nature. It's so tiny and soft-sounding that you'd assume it was a weakling, but the engine spews out race car sounds and propels the Fiat 500L forward at an impressive rate the zero-to-sixty rating is under ten seconds, unusually fast for this segment.
With the engine and the quirky looks of the 500L comes a drive that cannot be compared to other vehicles. It's peppier and more interesting than the Mini Countryman it's so often compared to, but is nothing like. It has great maneuverability and visibility, thanks to those huge windows that wrap around the front and cover the rear end. It also kind of exudes that "Rocky quality" many cars are missing today. That "..keep going, I can do it, keep going.." thing that says it has heart.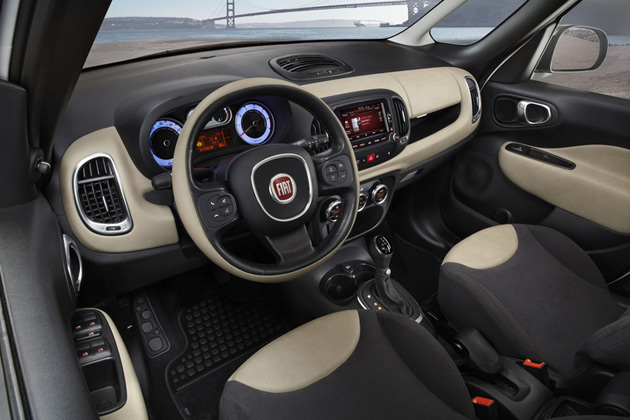 After talking to a handful of people who own these cars, it's not surprising that every one of them has named theirs (one was "Buby" and another was "Pinochio"). It's one of those vehicles; the ones you love just because they're not like everyone else and have those endearing little quirks that give them a human-like quality.
The good news is that for all of that endearment, the 2014 Fiat 500L is also practical. It seats up to five comfortably (four is more realistic for adults), has enough room for their stuff, and gets 33 mpg on the highway. All for about $25.5k as we drove it.
Oh, and don't forget the best part. Those Italians; they know how to appeal to the ladies. You cannot stop at a sign, light, crosswalk, or other spot in town without every female in sight turning to look at your car.