Review: The FIAT 500 Abarth Driving Experience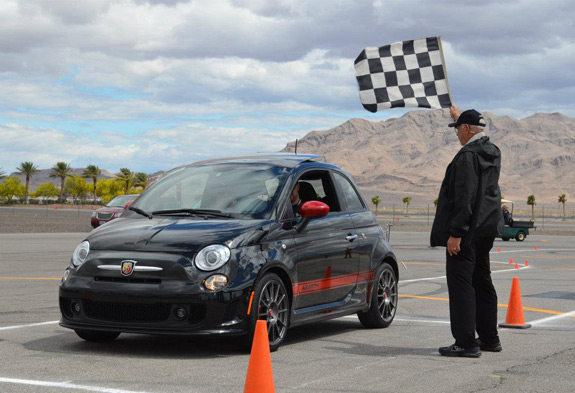 Fiat held their first FIAT 500 Abarth Driving Experience event in Las Vegas last week, and they invited a mix of bloggers, pro drivers, and Facebook fans to attend. I was lucky enough to attend, and let me tell you.. It was quite a trip!
I've been itching to put the FIAT 500 Abarth through its paces ever since I first heard about it, and what better place to really see if the Abarth lives up to it's historic name than at Las Vegas Motor Speedway?
But first, a quick history lesson on the Abarth brand:
True to its heritage, the Abarth offers more performance in just about every department. The chassis is 0.6 inch lower, new Koni FSD shocks help increase roll stiffness 40% front and rear, there is a 0.9-degree increase in front-end negative camber, and the rear suspension gets an antiroll bar where none existed before.
Power jumps from 101HP stock to 160HP in Abarth trim, and torque grows from 98lb-ft to 170lb-ft thanks to the turbocharger, twin intercoolers and Fiat's MultiAir intake camshaft-management system. Outside, the car boasts several Scorpion Abarth badges and a fat rear wing. Inside, there are side-bolstered seats and a thick, flat-bottom steering wheel.
And one can't forget the beautiful exhaust note of the Abarth, so addicting that I found myself revving the engine again and again. This YouTube video really captures the true sound of it.
On paper, it's hard to understand what all the hype is about. 0-60 in 7.5 seconds, 160HP, a top speed of 130MPH. Plenty of cars offer similar (or better) numbers..
But the devil is in the details – The car only weighs 2,533lbs. 170lb-ft of torque available from 2500-4000 rpm. And the handling is just out of this world. All for $22,000!
It's also worth noting that included in the price of each 2012 Fiat 500 Abarth is the opportunity for new owners to attend one of the exclusive driving programs held around the country at no additional charge! Want to see what you'll be experiencing? Check out the video below:
The Abarth is one heck of a fun ride, whether you're tearing it up on the track or just taking a spirited drive through town. I walked away from the event truly impressed with the car!
So if you're in the market for a Mini Cooper S, Volkswagen GTI, or Subaru BRZ / Scion FR-S, you need to head over to your local FIAT dealership and test drive the Abarth before making your final decision. You can thank me later.