Stern Pinball Announces Three New Ford Mustang-Themed Games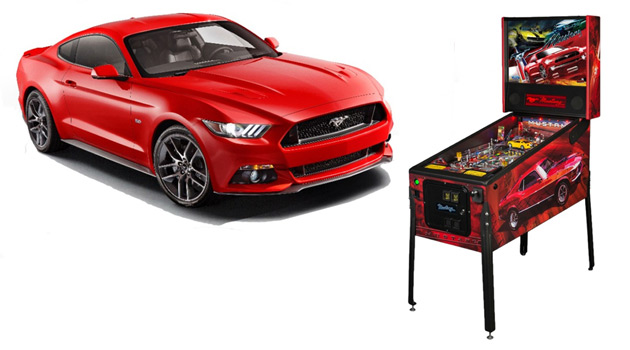 Let the games begin! The 2015 Ford Mustang headlines a trio of new pony car-themed pinball games to be revealed at the Chicago Auto Show. Crafted by Chicago's own Stern Pinball, the Mustang-inspired games combine two prime examples of 20th century American pop culture – the coin-operated pinball machine and the original pony car.
Stern is introducing three new Mustang-themed games this spring featuring cabinet and backboard artwork that pay tribute to 50 years of Mustang. The pro-level machines, designed for arcades and other public spaces, feature Mustangs from the past five decades. The more feature-rich premium edition focuses on Mustang Boss 302, Boss 351 and Boss 429 of 1969 to 1971 and 2012 to 2013.
The all-new 2015 Mustang makes its first Chicago appearance at the auto show alongside six of Stern's pro-level Mustang games. Top-ranked competitive pinball player Zach Sharpe will also be on hand to demo the new game and set benchmark scores for show visitors and media to challenge.
A special limited-edition model signed by the game designer features the 1965 original and the all-new 2015 Mustang. Both premium and limited-edition games feature genuine chrome Mustang badges on the speaker grilles.
"The first car I ever bought was a 1970 Mustang Sportroof with a 302, and I'm currently restoring a 1969 Mach 1," said George Gomez, executive vice president for game design, Stern Pinball. "In designing these new games, we wanted to celebrate the freedom and fun of driving Mustang."
You can see the Mustang-themed pinball machines in action in the video below:

The games incorporate a mix of classic pinball play features and modern technology to let players "go racing" with some of the greatest Mustangs of all time, and even build up a dream collection as they progress.
Different interactive sections of the playfield and sequences of shots let players go drag racing, rallying, drifting and road racing in pursuit of a high score. For example, hitting specific targets with the ball enables gear shifting, and subsequent hits activate going up or down through the gears. The games feature video displays in the backboard and real Mustang sounds, giving players the visceral experience of driving Mustang.
"The beauty of pinball is that there is no set outcome, and it can't be programmed like a video game," said Gary Stern, founder of Stern Pinball. "That makes pinball a perfect match for Mustang, taking drivers anywhere they want to go."
The very first Mustang-themed pinball game was introduced in 1964, the same year as the car, by the now-defunct Chicago Coin Company. Unfortunately, all of the other great Chicago pinball companies succumbed to the challenge of the video game business. Stern has committed to creating great games that remain true to what made pinball fun in the first place, while incorporating modern design and mechanical systems to challenge players.
If you're coming out to the Chicago Auto Show next week, make sure you set aside some time to play with these sweet Stern Pinball machines!